Choosing the right ecommerce platform for your business is essential.
The right platform will allow you to reach your goals faster, maximize the profitability, and save you a lot of headaches with operating your business.
But what is the best ecommerce platform for small business – and which one is right for you?
In this post, you'll discover 5 best ecommerce platforms for small businesses, so you can choose the most suitable one and start selling.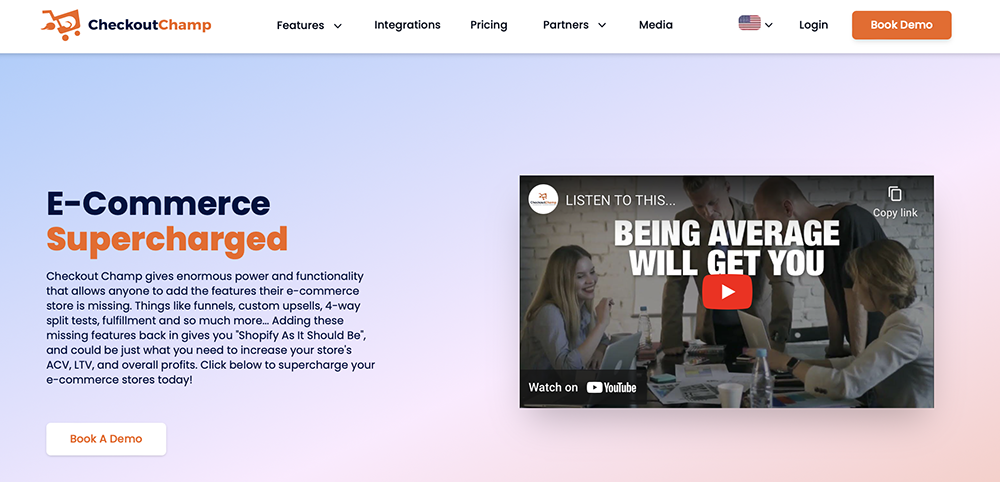 Overview:
Checkout Champ is the best ecommerce platform for business at any stage – giving everything you need to be successful, stand out, and get tons of sales.
It is the most robust tool on the market and gives you the freedom to create your dream ecommerce.
What We Love:
Checkout Champ has a powerful team of experts working on the backend. Here are some of the things you will definitely enjoy (and can't live without.)
Custom solutions. Our tech team will create unique functionality for your business to help you make an impact and grow your business

4-way split testing. We give you an ability to experiment and make data-driven decisions for the best possible results, so you can maximize the profitability of your business

Dynamic upsells. You have an option to add one-click upsells and cross-sells to your checkout page, so customers can spend additional $10, $20, or even $50 on their purchase
Pricing:
Checkout Champ offers two paid memberships starting at $300 a month.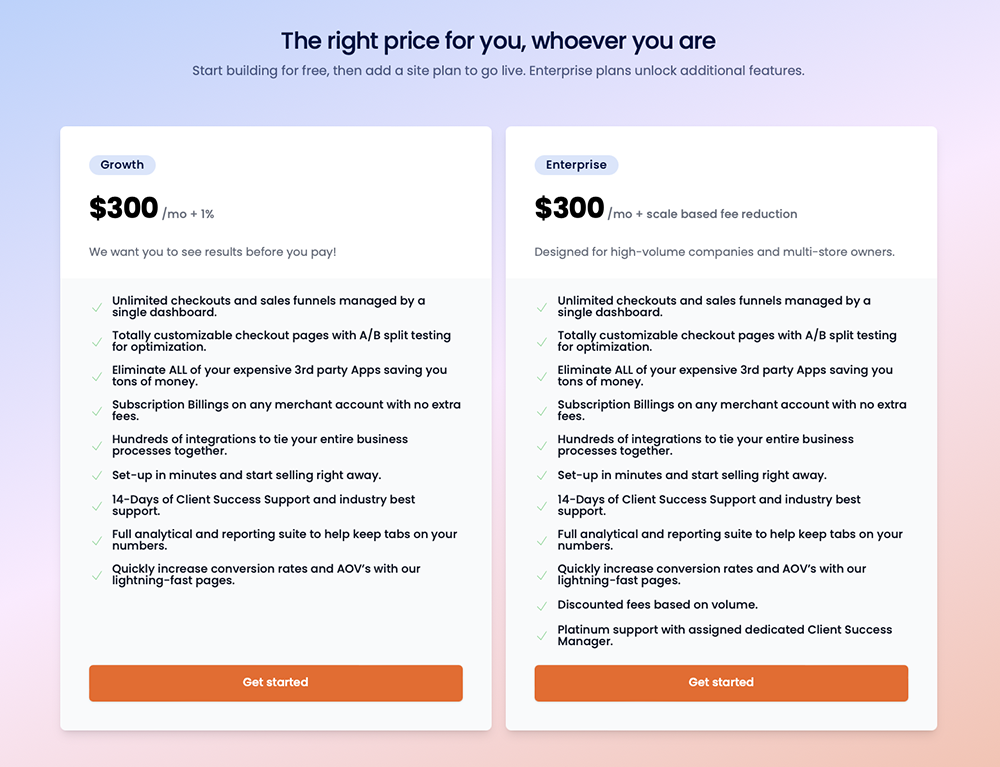 You can also book a demo to see everything Checkout Champ can do for you, meet our team and learn how we can help you grow.
Bottom Line:
Checkout Champ is the most complete ecommerce platform out there.
Our team can help you develop unique solutions suited just for your business, you get 300+ integrations with your favorite tools and tons of sales-ready templates to get you started in seconds. Plus, it gives you in-depth analytics that allow you to understand your customers better and maximize revenue.
Book a demo with us and create a successful ecommerce now.
#2: Shopify – The Most Popular Ecommerce Platform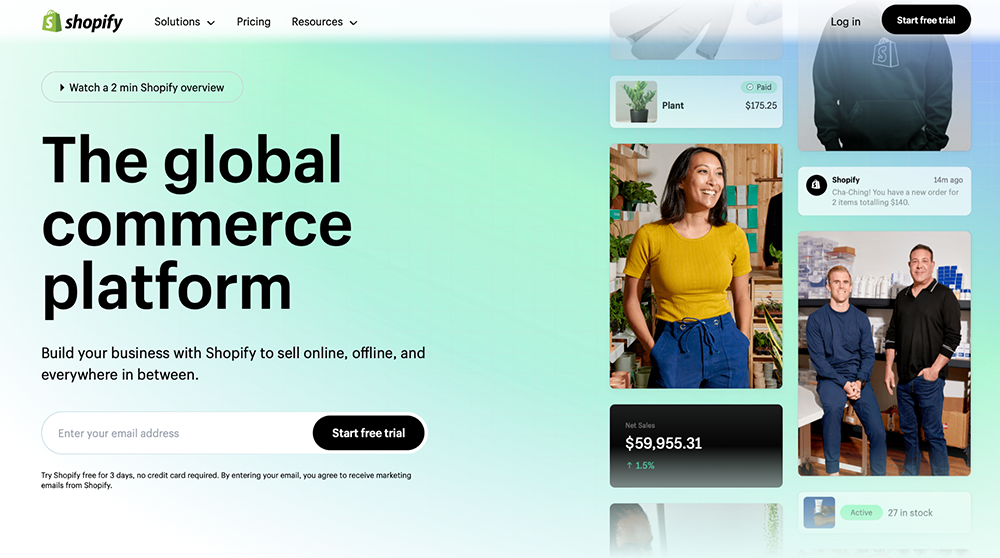 Overview:
Build your business with Shopify to sell online, offline, and everywhere in between. Shopify is the global commerce platform suited for beginners starting their first ecommerce business.
What We Love:
There are so many great things about Shopify – which more than a million of merchants enjoy. Here are the things we found Shopify does extremely well.
Easy product management. Uploading products and maintaining your inventory is very easy. You can publish posts that tie into product offerings and link your content plans to your actual sales goals

Integrated email. Shopify leads the way with e-commerce email marketing by having the email feature integrated right into it. Based on actions your customers take when interacting with your storefront, you can use Shopify Email to base campaigns on those behaviors

Customer tracking. It's easy to manage the lifecycle of a customer because, as an e-commerce website, Shopify is designed to track that behavior closely.
Pricing:
Though there are no free plans available, the pricing tiers for Shopify are reasonable.
You can opt for monthly or annual billing and choose from one of three regular plans: Shopify Basic, Shopify, or Shopify Advanced.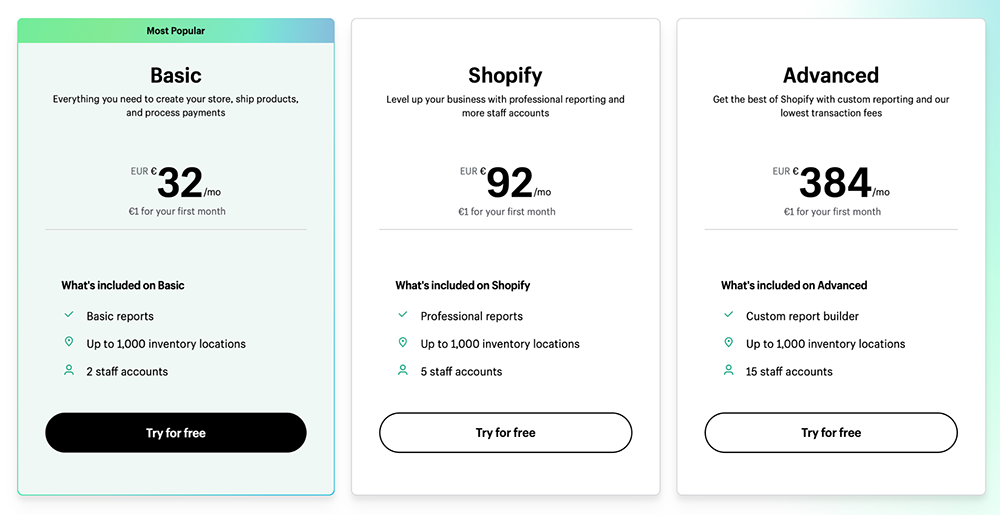 You also have the option to start for free and then enjoy your first month for $1.
Bottom Line:
There are certainly pros and cons to Shopify, but if your focus is e-commerce, you're in good hands..
For online storefronts, you need a site builder and content manager that understands selling and inventory management first, along with a user-friendly setup.
Shopify makes growing sales and managing an e-commerce site about as easy as it can ever be.
#3: SquareSpace – The Top Solution for Online Store Design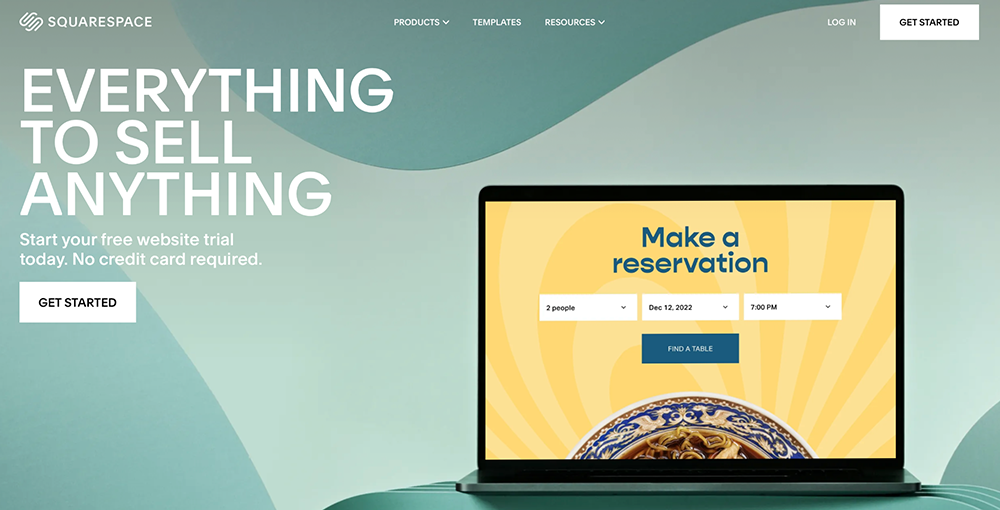 Overview:
SquareSpace is an all-in-one platform that allows you to create a website, build an ecommerce, and market your business with its on-brand email campaigns and social tools.
It's made for small businesses that want to get started quickly and offers robust features to help you scale as your business grows.
What We Love:
This platform helps your ecommerce stand out and thrive. Here are the key things that will secure your success:
Customizable templates. They offer 110+ easy-to-customize templates crafted by world-class designers to help create the web's most expressive online stores

Blogging functionality. Design and manage your blog with ease and optimize it for the #1 page Google rankings. No plugins needed

Detailed Analytics. Get in-depth data like traffic, popular content, sales, and more, so you can create more stuff your audience loves
Pricing:
There are four pricing plans you can choose from, with applicable discounts if you choose to pay annually.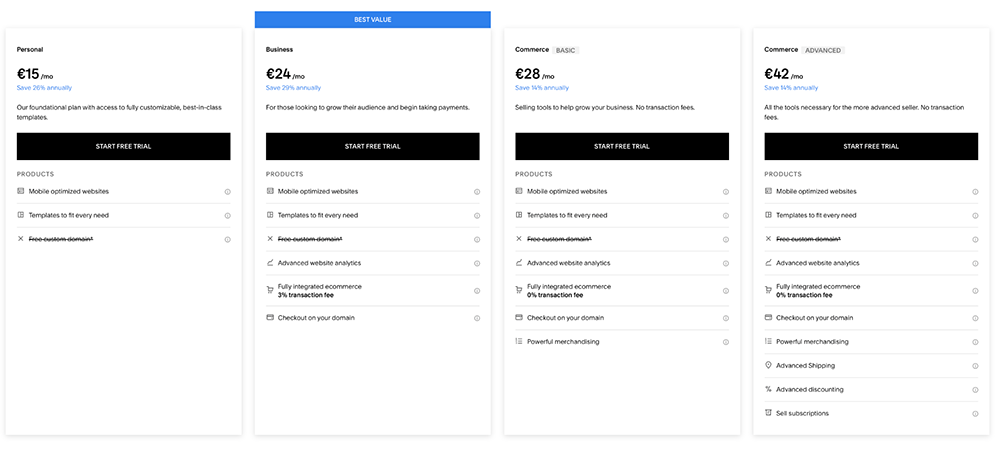 You can also hop on their 14-day free trial to try the tool – no credit card required.
Bottom Line:
SquareSpace is a great starting point for small businesses – with its ease of use and intuitiveness. You can use their well-designed templates and get up and running in a few minutes.
As you scale, you can opt in for their more expensive (and robust) plans and grow your business.
#4: Wix eCommerce – The Best All-In-One Website Builder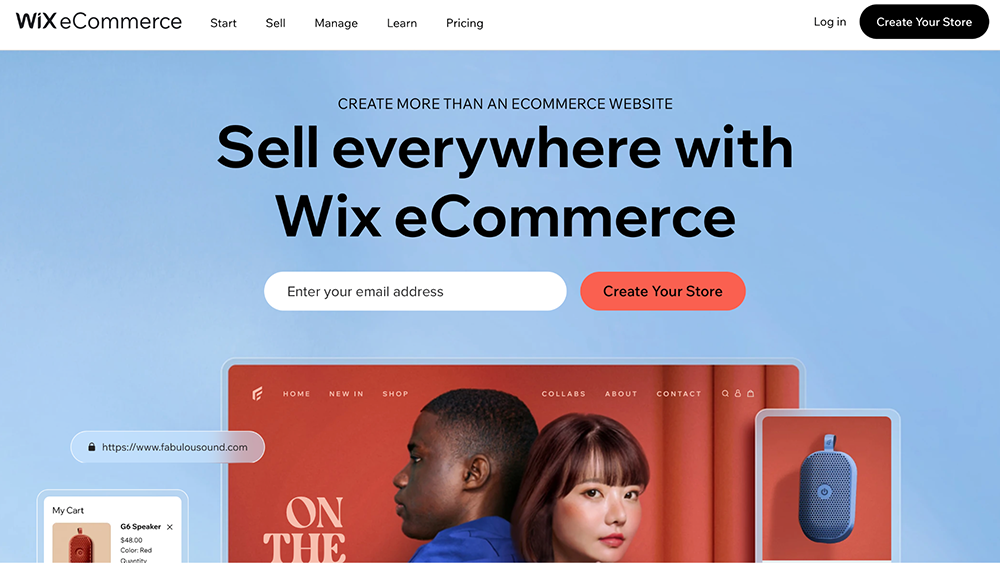 Overview:
Wix is an ecommerce platform for small businesses that allows users to create a website without limits and scale with confidence.
From a powerful website builder to advanced business solutions – they got you covered.
What We Love:
Wix has a strong infrastructure with tons of great features. Here are the features we absolutely loved and personally used the most.
Total Design Freedom. Design your site exactly the way you want with innovative drag and drop editor, unlimited fonts, and a vast library of templates

Intuitive interface. There is no need to watch tutorial or instructional videos for hours – you can set up everything with ease. It's that simple

Mobile optimized. Your website will automatically look amazing on any device, so you can provide the best customer experience everywhere
Pricing:
Wix eCommerce provides three pricing plans. Each plan is suitable for a certain type of business, including Business Basic, Business Unlimited, and Business VIP.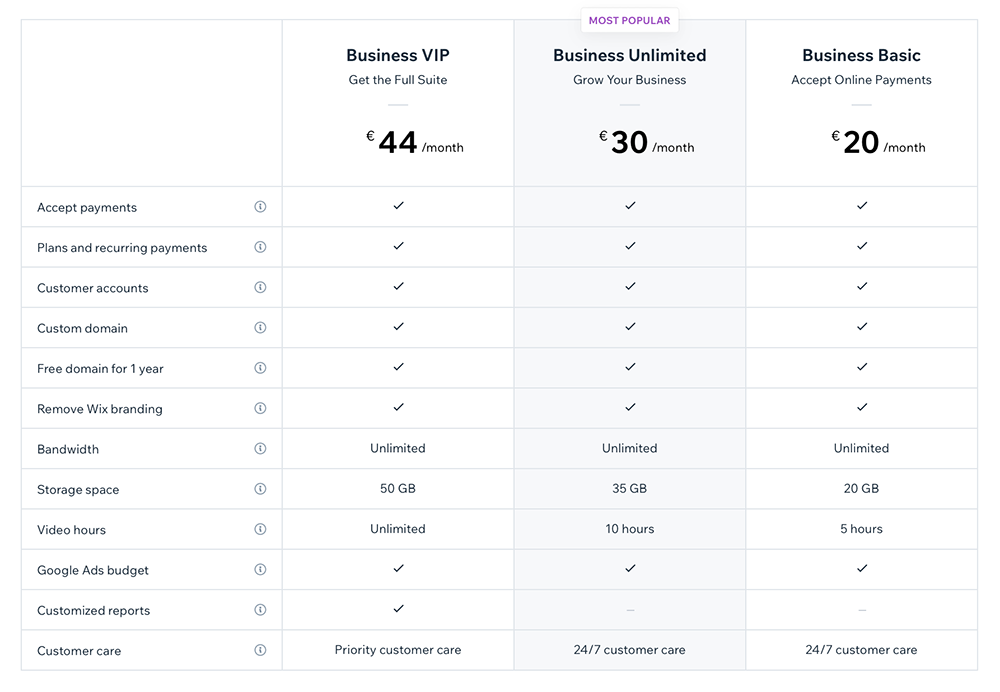 You can also use their free plan, however, you get no custom domain and your customer will see annoying ads.
Bottom Line:
Wix is one of the most popular ecommerce platforms online.
It's super-easy to get started and offers great experience for you, as a business owner, but also for your customers – maximizing customer satisfaction. You should definitely give it a try.
#5: WooCommerce – The Free Ecommerce Platform for WordPress Users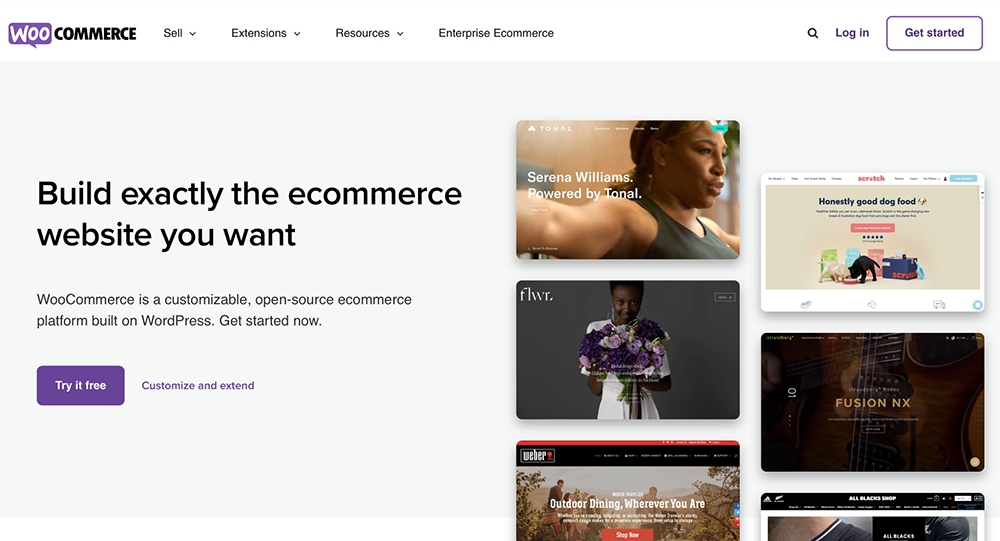 Overview:
WooCommerce gives you an ability to build exactly the ecommerce website you want. It is a customizable, open-source ecommerce platform built on WordPress.
What We Love:
WooCommerce offers everything you need to start selling online. Here are some of the things we love about this platform.
Customize and extend. The WooCommerce Marketplace has hundreds of vetted extensions, themes, and services to help you get started

Run your store from anywhere. Manage your business on the go with the WooCommerce Mobile App. Create products, process orders, and keep an eye on key stats in real-time

Power Up Your High-Volume Store. Is your business growing beyond the limits of out-of-the-box ecommerce? WooCommerce will work directly with you to take your store to the next level
Pricing:
WooCommerce is a free WordPress plugin – there is no paid membership. However, you still have to pay for your WordPress site, hosting, and some of the themes they provide.
Bottom Line:
WooCommerce is a great ecommerce platform for small businesses.
It offers a variety of integrations with the most popular tools and has a great app that allows you to manage your store on the go – making it super convenient if you travel a lot and want to access your store from mobile devices.
Ready to Start Your Ecommerce?
There are a lot of great ecommerce platforms to choose from – each serving different types of customers and markets. We found Checkout Champ to be one of the best choices on today's list. It's very intuitive, super-easy to set up, and offers unique solutions you won't find anywhere else.
Plus, our team can handle everything for you, create custom functionality, and provide the best opportunity for your store to be successful.
…and if you have an established business already, we offer a pain-free migration.
Now is the best time to get started!
Book a demo with us today, build your dream ecommerce, and get the sales you deserve right now.