It eliminates the risks of:
Making a large investment
Poor web development
Running out of stock
And gives you an opportunity to set up a business for as little as $100 and start making profits instantly.
In this guide, you'll find out everything about connective eCommerce and how to start a successful online eCommerce store the right way.
What is Connective eCommerce?
Connective eCommerce is a strategy that will help you run an online eCommerce business with no need of web developers, inventory, or paid ads.
In essence, it's about starting an online store with no risk or huge initial investment.
Is Connective Ecommerce Scam?
No, it's not.
We realize that connective eCommerce sounds too good to be true. But it's just about utilizing the newest technology and marketing trends to drive sales.
It's a new way of doing eCommerce business – and it's totally legit.
How Does Connective eCommerce Work?
Connective ecommerce works by eliminating expensive website designers and moving goods directly from the manufacturer to customers.
You will also avoid using paid ads so your initial investment will be ultra-low.
Let's now discuss each of these areas in detail.
Creating an eCommerce Website
The cost of creating a website can be anywhere from $1,500 to $6,000.

This is a huge initial investment, since you don't even know whether your eCommerce site will be successful and make any profits.
…which is a huge risk to undertake.
Connective eCommerce eliminates this by making you the one creating your store website. Don't worry, you don't have to:
Read 20+ books
Go to university
Learn to code
Instead, you can use drag-and-drop editors and templates and get it done in a few minutes.
That's right; just look at the example below.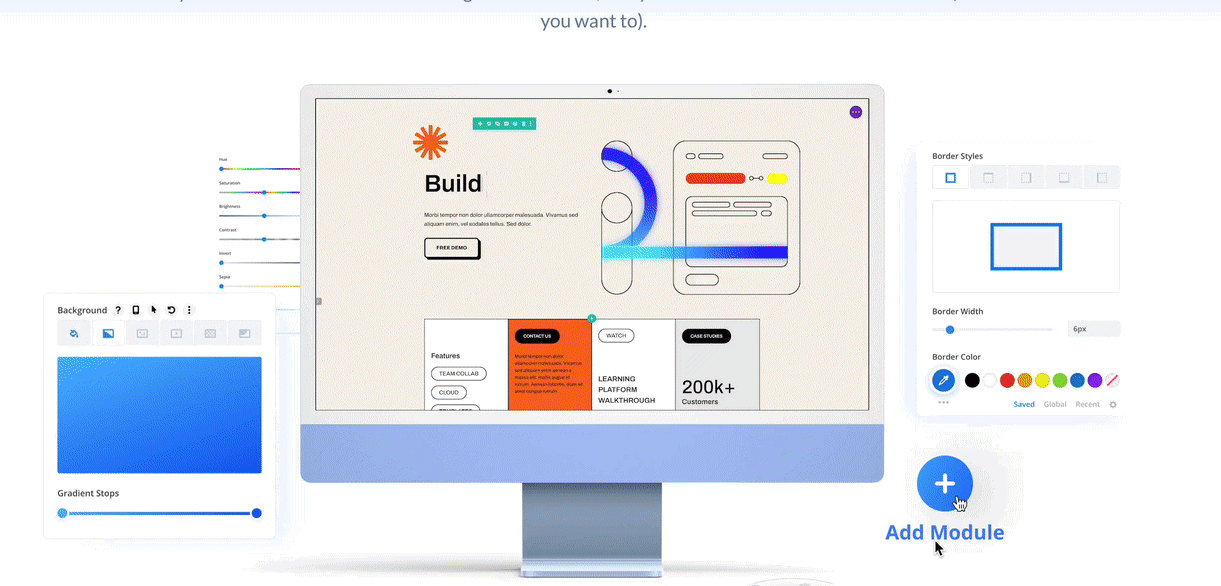 You can definitely do that!
You can choose from some of the most popular eCommerce builders like WooCommerce or Shopify.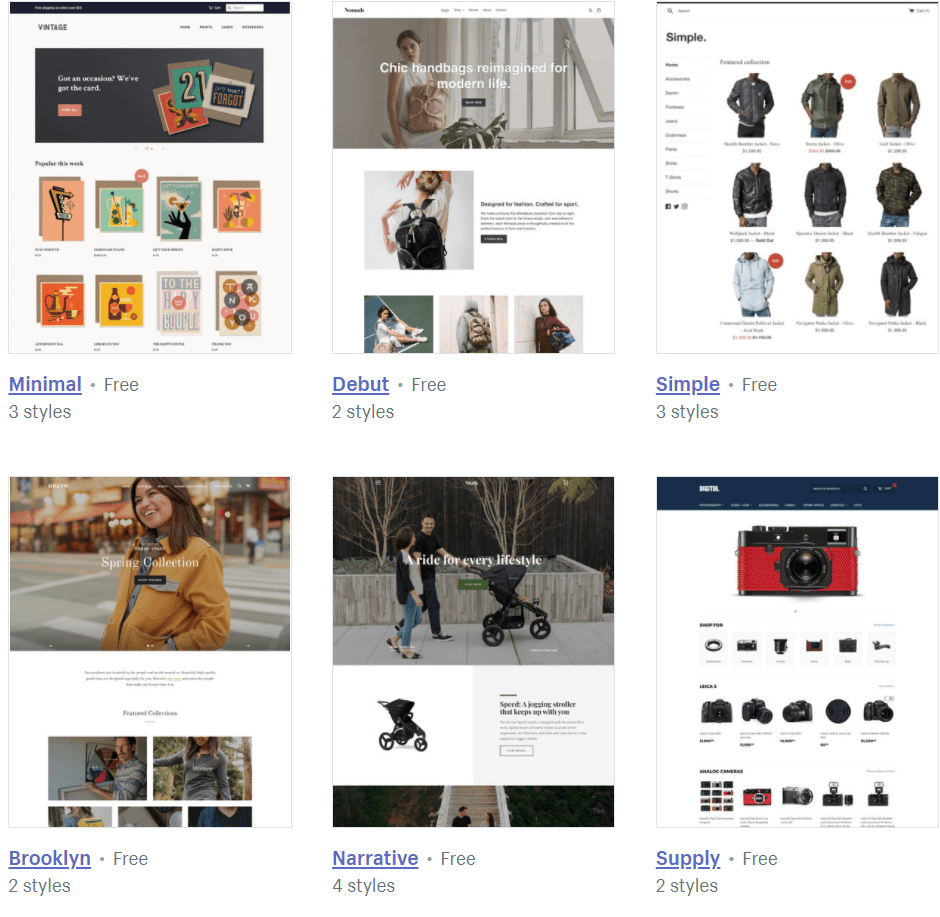 Source: Website Planet
Connective eCommerce will allow you to set up your site for as little as $100.
Managing Your Inventory
Having inventory, restocking, and shipping orders is tedious (and super annoying too.)
Here are a few problems of managing your inventory by yourself.
Finding a storage place
High Initial investment
Constant restocking
Handling shipping
And additional associated risks with running an inventory…
This can give you a lot of headaches and eat up your time. Connective eCommerce solves this problem by leveraging trustworthy suppliers to ship goods directly to customers.
Here is how it works.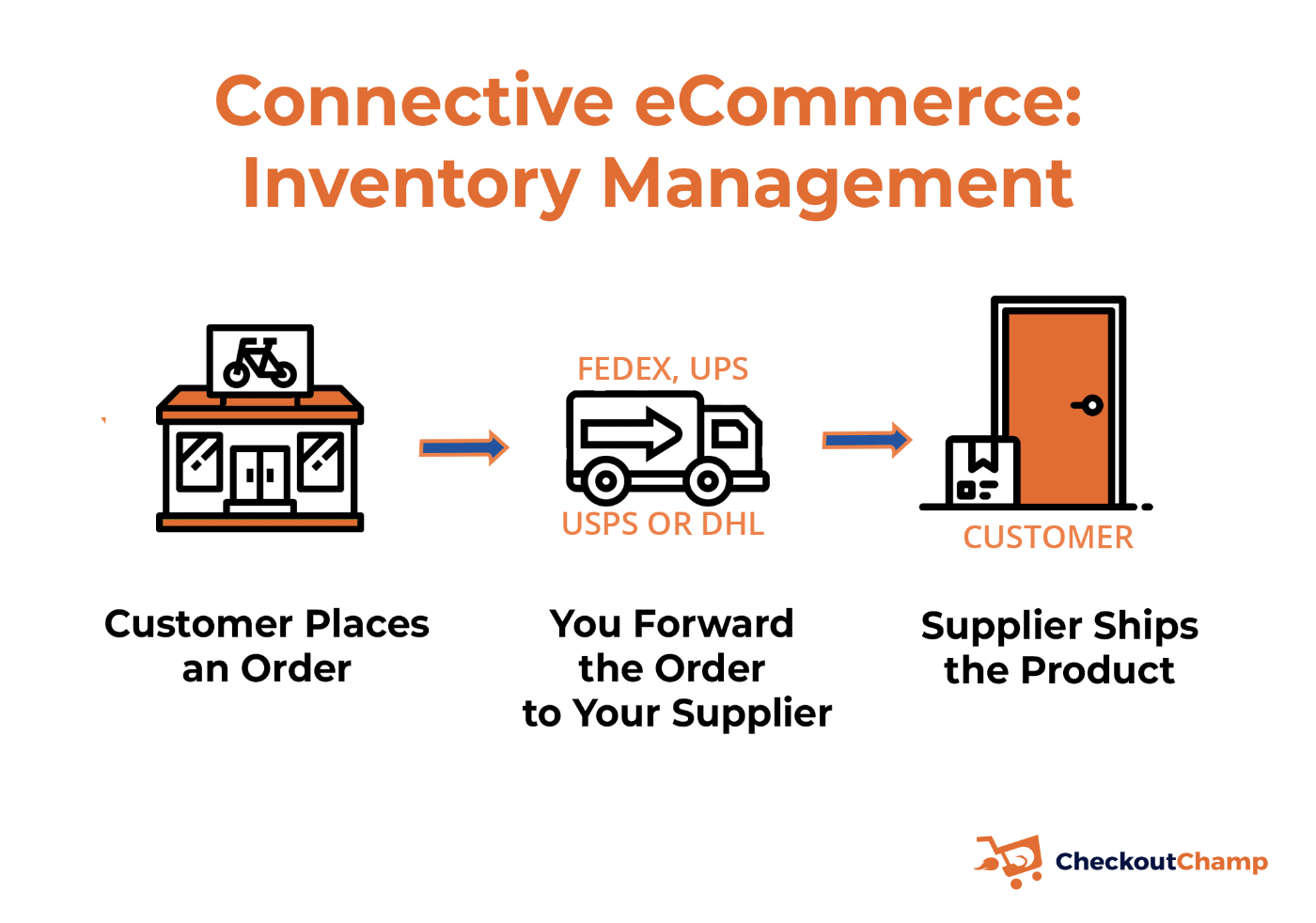 It makes the whole process of managing inventory a lot easier and will save you a lot of time.
Promoting Products
The most common way to advertise your products is by running an advertising campaign. Whether it's a PPC campaign or social media ads, it can be very expensive.

…and you never know whether it will actually work; you can only hope.
That's not the smartest way to invest your money.
Connective eCommerce solves this by utilizing free strategies for generating customers. These can be strategies like:
Guest posting
Organic traffic
Referrals
And so much more.
You can then use the money you've earned and reinvest them into paid advertising for better revenue.
Quick tip: To make as much money as possible, make sure your store is optimized for conversions. Conversion rate optimization can skyrocket your profits by 300 – 400%.
How to Start a Connective eCommerce
Ready to start your eCommerce business and make a lot of money?
In this section, you'll learn practical ways to start a connective eCommerce business that generates customers like a charm.
#1: Choose Products That Sell
Connective eCommerce takes away the guesswork of whether a product will sell or not.
Instead, you pick products that already sell well and put them in your store. Ideally, focus on a niche you are interested in.
(it can speed up the process of selling and give you a higher chance of being successful.)
Try to discover products that are in demand by utilizing:
Market research
Competitor analysis
Product demand surveys
Also, be careful that the products and your niche are not hyper-competitive.
This could completely diminish the chances of making a sale since competitors could take away all profits from your eCommerce business.
#2: Leverage Commerce Platforms
After you decide what you want to sell, you need to create your eCommerce store website. The connective eCommerce way to do this is to leverage commerce platforms.
Here are some of the most common platforms for that.
It's extremely simple to create your store with these platforms.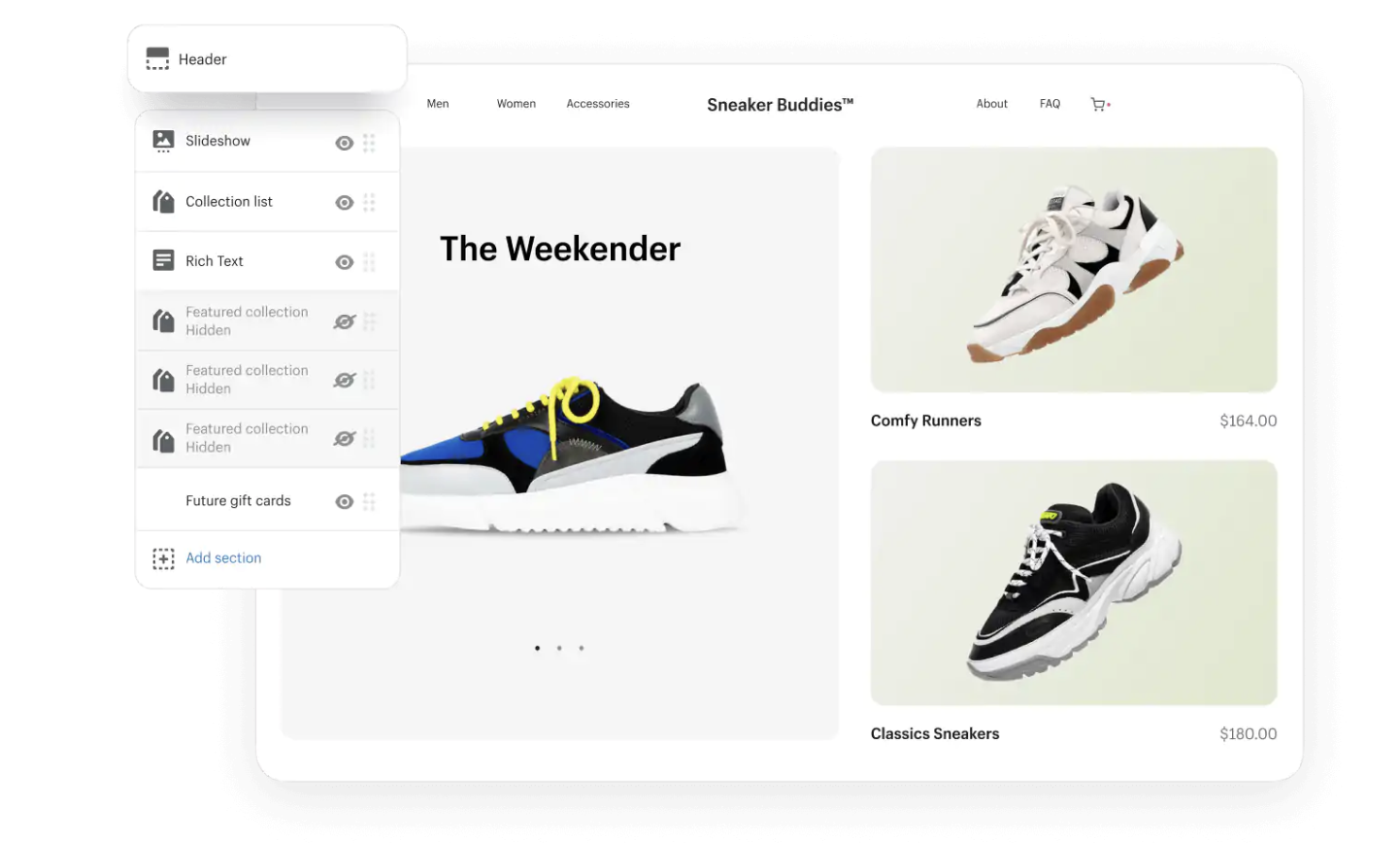 You just drag and drop elements, choose the properties of each element from a menu, and create a high-quality website in a matter of a few minutes.
#3: Get Reliable Suppliers
You need to find a supplier that will always meet a deadline and reliably deliver your products.
If you fail to do so, your eCommerce business will fail. You'll most likely lose credibility, and customers will opt in for competitors.

Here are some of the things to look at when choosing a supplier.
Quality and reliability
Speed and flexibility
Value for money
You can always contact companies using supplier services you're considering to find out how satisfied they are with them.
#4: Getting Pricing Right
Price is the most common objection of customers.
You need to price your products high enough so you make a profit, but not as high that customers will choose competitors.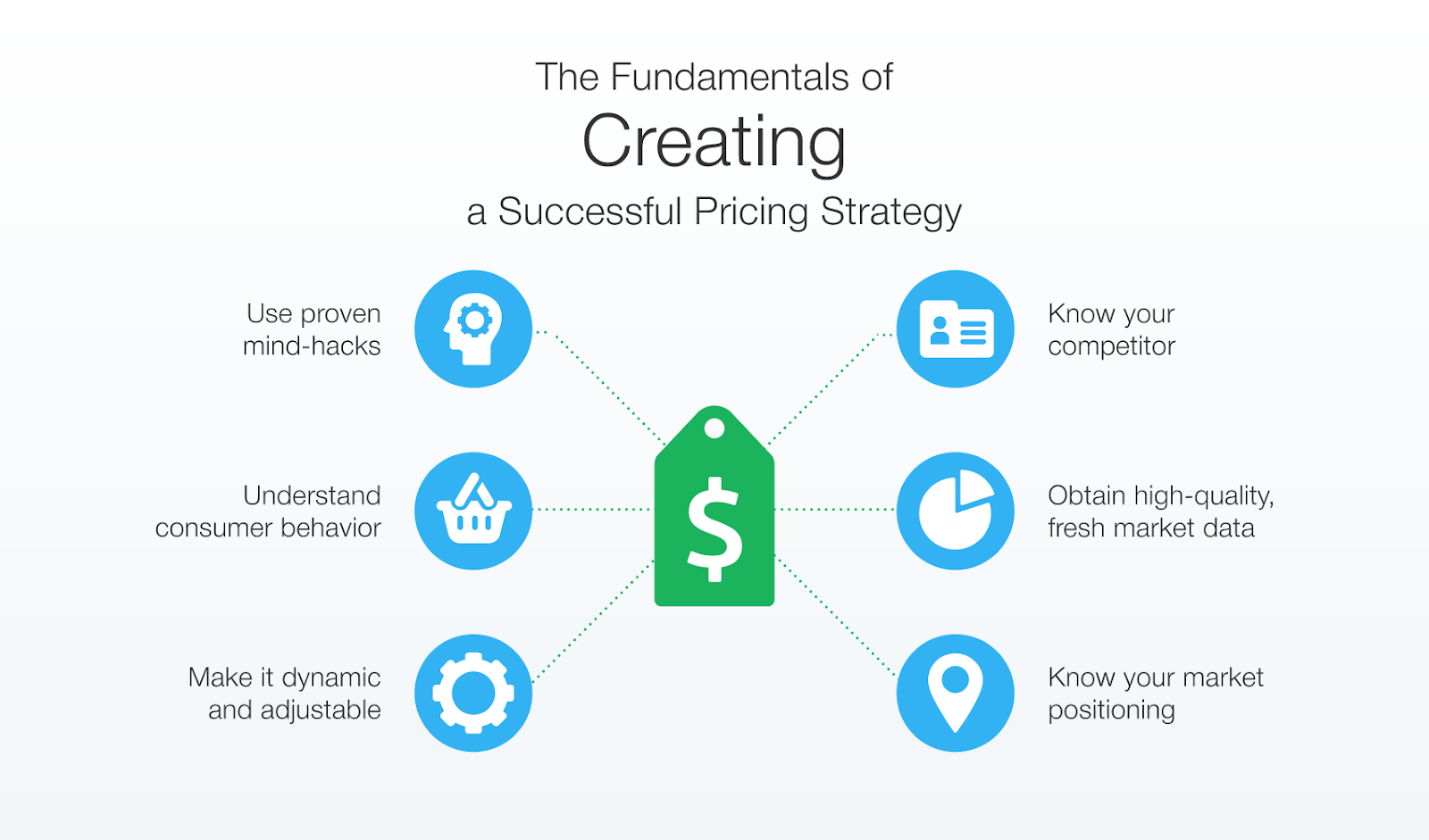 Here is how to calculate the price for your products.
Add up costs
Supplier fees
Add in profit margin
That's it!
Now, you also have to conduct market research, look at competitors, and test and adjust.
Quick Tip: If you're just starting, lower your prices to attract more customers. As you establish yourself as a trustworthy seller, you can start increasing your prices.
#5: Promote Your Products
You have to get traffic to your eCommerce store to make sales. There are a couple of ways you can go about this, such as:
Affiliate marketing
Building a blog
Referrals
The most effective strategy we've employed was influencer marketing – it brough unbelievable results.
This is because influencers have huge power over their audience.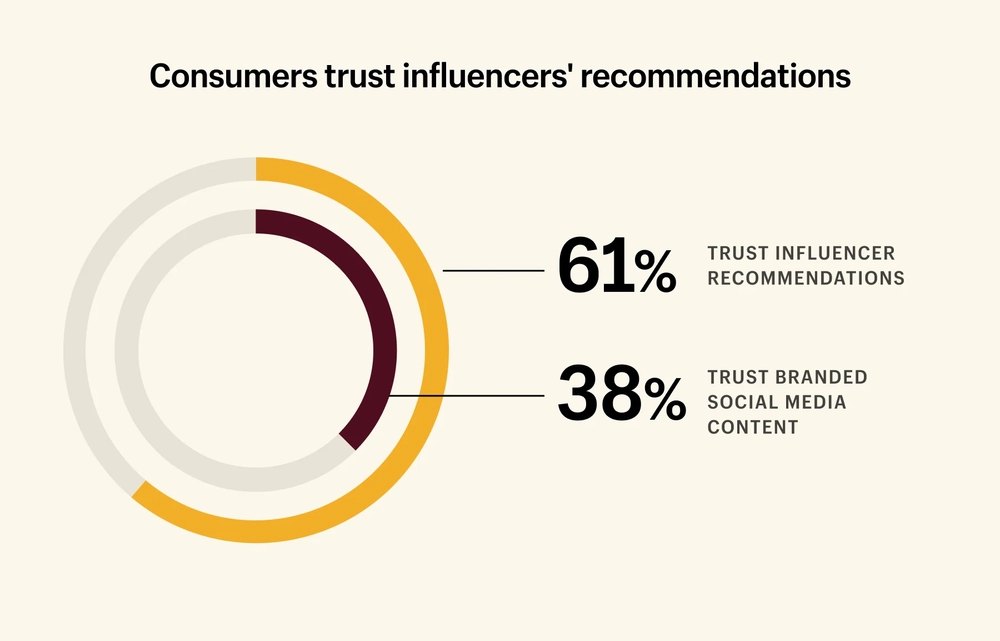 Source: Social Shepherd
If you choose the right influencer, you should prepare for a massive increase in orders. Therefore make sure your servers will be able to handle that.
You can reach out to influencers and partner up with them via social media.
Conclusion
Connective eCommerce is a new way to do business online.
It will save you a lot of time, money, and eliminate almost every risk of running a business. Plus, you get rid of headaches like running out of stock.
Now is the best time to start your connective eCommerce business and get the sales you deserve.