Today you'll discover strategies that led to a 300% increase in conversion rate.
We'll talk about one of the most effective conversion rate optimization strategies that will help you get your business to the next level.
(plus, you'll also discover a few of our secrets to get a competitive edge.)
Let's get started.
What Is A/B Testing?
A/B testing or split testing is a process of running multiple variations of the same web page, headline, emails (or anything else) at the same time.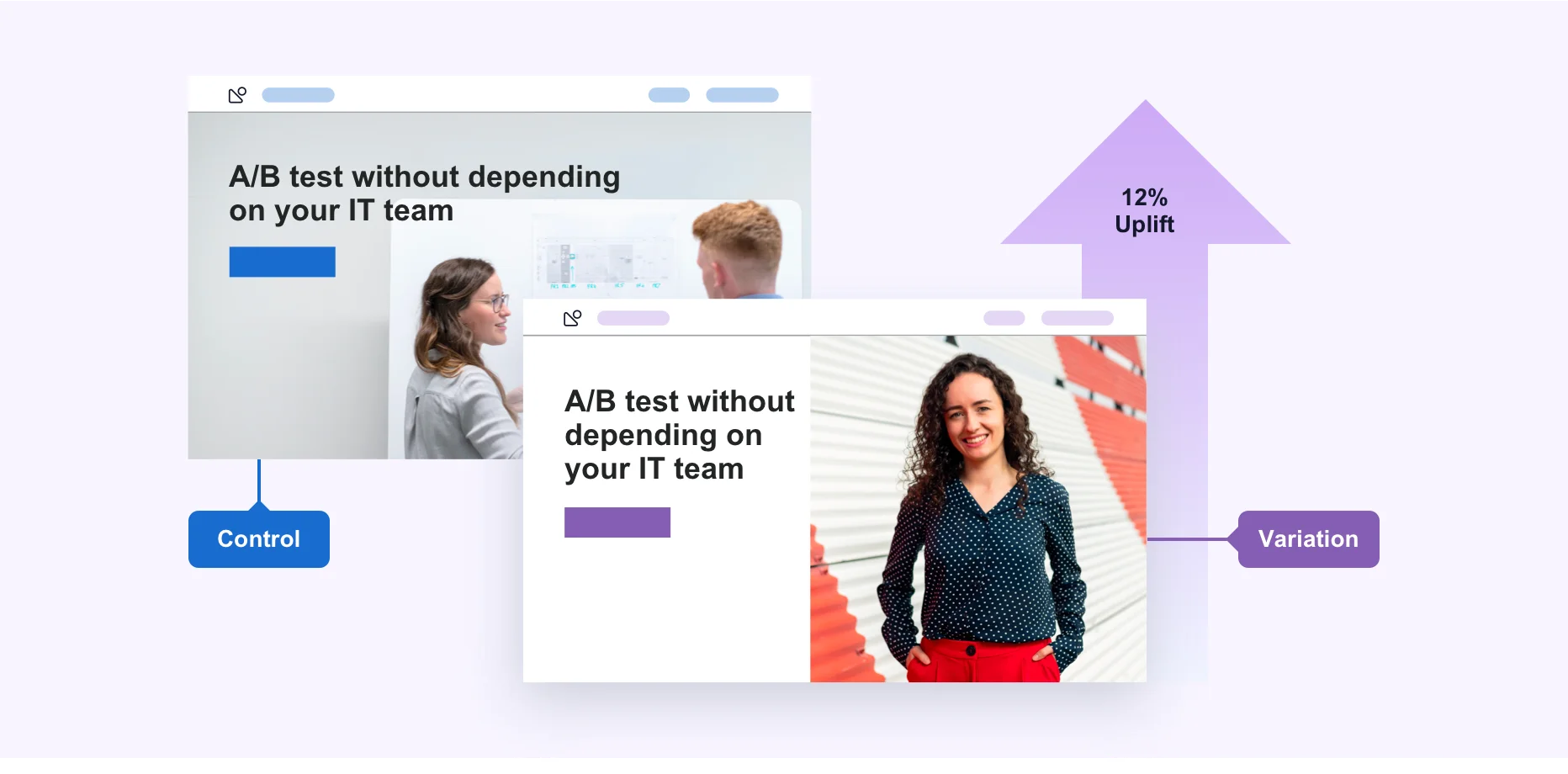 Source: VWO
It allows you to see which variation sticks with your audience more – and get better results.
Why You MUST Perform A/B Testing?
You can never know whether something will work – you can only guess. A/B testing takes away this guesswork.
And give you hard data to know precisely which strategy brings the best results.
Here are the biggest benefits of split testing.
#1: Higher Conversions
A/B testing is one of the most powerful conversion rate optimization strategies. In fact, for some companies, it is 3X or even 4X their conversion.
That's how powerful A/B testing is when you know what you're doing.
#2: Traffic Boost
Having a stable stream of traffic to your site is critical for long-term success. A/B testing can help you with that as well.
You can see what sticks with your audience more.
And the results…

It can completely redefine your content strategy, help you beat your competitors, and get to the first page of Google.
#3: Better UX
User experience is one of the key separators between successful businesses. In fact, it's so important that it can help you increase sales by 30%.
(and get an unbelievable ROI.)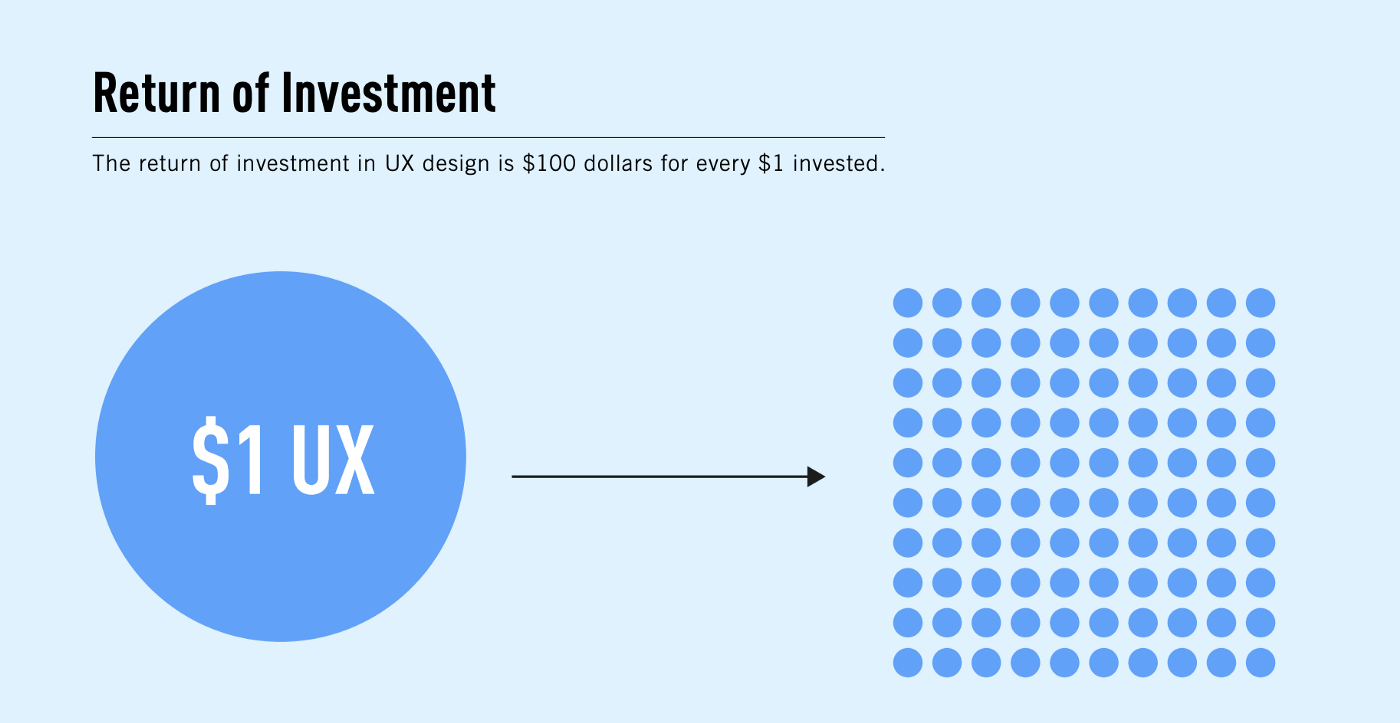 Source: UX Design
A/B testing allows you to test layouts, new designs, and navigation to deliver a top-notch user experience for your customers.
It's a complete game-changer.
What to Perform A/B Tests on?
You can A/B test virtually anything, but there are some areas that yield a higher return on investment. Choosing the right areas of your website for A/B testing is crucial.
It can help you:
Save money
Save time
Make an impact
Here is what is what is a/b testing most useful for.
Landing Pages
A landing page is a place where you really convince customers to buy your products.

That's why optimizing your landing page should be your top priority. A/B testing can help you with that by taking a closer look at:
CTAs
Headlines
Layout design
These are the key areas of your landing page that will make the most impact on your sales.
Email
Email marketing has the highest ROI of all marketing channels.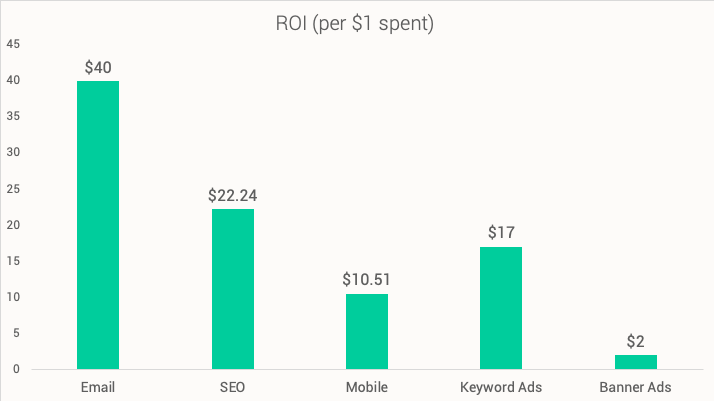 Source: K6 Agency
A slight change in a subject line or body can make a huge difference for your business. Here are some of the key areas to look into.
Optimizing these will go a long way toward making your business more profitable.
Blog
This is a little secret most companies don't know about.
You can also run split testing on your blog to see which type of content to produce. It can mainly give you an insight into content depth – whether to create:
Short-form content
Long-form content
Your audience may just want quick answers – not 4,000 words long posts.
But unless you run split testing, you won't find out and may risk feeding your audience content they don't enjoy reading.
How to Perform A/B Testing: Step-By-Step Guide
In this step, you'll learn how to perform A/B testing on your website.
We'll also give you actionable steps so you can implement what you learn right away and start getting better results instantly.
#1: Stick to One Variable
A common mistake is to get super-excited and test a bunch of things at the same time.
For instance, you'll run a split test on:
…and you see pretty good results.
But what prompted these results? Was it a headline, layout change, or call to action button? You have no way of knowing!
And that's why you must stick to testing only one element at a time.
#2: Set Clear Objectives
It's important to select metrics to measure how well the variations perform.
You'll probably be measuring multiple metrics at the same time, but we recommend choosing one primary metric and focusing on it.
For instance, you can choose to measure one of these metrics:
Conversion rate
Click-through rate
They are the most commonly used metrics for split testing since they are most related to sales.
#3: Choose Your Audience
The most dangerous thing that can hurt your sales performance is choosing the wrong audience for running A/B tests.
Just imagine getting results like below.

You're excited, so you make the final changes to your website and go with the winning variable. And the long-term results?
A massive drop in conversion rate and revenue.

That's a threat of not knowing how to choose the right sample for your split tests.
To prevent that, you should:
Randomize sample size
Equally divide customers
Have a huge sample size
You need at least 5,000 visitors per week to the page you want to run split tests. Anything less than that may skew your results.
These tips will eliminate any risks of choosing the wrong audience and diminishing your sales.
#4: Run an A/B Test
You're all set to run your first ever A/B test properly, great!
For that, you'll have to choose an A/B test software solution and run it. We make it easy for our customers to run their split tests.
It's highly intuitive and extremely reliable, and you can set it up in less than five minutes.
…plus you don't need to worry about investing into or integrating other tools to your site too. You get everything you need in one place.
#5: Take Action Based on Results
Unless you make changes to your website, nothing will change.
You need to act on the results you got – and think about reasons it worked out the way it did. It can help you uncover important insights into your audience.
And help you understand what works for your business and customers.
BONUS TIP: Prepare for Another Test
Didn't get the results you expected – or saw just a minimum change?
Don't worry, it happens a lot.
In fact, only one out of eight A/B tests drives significant change. So don't stop with a first split test and think it's useless.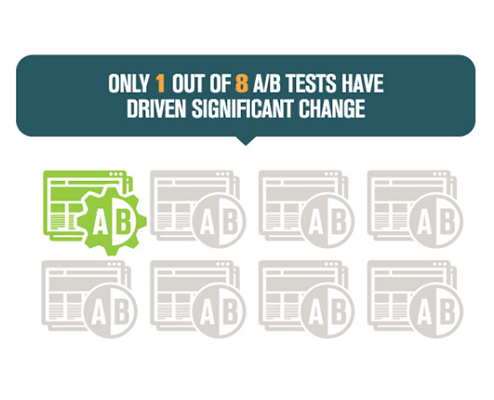 Source: Blogging Wizard
Instead, give it a shot a couple of times, and you'll be surprised by the results you get.
Skyrocket Your Conversion Rate Now
A/B testing is one of the best conversion rate optimization strategies to use.
In this guide, you've learned what is a/b testing and everything you need to know to start using it on your website and with customers.
The next step is to put it into action and get the results you desire!
Book a demo with us today and start getting the conversion you deserve right now.