Shopify is a GREAT platform for ecommerce beginners – but as your revenue grows past $50k/month, you'll begin to realize its limitations and drawbacks.Platforms like Shopify fit every business owner into a predefined shape because of their fixed store architecture.
This doesn't allow for business model innovation, leaving your Ecommerce Business is Stuck in 'Technical Prison'.
Here are a few major Shopify deal-breakers that you must be aware of:
No control of your data
Limited customization options
At risk of account shutdowns
It's time to put a stop to this.
In this post, you'll find out how to prevent these issues from happening and get unlimited technological customization options, so you can build your ecommerce business the way YOU want to.
Let's find out more.
Who Owns YOUR Data?
The biggest problem with platforms like Shopify is that you don't own your data.
In fact, from our experience, it's almost impossible to migrate off Shopify and get all the data that's rightfully yours (unless you want to get attorneys involved.)
You spend all this money, yet you get no data…
You might not be aware of this, but it's a serious threat to the future of your business. Just think about all the different types of business data you have stored on the Shopify platform and connected plugins right now:
Customer names, emails, phone numbers and shipping addresses

Customer purchase histories

SKUs

Product descriptions

Inventory data

Shipping records

Customer service interactions

Page designs & copy
Basically your whole business.
Your data allows you to serve your customers, refine your offers, make decisions, see what works, and what doesn't – so you can constantly improve.

Yet, if you are on ecommerce platforms like Shopify, all of it could be gone overnight with no warning.
At Checkout Champ, Our in-house team of consultants and developers work with thousands of our client companies, see huge amounts of data on what's working now, and are constantly experimenting and testing.
We understand the essential business need for ownership of your data from all sources, and decided to make this a key part of our platform.
Checkout Champ users get access to full backups of all data from every source in their tech stack – including Shopify stores, plugins, merchant processors and other third party data sources.
This data is not ours – it belongs to our users, and they get to keep it if they ever decide to leave.
A Tailored Fit Beats One-Size-Fits-All
Platforms like Shopify fit every business owner into a predefined shape because of their fixed store architecture.
Unfortunately, this doesn't allow for business model innovation.
Of course, it works great for Shopify, since:
It fits most early-stage ecommerce businesses
It's much easier to maintain a large scale system by limiting customization
But there's something we've seen about the most successful high-growth businesses in ecommerce…
They may sell similar products to their competitors, but they find ways to deliver unique value.
For online-first retail businesses, the only way to offer that differentiation is through customization and optimizing the customer experience.
That's the road we paved.
Checkout Champ builds technology to support more sophisticated business operations.
The customizability of Checkout Champ's content and payment platforms allows hybrid business models that include digital and physical products, straight sales, subscriptions, upsells, downsells and cross-sells all through the customer journey with fine-grained control at every step.
Making the switch from a storefront-centrix to funnel-centric marketing model gives our clients infinite scope to pursue multiple customer avatars at the same time, making unique offers to each audience for the same product catalog.
How to Break Out of the Platform Box
It's time to stop putting limitations on your business and make the most out of it.
Checkout Champ can help you make this happen with cutting-edge technologies and personalized approach for every business.
We value your time and effort – and want to help you make the most out of it.
That's why when you become a client, you will get guidance from your own personal Client Success Manager, so you can use our toolkit to the fullest.
This will ensure you'll get all the expertise available to your business.
We Offer KILLER Features You Can't Miss Out On
Checkout Champ can do wonders for your business.
We have 300+ integrations and offer a unique approach to each of our clients with concierge level onboarding and technical service.
Here are a few additional features you'll get when you try Checkout Champ:
Checkout Page Design
You no longer need to use a predefined checkout page design like with Shopify.
Checkout Champ's page designs are fully custom, so you can create a checkout page to your preference, and stand out from competitors.
Next-Level Payment Processing
We allow your customers to choose from almost every currency out there.
The best thing about it is that you don't need to pay a penny to leverage this, unlike with Shopify, where you have to pay an additional monthly fee for using multiple currencies.
Plus, we support 200+ payment gateways – making the payment processing a piece of cake.
(integrating these gateways is super-easy too.)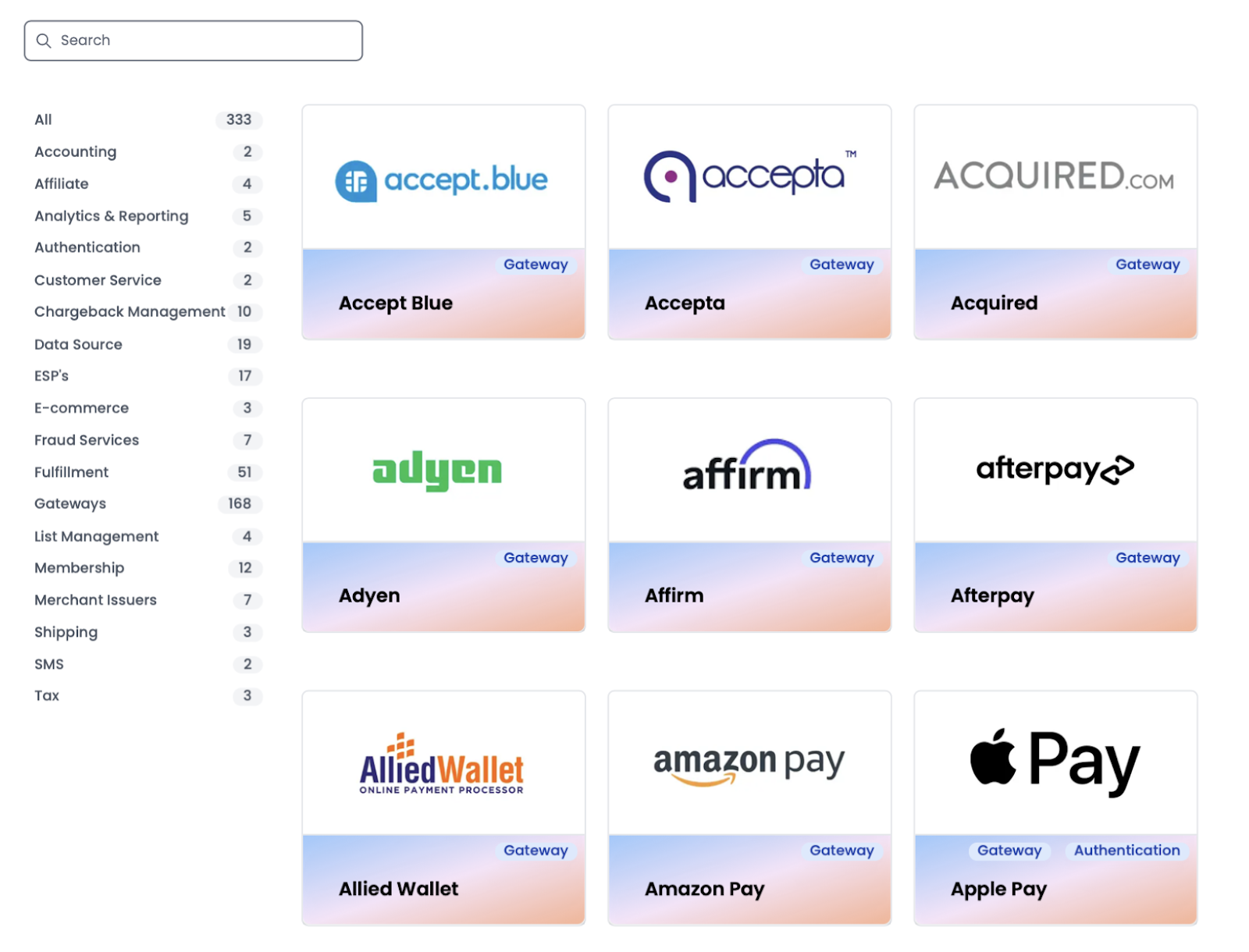 No hidden fees.
Conversion & AOV Optimization
Imagine what improving your conversion rate by 50% and adding an additional $20 to your average order value would do to your business.
It would help you get miles ahead of competitors and have massive success.
(and crazy high revenue too!)
That's what Checkout Champ can help you with. Moreover, we can help you do that without changing anything about your offer or sales pages.
You don't need to spend thousands of dollars on ads either.
We help you achieve that by providing your customers with the top-tier customer experience – so they know you care about each and every one of your customers.
Source: Group6Interactive
Here's how we do that:
We provide lighting-fast checkout page with under 1 second load time
We give you an option to create one-click custom upsells to drive up your AOV, adding an extra $20, $40, or even $50 per order and making a huge impact on your bottom line.
We collect "on-the-fence" customer data which decided to not buy in the last second, so you can retarget them and close the deal
With 300+ integrations, you can automate your whole business, provide the best customer experience, and close more deals.
(without paying a hefty Shopify's monthly fee of $2,700 for access to 3rd party payment processors.)
There are thousands more optimizations possible with our all-in-one platform.
Real-Life Examples: What Can You Expect
To understand the way we operate, and the true power of CheckoutChamp, we will show you how we implemented our unique functionality to our clients.
You're about to discover why huge companies like Inosupps and NativePath came to us… and why should you do the same!
Innosupps
Innosupps is a company selling high-quality sports supplements.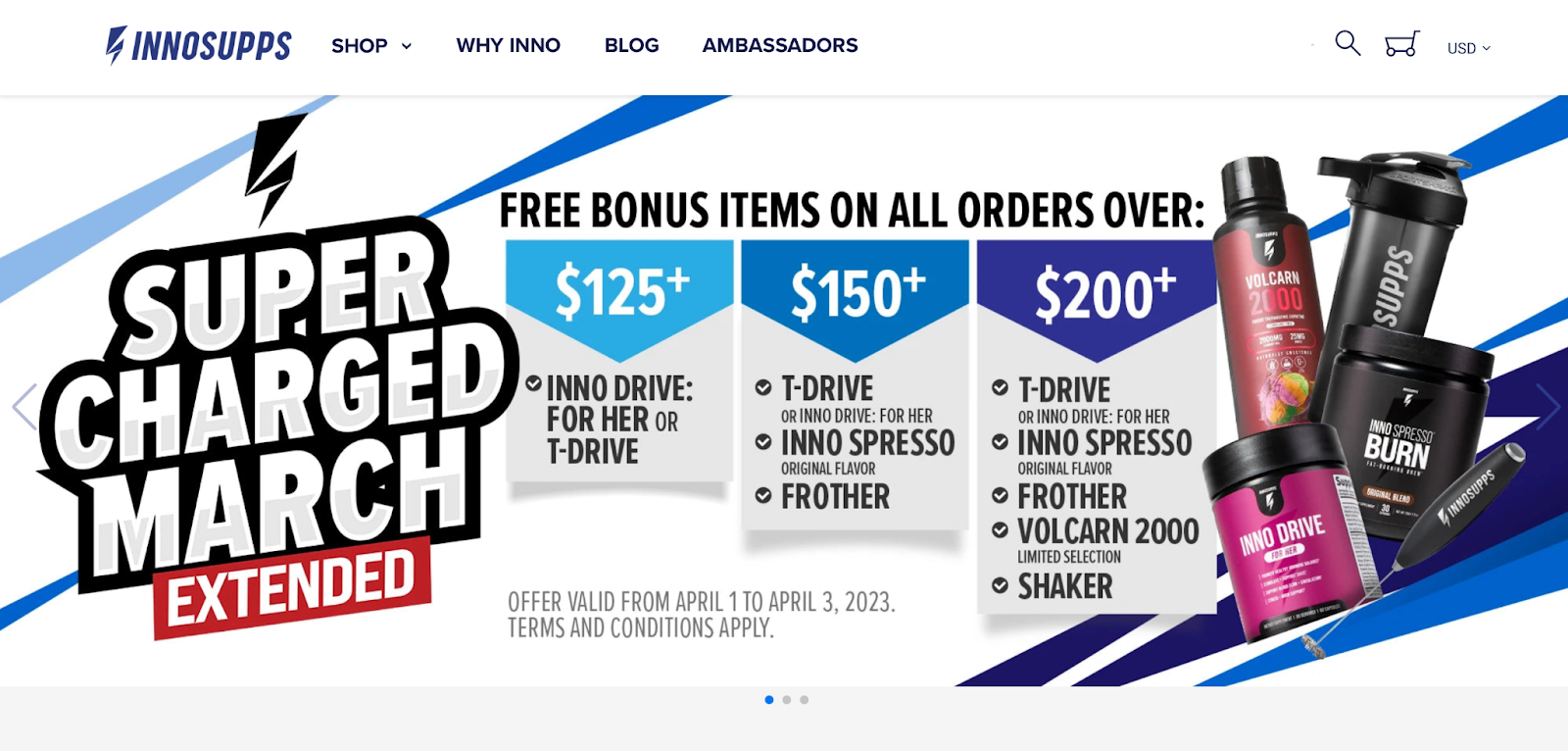 Most customers are buying multiple products at the same time.
To make the user experience as seamless as possible, we decided to create a unique bundling functionality for their business.
For instance, many users buy these four fat-burning products – since they complement each other.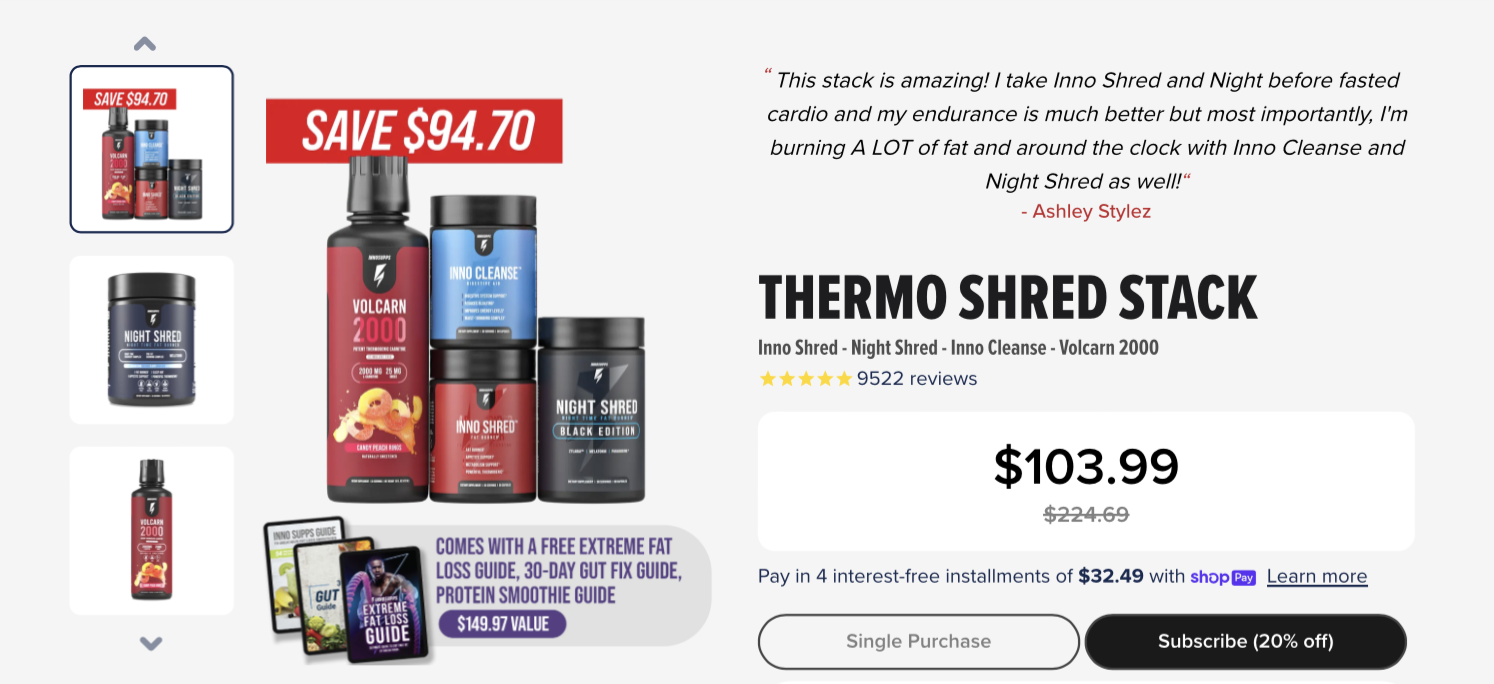 Instead of putting individual products into a cart, customers can get it all from a bundle (no need to look for each product and manually add it into a cart.)
Plus, they get better prices that way too.
Of course, to make the most out of it for their customers, we allowed variations at the product level.
That means that customers can pick flavors and types for each of their products.
And we pull live inventory data to the cart so we make sure customers can only order combinations that will arrive within promised shipping times.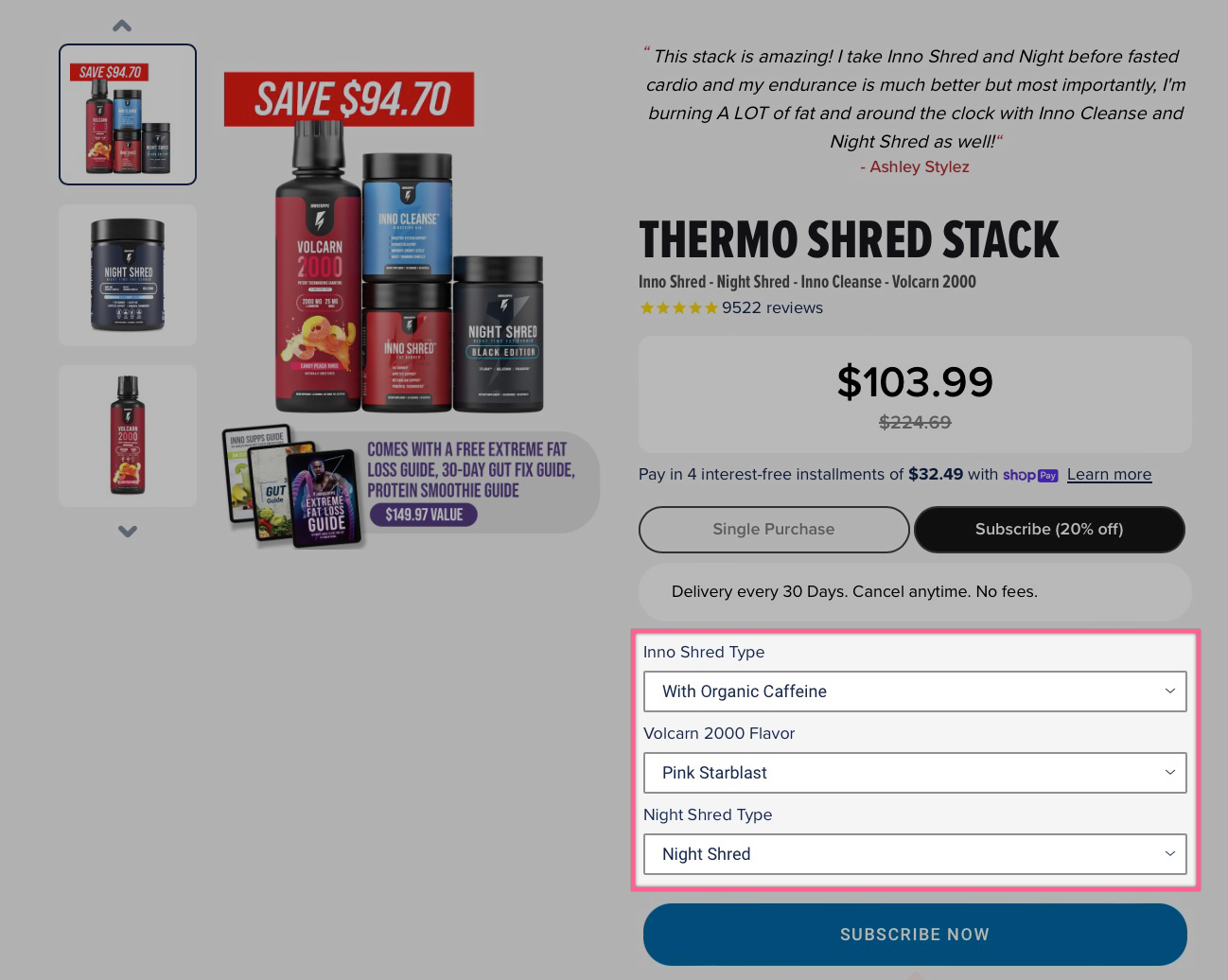 To top it all off, we also implemented a recurring payment method.
For instance, their customers can choose the frequency of getting their supplements – they will get their supplements every two weeks, 30 days, etc.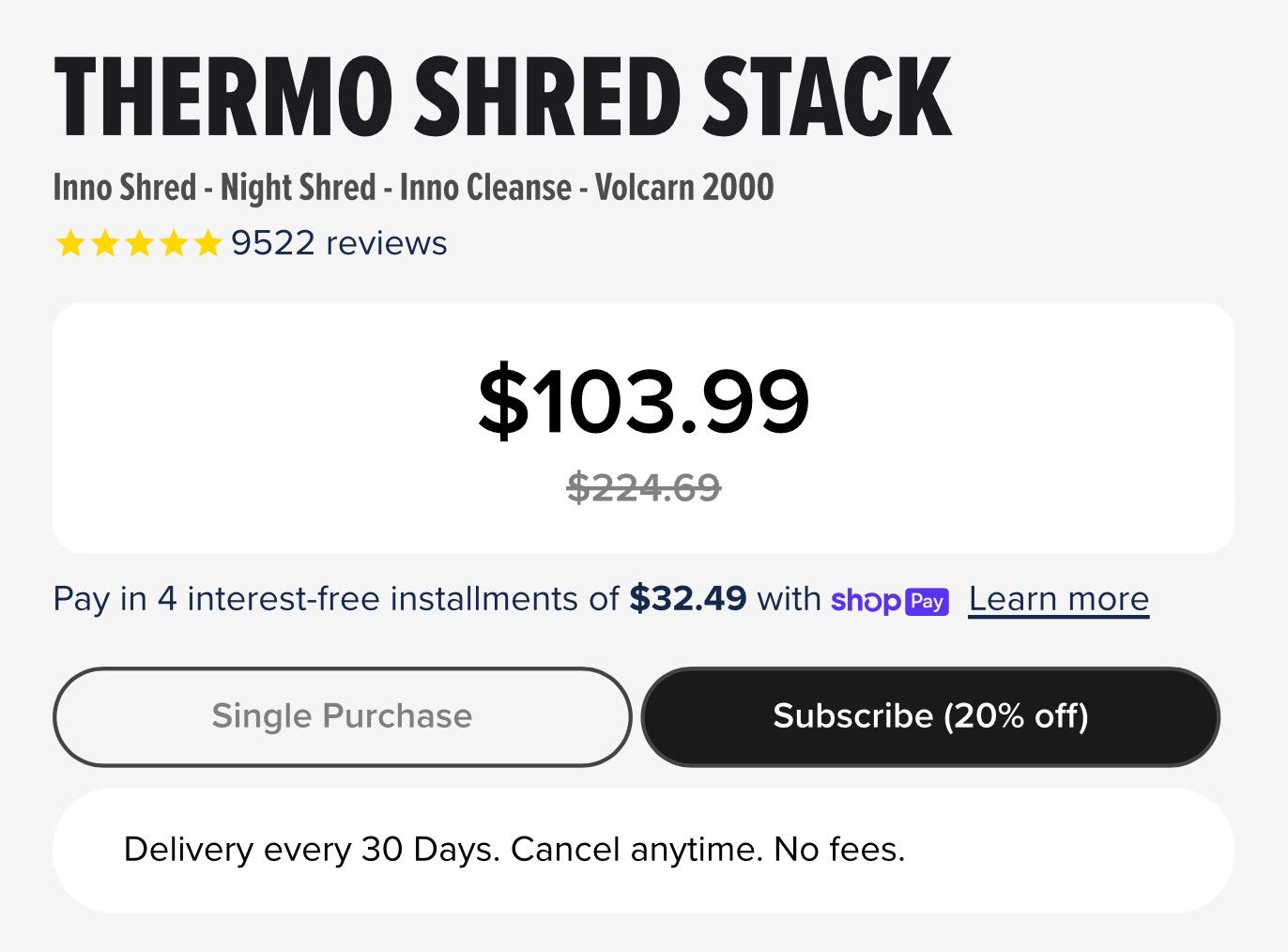 This simplifies the buying process and offers lower prices – both of which increase the chances of a sale.
Ready to Unlock Unlimited Possibilities for Your Business?
You need to jailbreak your ecommerce business. Now is the best time to do so and eliminate:
The risk of getting shut down
Not having your own data
Limited customization options
Checkout Champ makes it all possible with our unique, super-personalized approach.
We do the whole migration for you, assign you your own client success manager, create unique technology integrations just for your business, and help you transform your ecommerce strategy.
Reach out to us today and start doing high-level ecommerce business the right way.