Average order value is a critical metric for determining the growth of your company.
It can help you uncover potential problems with your revenue and give you an estimate of how much you can afford to spend to stay profitable.
Maximizing AOV is a must for every business that wants to thrive.
In this post, you'll discover everything about AOV and how to improve it to drive massive sales.
What Is Average Order Value?
Average order value is the average amount customers spend each time they make a purchase from your business.
It is one of the most important metrics for online stores to be aware of because it can help you make key business decisions such as advertising spend, store layout, and product pricing.
How to Calculate AOV?
You can calculate the average order value by dividing revenue by the number of all orders. You can see a visual formula for this below.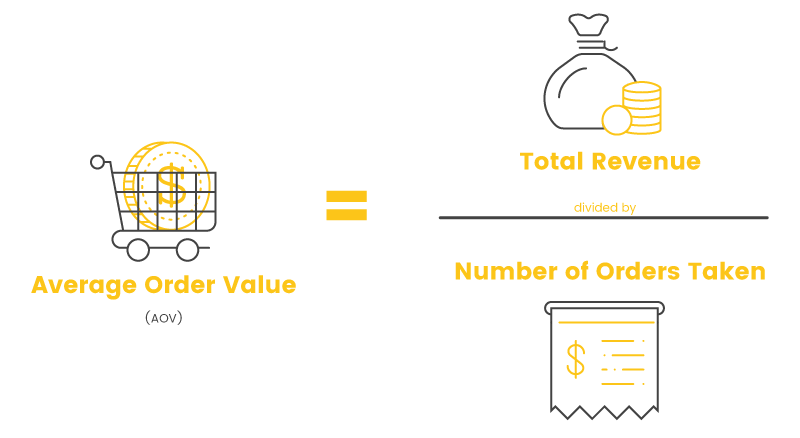 It's one of the easiest metrics to calculate.
Why Does AOV Matter?
Understanding your average order value is critical for making predictions about future growth and profitability of your business.
Here are the essential reasons why you must track your AOV.
#1: The Spending Budget
You must be certain of the exact number of money you can spend on the growth of your business. You can grasp this from your total revenue, but it might not be as accurate.
This is mostly because it does not take into account the long-term view of the revenue.
To make the most impactful decisions, you'll need to think from a long-term perspective. The way to accomplish this is to calculate your AOV and multiply it by the number of customers. And then add an average increase in customers to this formula.
This will give you the most accurate estimate.
#2: Better Understanding of Your Customers
Knowing your average order value can also give you insights into your customers' behavior.
You can identify order value trends, examine product pricing, analyze marketing spend, and more. A high or increasing AOV is a good sign for your spending.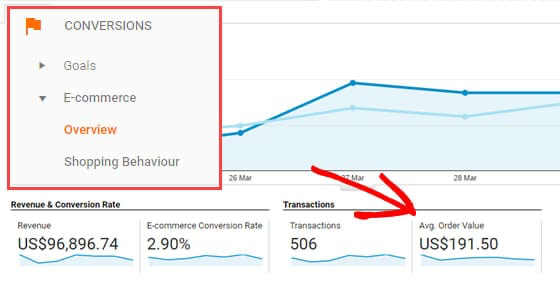 It shows that you are maximizing the revenue on each purchase.
A low or dropping AOV means your transaction revenue is lower than ideal. It is an indicator that you need to adjust your strategy and offer additional options to customers making purchases.
…and that's what we will look at next.
How to Improve AOV: 5 Actionable Steps
Improving your average order value will help you boost sales, improve return on investment, and lead to faster growth.
In this section, you'll discover the five best ways to increase your AOV.
#1: Free Shipping Threshold
We have additional fees connected with ordering items online. In fact, hidden fees like shipping are among the strongest reasons for not finishing your order.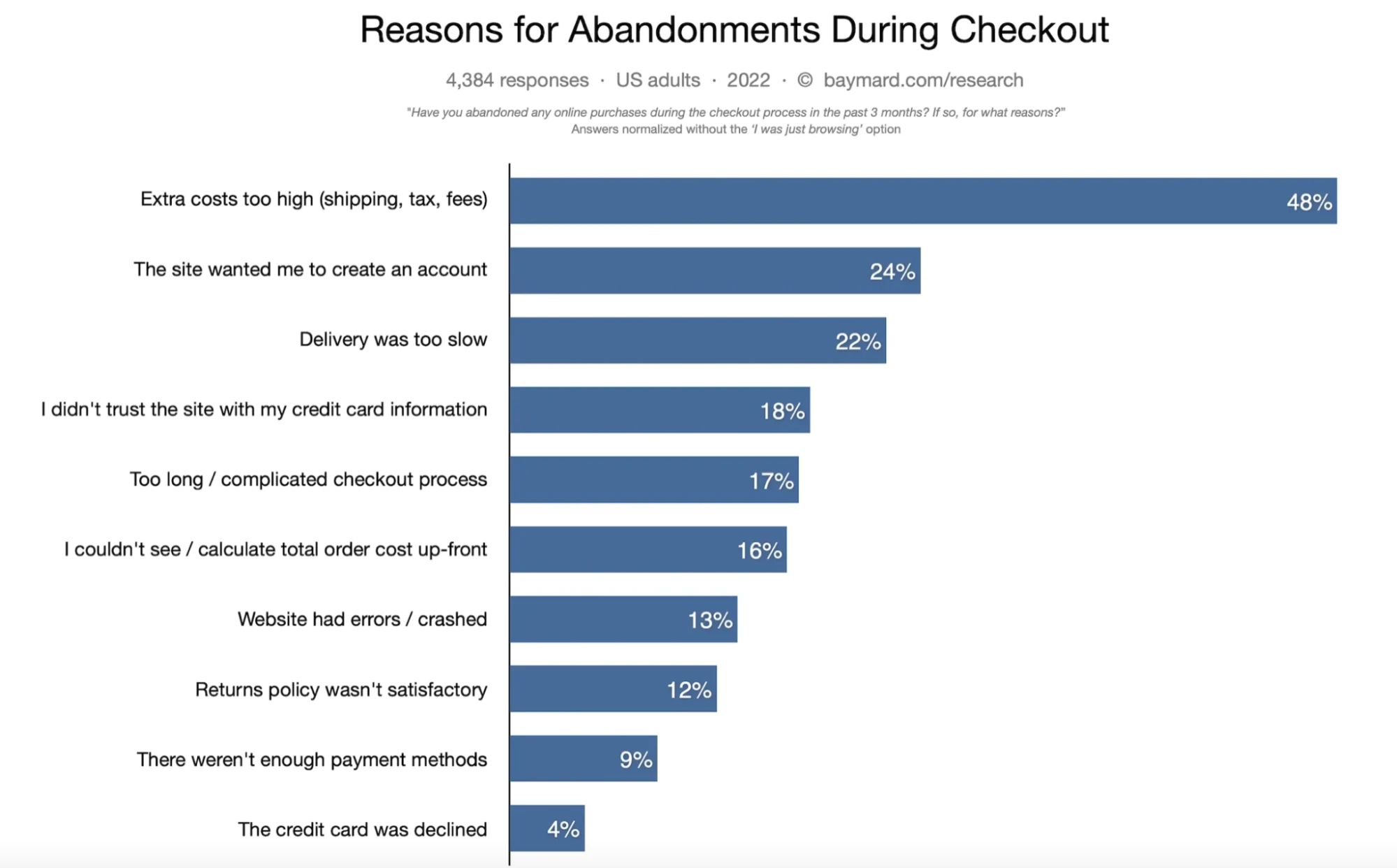 The opposite is also true – if you offer your customers free shipping, they are more likely to buy.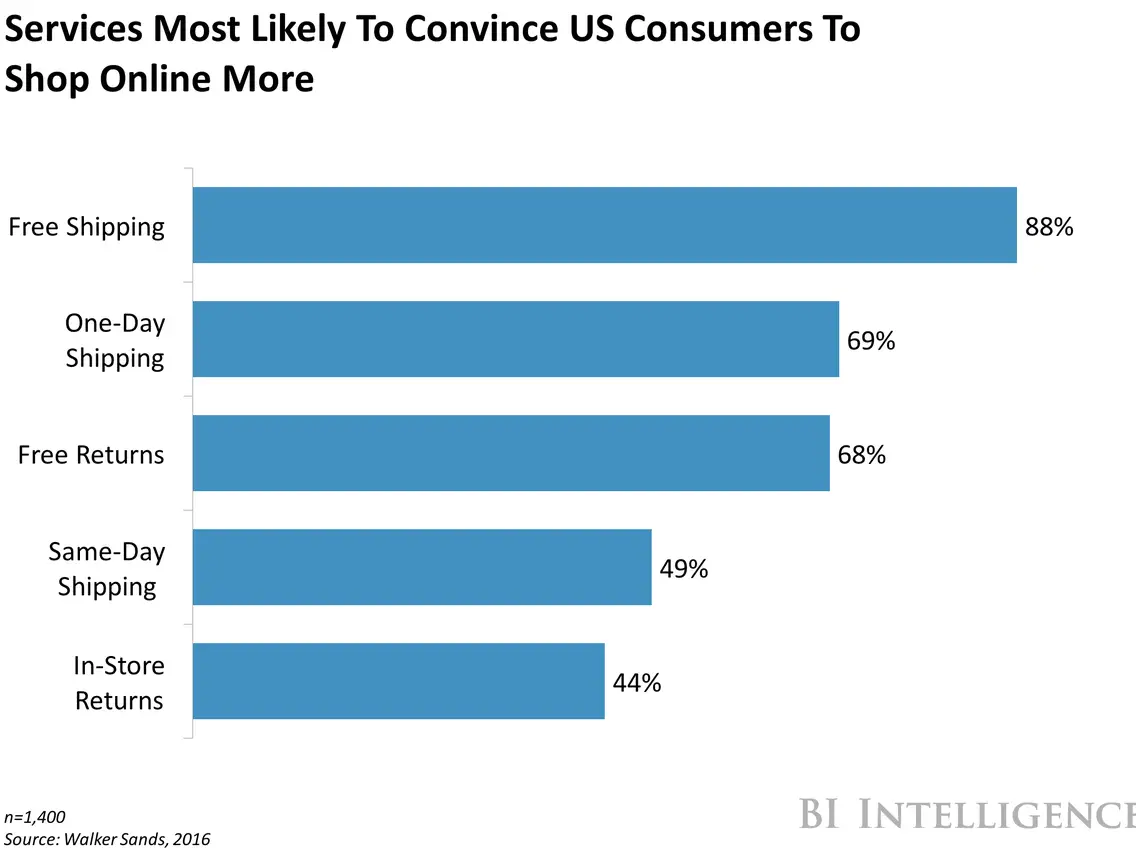 If you want to increase your AOV, you must be strategic about this. The easiest way to accomplish this is to create a free shipping threshold – the minimum order amount to qualify for free shipping.
(if you buy for at least $50, you get free shipping.)
This has been shown to greatly increase the average order value.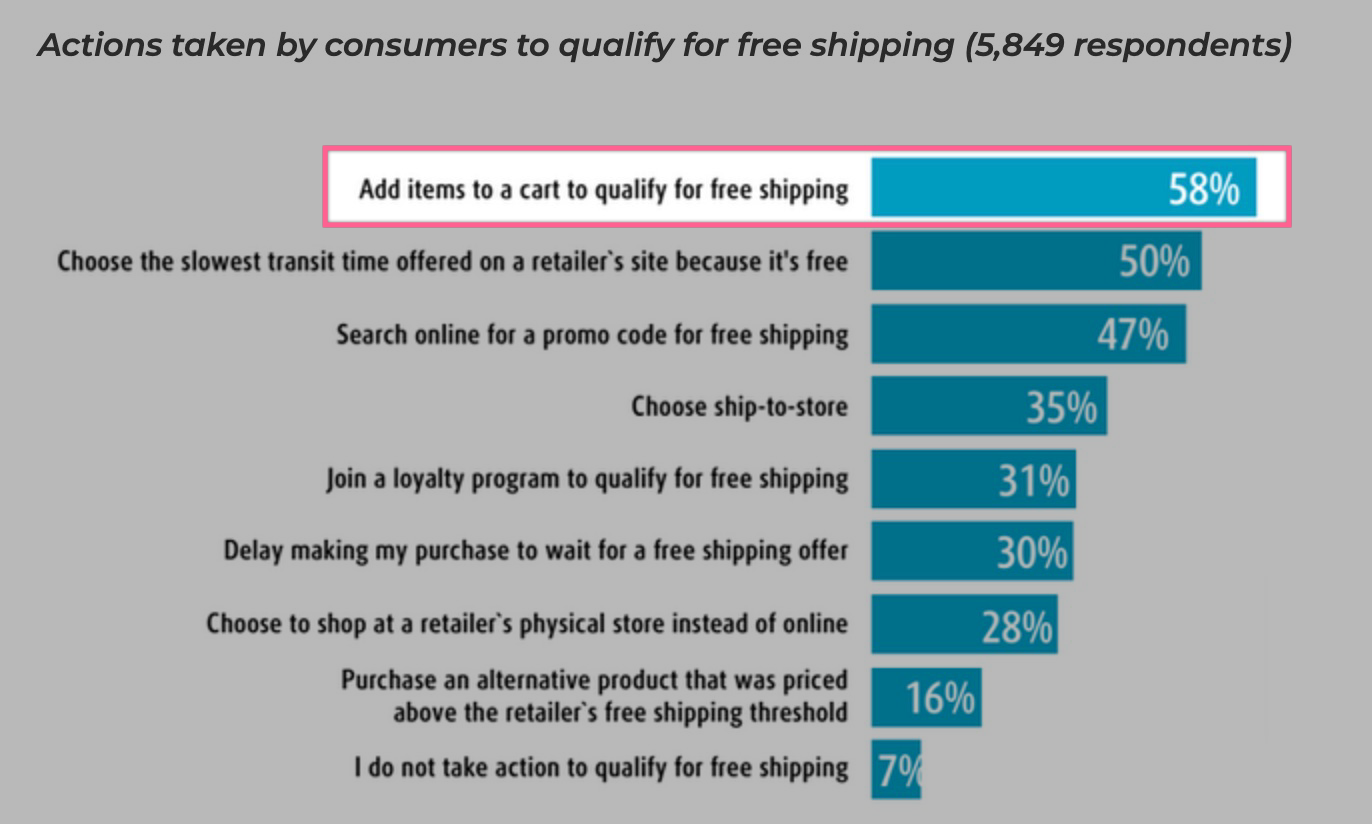 Make sure to add a free shipping threshold to your ecommerce if you haven't already. It's just a small change that can make a huge difference.
#2: Offer Upsells & Cross-Sells
73% of marketers say that upsells and cross-sells increase their revenue by 30%.
That's a crazy boost. These two work great because customers are already in a buying state of mind, which makes them more susceptible to your new offer.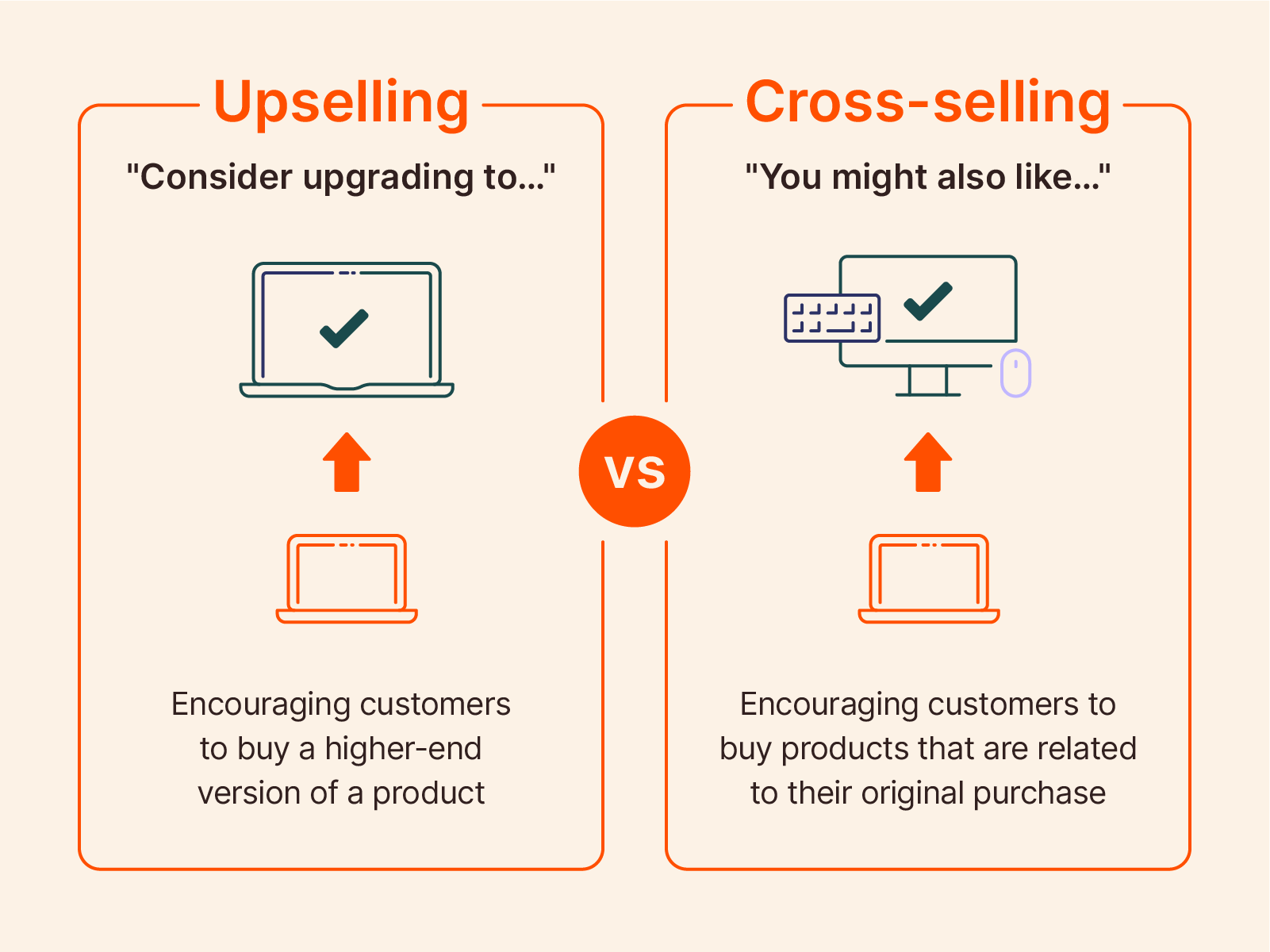 If you can convince customers that for just a slightly higher price, they can get a lot better results, they might as well give it a shot. It's one of the easiest ways, yet a very powerful way, to improve AOV.
In fact, upselling and cross-selling are one of the main reasons we were able to achieve these incredible results with our customers.

And our customers love it!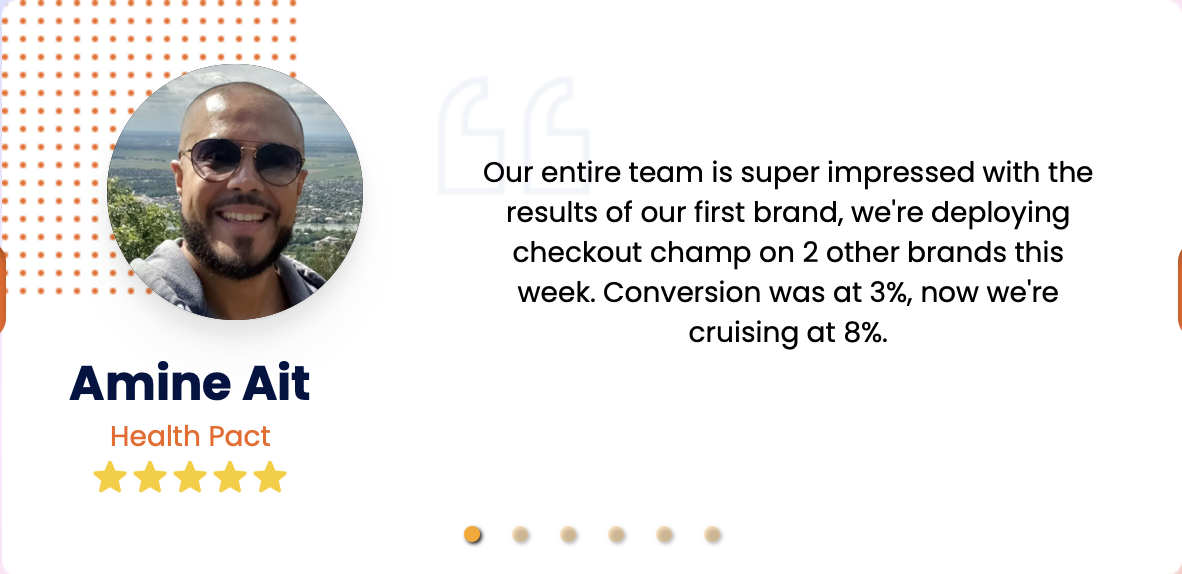 Your business deserves the same results too.
Book a demo with us today and start getting the conversion you deserve right now.
#3: Limited Time Offers
Countdown timers and limited-time offers create a sense of consequence and fear of missing out. The presence of the timer alone created an 8.6% lift in conversions.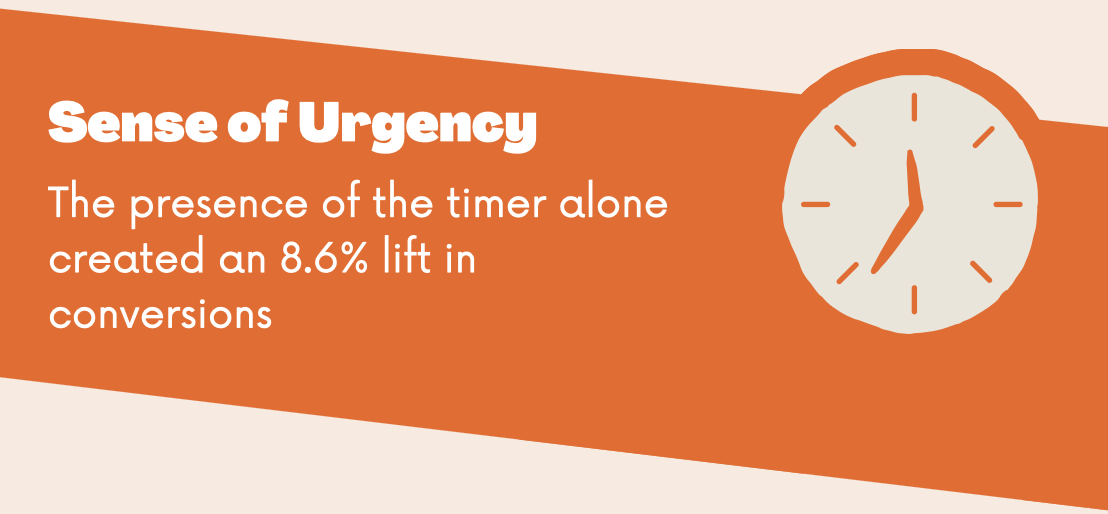 You need to make customers decide as soon as possible and hit that order button.
(or you risk losing them to a competitor.)
There are a couple of ways you can add urgency to your product, such as:
Limited stock
Timely discounts
Offering a bonus for a limited time
In fact, here are some of the best tools for countdown banners:
Hextom
Conversion Plus
Ultimate Scarcity Pro
You can leverage them and make your offers irresistible to your customers, increasing the average order value and conversions.
Quick Tip: Make it believable and real; if customers know you're faking it, it won't have any effect.
#4:Money Back Guarantee
Return policy is more important than most e-commerce realize. In fact, most consumers check the return policy before they make a purchase.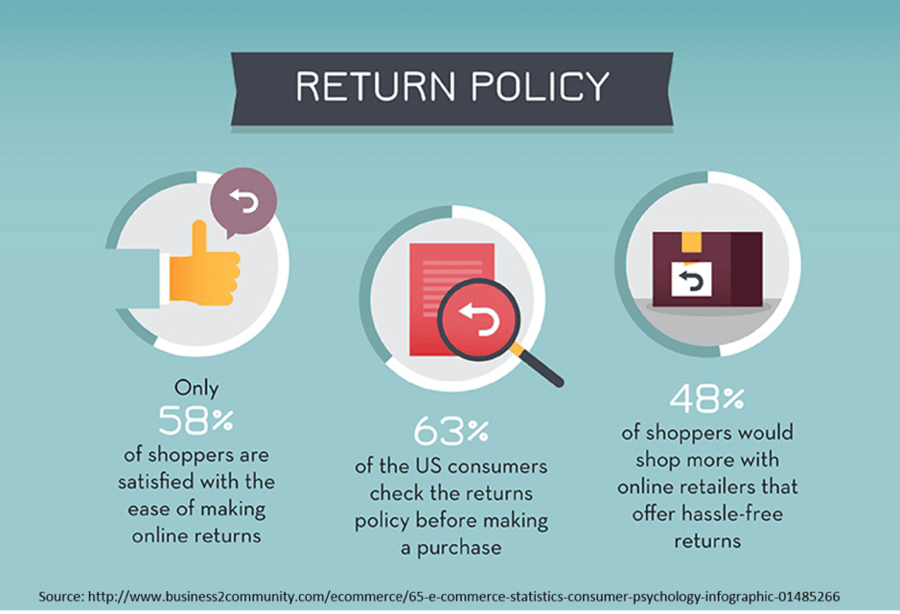 To maximize your conversions, you should offer a money-back guarantee and easy returns.
This can also help you with increasing the average order value. If you offer your customers an easy return policy coupled with a money-back guarantee, you eliminate the risk of them getting scammed or purchasing something they don't like.
Making them more willing to spend more and buy more often.
#5: Bundle Offers
Product bundling allows you to boost sales, grow your revenue, and improve your customer's average order value.
Customers prefer it because they can buy a package and save money.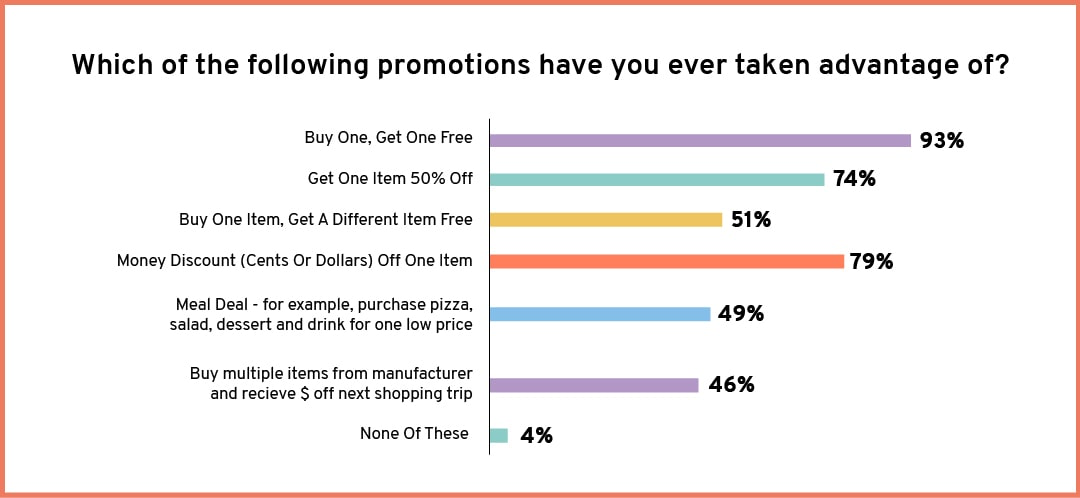 It's a win-win for both parties.
To maximize the results of bundle offers, you can take advantage of these strategies.
Buy one, get one free
Get one item 50% off
Get a coupon for next purchase
Just make sure to mix low-selling items with fast-moving ones to maximize sales and bring awareness to the low-selling products.
Conclusion
To make the most out of every purchase, you need to constantly find a way to increase your average order value. This is one of the best ways to grow your ecommerce which can help you 2X or even 3X your sales in a matter of a few weeks or months.
You've learned about the most effective ways to boost your average order value. Now it's time to apply them to your business.
Book a demo with us today and start maximizing your average order value right now.