Shopify is a GREAT platform for ecommerce beginners – but as your revenue grows, you'll begin to realize its limitations and drawbacks. Platforms like Shopify fit every business owner into a predefined shape because of their fixed store architecture.
This doesn't allow for business model innovation, leaving your ecommerce business stuck in 'Technical Prison'.
Here are a few major Shopify deal-breakers that you must be aware of:
No control over your data

Limited customization options

At the risk of account shutdowns
It's time to put a stop to this.
In this post, you'll discover the 5 BEST Shopify alternatives that will allow you to build your ecommerce business the way YOU want to.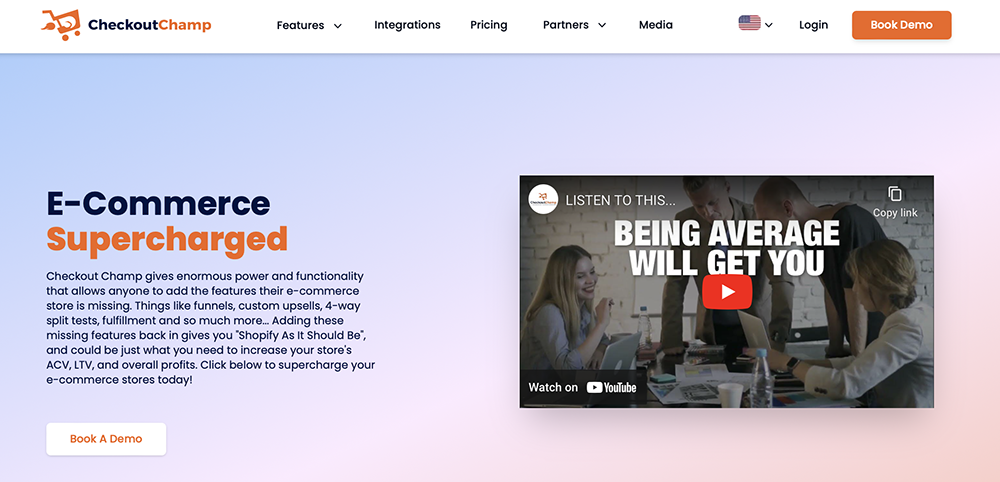 Overview:
Checkout Champ is the most innovative ecommerce platform online.
This platform gives you the ability to create an online store with enormous power and unique functionality that has the features all other ecommerce stores are missing.
Key Features:
Checkout Champ provides you with a lot of features you won't find anywhere else. Here are some of the best features.
300+ Integrations. You have the option to integrate your store with all your favorite apps so you can create the best possible experience for your customers

Lightning-fast experience. Checkout Champ provides the fastest online experience with 99.9% guaranteed uptime so you don't miss a single sale

Full control & customization. You can customize every element of your ecommerce so you can create the ecommerce of your dreams.
Plus, they have a strong team of developers available for their users.
That means that they can create custom features or functionalities just for your business! That's what truly separates them from the rest.
…and can help you stand out from competitors too!
Pricing:
Checkout Champ offers two paid membership plans.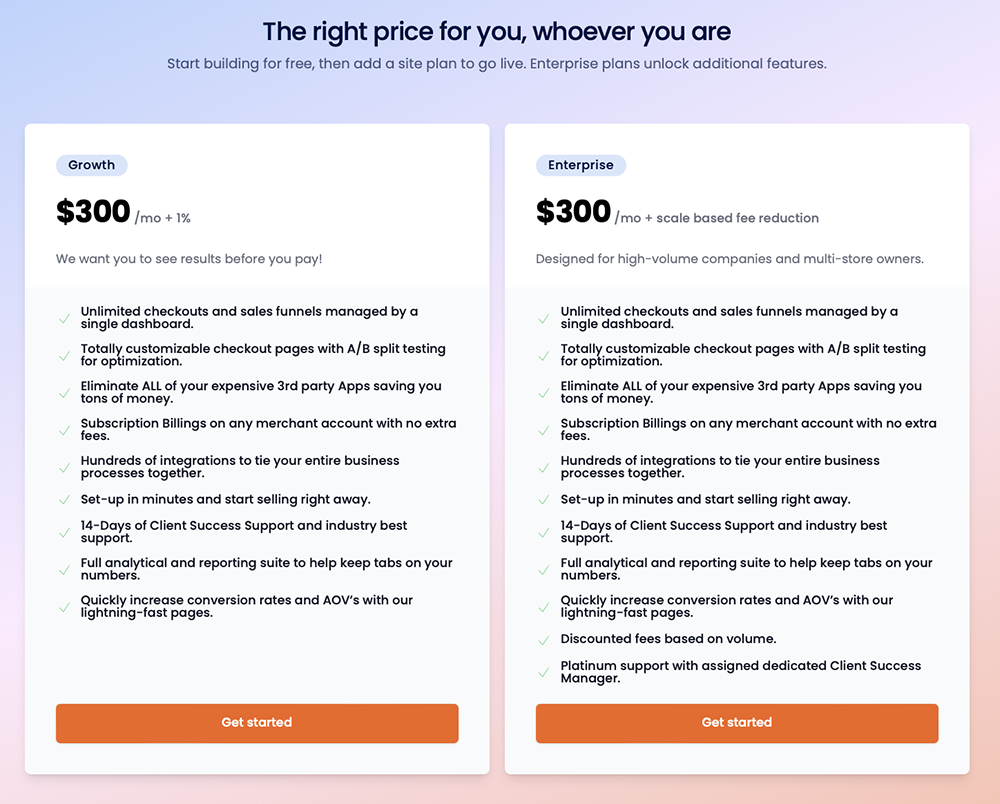 Bottom Line:
Checkout Champ is the best online sales platform on the Internet. It has unique features, 300+ integrations, and offers custom-based functionality created just for your business.
If you're looking to create a successful business you can grow in the future, this is the right platform.
#2: BigCommerce – The Best Ecommerce Platform for Large Businesses

Overview:
BigCommerce is a top ecommerce builder with a lot of weight behind it – mostly suitable for larger businesses that are well established. It offers robust features with impressive data reports and extensive inventory.
(if you're just starting your ecommerce, we suggest going for a more startup-friendly tool.)
What We Love:
BigCommerce has a lot of great built-in features – making it a powerful tool for large businesses. Here are the things we particularly loved about this platform.
Unlimited products. There are no limits to the number of products you can offer, making it the best choice for ecommerce businesses with a huge inventory

Staff accounts without limits. BigCommerce wants to see you shine – and that's why they offer an unlimited number of staff accounts, allowing you to grow beyond measure

Multiple payment methods & gateways. You can choose all popular payment methods your customers use and integrate 65+ secure payment gateways
Pricing:
BigCommerce offers three paid memberships – starting at $39 a month.

You can also hop on their 30-day free trial to see whether you like their tool.
Bottom Line:
If you're a large and fast-growing business, this is the right choice for you.
BigCommerce is made for businesses with lots of stuff, huge inventory, and a large customer base. All of the features combined make it a rocket-like ecommerce platform.
#3: PrestaShop – The Free Ecommerce Solution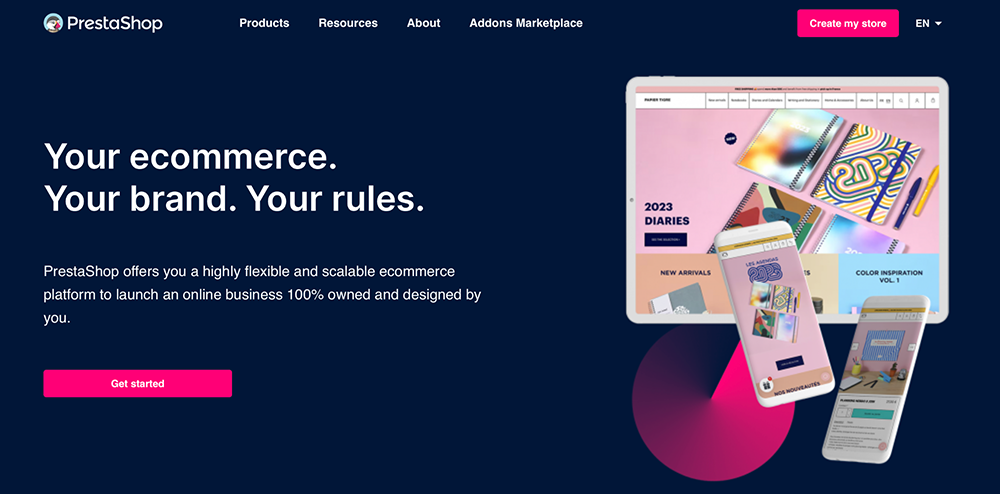 Overview:
PrestaShop offers you a highly flexible and scalable FREE ecommerce platform to launch an online business – 100% designed and owned by you.
It's best for small and medium-sized businesses – you'll most likely have to switch as you scale.
What We Love:
PrestaShop is a very popular platform a lot of ecommerce owners enjoy. We really like it too. In fact, here are the things we found to be the best about it:
Full customization. It lets you access their themes' code and change anything you want. That customizability helps set your shop apart from all others

Built-in marketing tools. PrestaShop has many built-in marketing features, including discounts and coupon codes, email marketing, limited-time offers, and free shipping

Legal support. It comes with shopping cart tools that make your shop compliant with the laws of a specific country. This will help you keep your store running and prevent legal issues
Pricing:
PrestaShop is free to download and use. No monthly fees, no commission on sales, 100% free!
Bottom Line:
PrestaShop is a great tool for anyone looking to have full control over their ecommerce. From design without limits to legal support, they got you covered.
The best thing about it is that it's FREE – no need to pay a penny to use their platform.
#4: Simvoly – The Best Website Builder for Ecommerce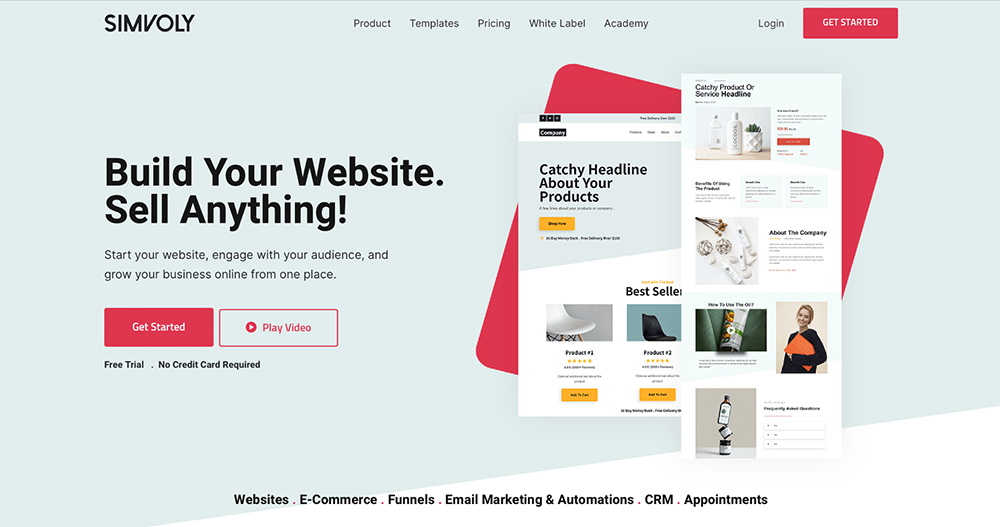 Overview:
Simvoly is a cloud-based solution that provides businesses with tools to build websites, manage sales processes, and streamline eCommerce operations on a centralized platform.
Also, Simvoly can store clients' contact details and create personalized profiles for customers.
…and maintain a record of previous interactions for reference too.
What We Love:
Simvoly has a lot of great things you'll definitely love. What we enjoyed the most was the ease of use and their drag-and-drop page builder.
Aside from that, here are a few additional things we love:
Responsive. Their responsive design helps you provide the best experience on every device, so you always make a great first impression on your customers

Blogging. Their templates come with a set-up blog page integrated with social share buttons, so your visitors can share your content with a single click and promote your brand

Wide variety of themes. You'll be spoiled with over 50 stunning themes. They have a template for every niche and industry in the market
Pricing:
Simvoly has a four-tiered pricing structure – starting at $12 a month and scaling up all the way to $149 a month for their pro version.

You can also hop on their 14-day FREE trial.
Bottom Line:
Simvoly is a powerful website builder that offers ecommerce functionality.
It has one of the smoothest drag-and-drop builders and tons of templates, and you can set it up in a matter of a few minutes.
#5: Sellfy – The Best Platform for Selling Digital Products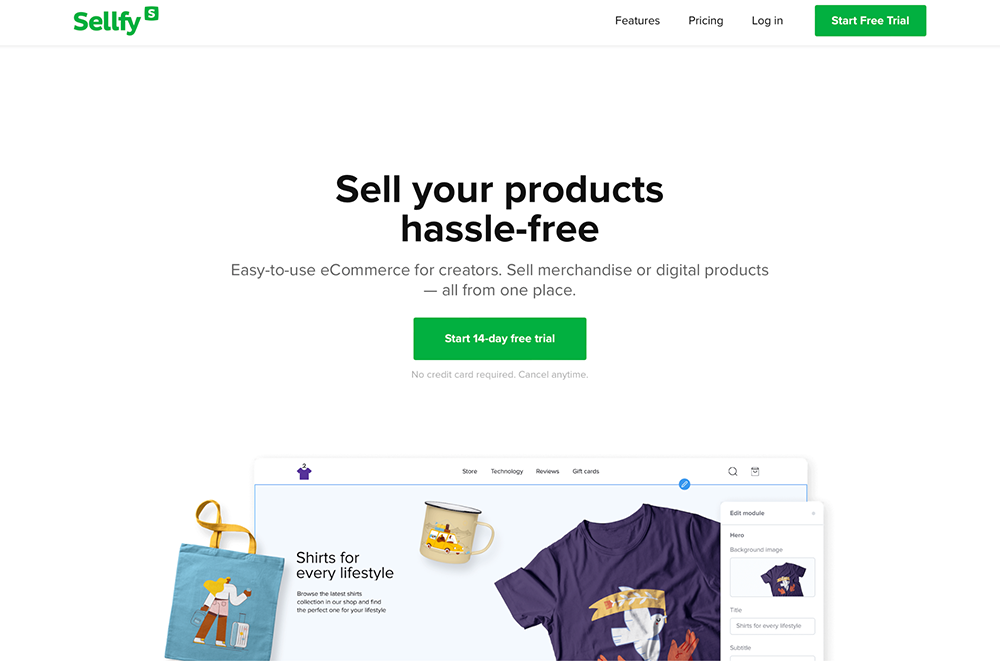 Overview:
Sellfy is an easy-to-use ecommerce platform for creators. It allows business owners to sell merchandise or digital products – all from one place.
It's especially ideal for creators and online businesses who hate complexity but want results.
What We Love:
We loved the most that Sellfy is a very clean and intuitive platform – you can't get confused. Plus, here are some of the most useful features of this platform.
Sell anywhere. Reach your audience and sell directly on social media, your own website, or anywhere else with a custom storefront

Built-in print on demand. Launch your print-on-demand merch store within minutes. Design, create and sell from one storefront

24/7 support. A helping hand whenever you need it. An excellent support team available 24/7
Pricing:
Sellfy offers three paid plans, starting at $29 a month – no hidden fees, no transaction costs.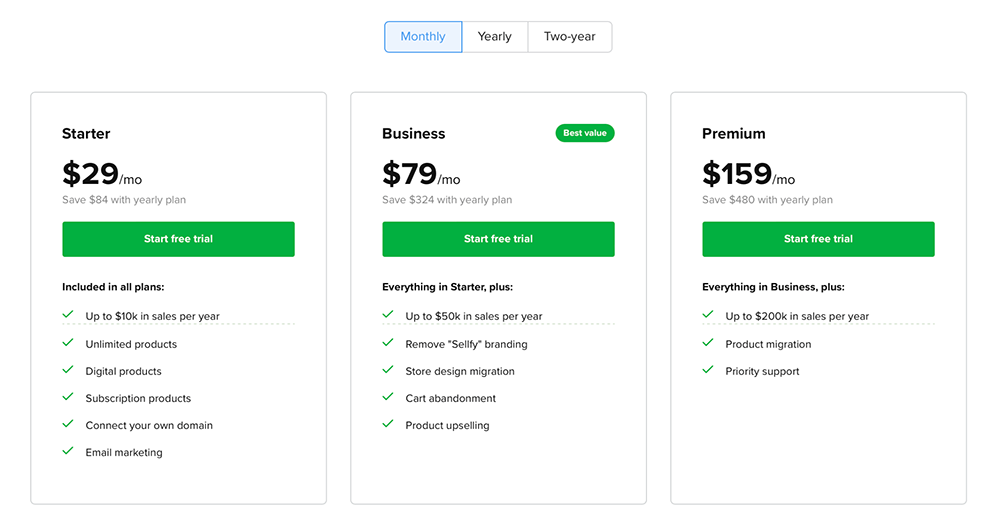 They also provide a free 14-day trial, no credit card required.
Bottom Line:
This platform has a lot of great features and allows you to sell print-on-demand products, digital goods or earn recurring revenue with subscriptions.
Plus, it helps you effortlessly create a beautiful store that stands out in less than five minutes.
We highly recommend this for beginners.
Build Your Dream Ecommerce: Ready to Get Started?
Shopify is a great platform – the #1 most popular ecommerce on the planet. But it has its drawbacks and limitations, which can be huge deal breakers.
Fortunately, you know about them now and you're ready to break free.
CheckoutChamp will help you do that by giving you the data that are rightfully yours and providing you the ability to leverage multiple merchant accounts as you scale up.
…and you don't have to worry about the migration process from Shopify either.
We will do everything for you, assign you your own client success manager, and help you save your ecommerce business.
Book a demo with us today and build your dream ecommerce business now.