Ecommerce sales are expected to grow to $6.5 trillion by 2024. And even further in the years after. If you are not selling online already, now is the best time to do so.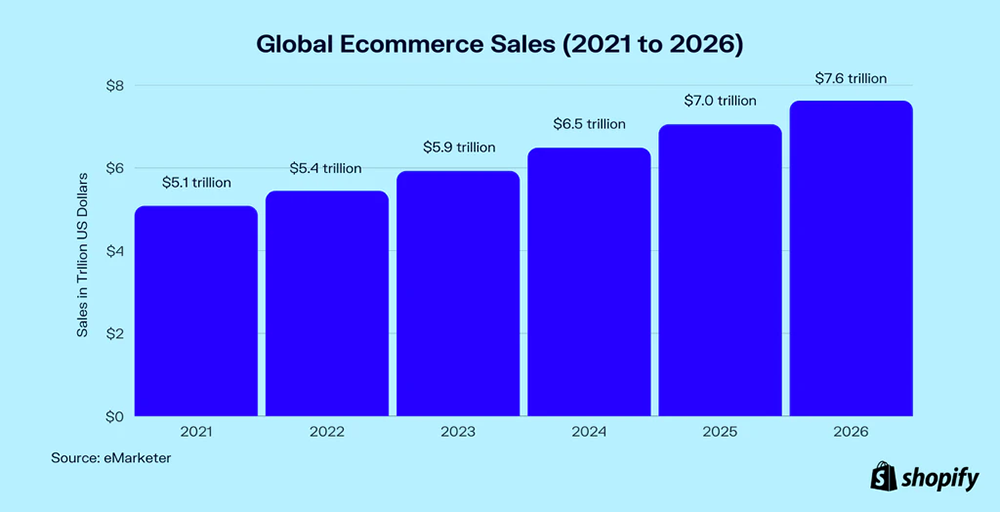 There are a lot of ways you can start, however, we highly recommend sticking to an online sales platform. It will simplify the whole process and help you get started in no time.
In this post, you'll discover what is the best online sales platform for you, so you can start selling online and achieve financial freedom.
Let's get started.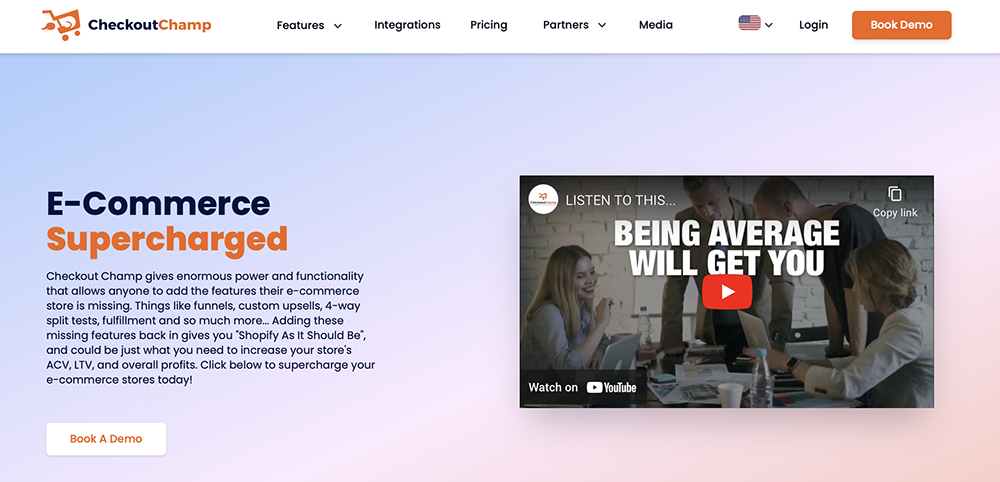 Overview:
Checkout Champ is the most innovative ecommerce platform online.
This platform gives you an ability to create an online store with enormous power and unique functionality that has the features all other ecommerce stores are missing.
Key Features:
Checkout Champ provides you with a lot of features you won't find anywhere else. Here are some of the best features.
300+ Integrations. You have an option to integrate your store with all your favorite apps so you can create the best possible experience for your customers

Lightning fast experience. Checkout Champ provides the fastest online experience with 99.9% guaranteed uptime so you don't miss a single sale

Full control & customization. You can customize every element of your ecommerce so you can create the ecommerce of your dreams.
Plus, they have a strong team of developers available for their users.
That means that they can create custom features or functionalities just for your business! That's what truly separates them from the rest.
…and can help you stand out from competitors too!
Pricing:
Checkout Champ offers two paid membership plans.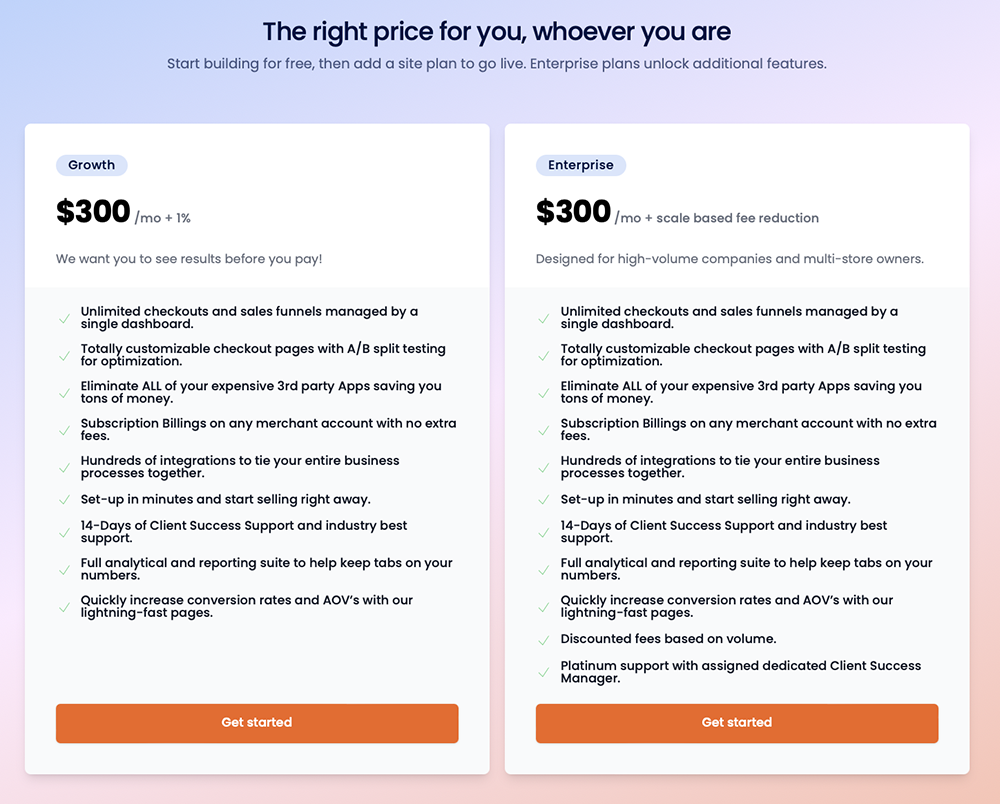 Bottom Line:
Checkout Champ is the best online sales platform on the Internet. It has unique features, 300+ integrations, and offers custom-based functionality created just for your business.
If you're looking to create a successful business you can grow in the future, this is the right platform.
#2: Shopify: One of the Most Popular Ecommerce Platform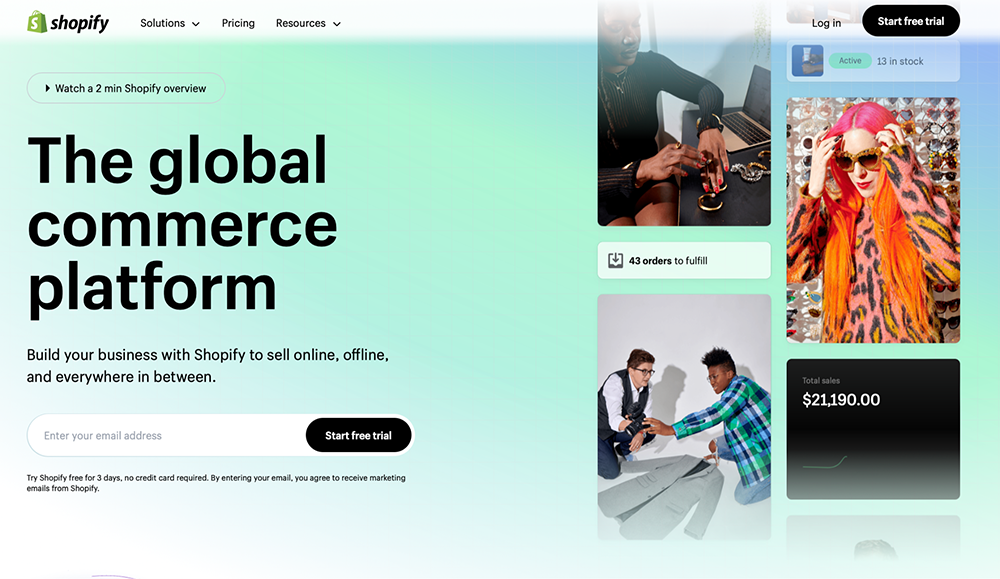 Overview:
Shopify is a very popular platform used by over 4.4 million people worldwide. It's very easy to set up, highly intuitive, and great for beginners.
Also, if you are a dropshipper, this is the platform for you.
Key Features:
Shopify has a lot of great features, including:
Multi-platform selling. Sell across multiple channels, including Facebook, Instagram, Amazon, eBay, and so much more

Out of the box solution. Shopify streamlines your work from the very start, so you don't need 10+ additional tools to get your store started

Easy product management. It has very user-friendly interface, allowing you to manage your inventory, add posts, and maintain your business with ease
Pricing:
Shopify has a great pricing system – serving all types of businesses. If you are just starting, you can choose the most basic plan.
Also, they offer a 3-day free trial and then $1 a month for 3 months.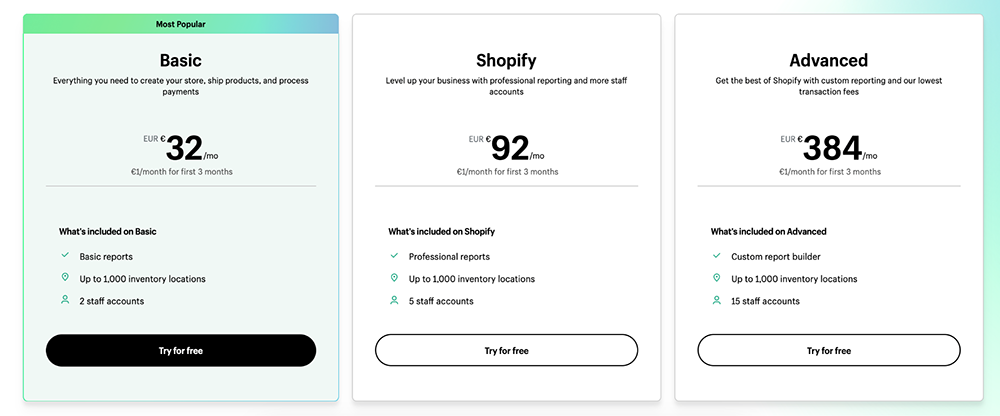 Bottom Line:
Shopify is a great platform for beginners. It has the most basic functionality you need to start selling fast. However, it's very limited and there is a lack of customization. Plus, 3rd party apps and additional plugins can drive up cost and complexity.
If you're looking to create an ecommerce store to your preference, you'll need to look elsewhere.
#3: BigCommerce: The Best Platform for Larger Businesses

Overview:
BigCommerce got you covered if you're looking for it. It's one of the best choices for larger stores or B2B businesses with high revenues.
Key Features:
It has a fantastic toolkit of features for large businesses, including:
Unlimited products, file storage, and bandwidth. Since this platform is for the big players, it does not impose limits on catalog size or storage space of your ecommerce

Bulk pricing. It allows the seller to incentivize purchases at a higher quantity by offering bulk discounts

B2B edition. BigCommerce offers a dedicated bundle for B2B sellers, allowing businesses to streamline operations and improve customer experience
Pricing:
BigCommerce offers four plans paid you can choose from – starting from $39 a month. You can also hop on their 15 days free trial.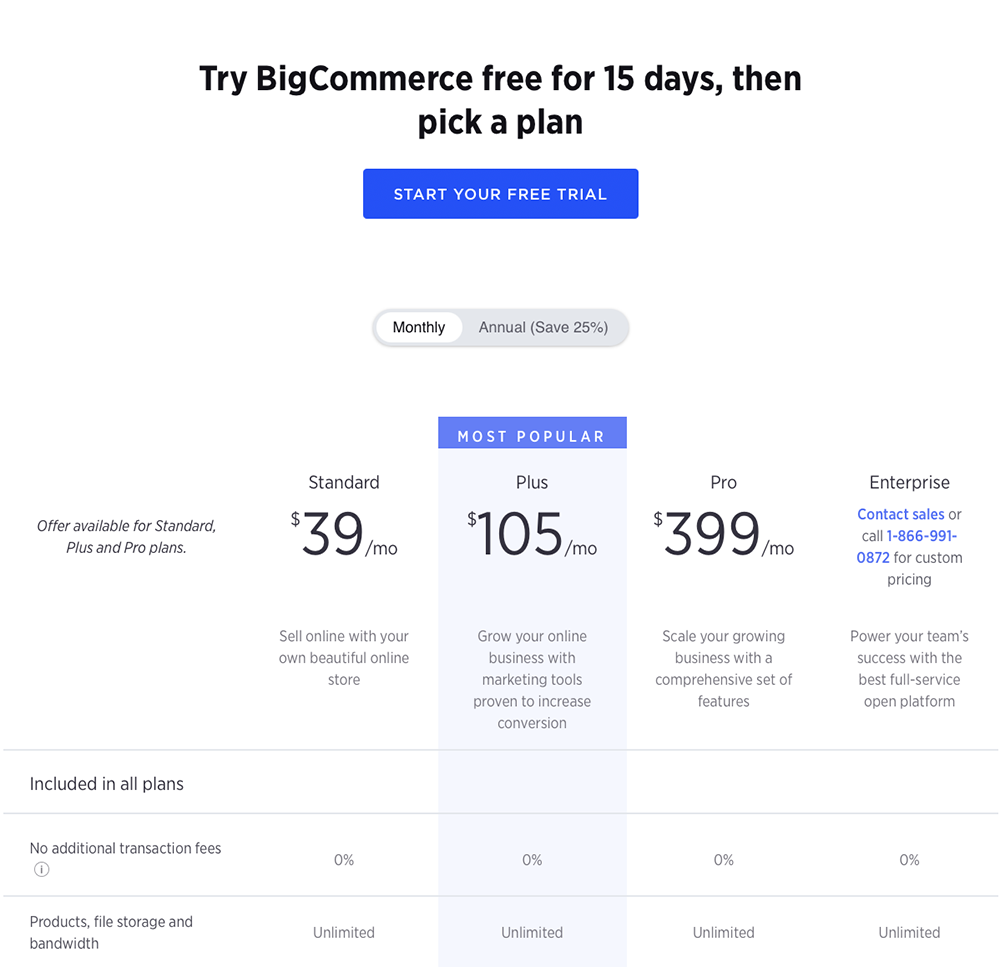 Bottom Line:
BigCommerce is an awesome platform if you already have a skin in the game. It's suited for huge businesses, although they offer solutions for small businesses too.
(but there are a lot better platforms for small businesses.)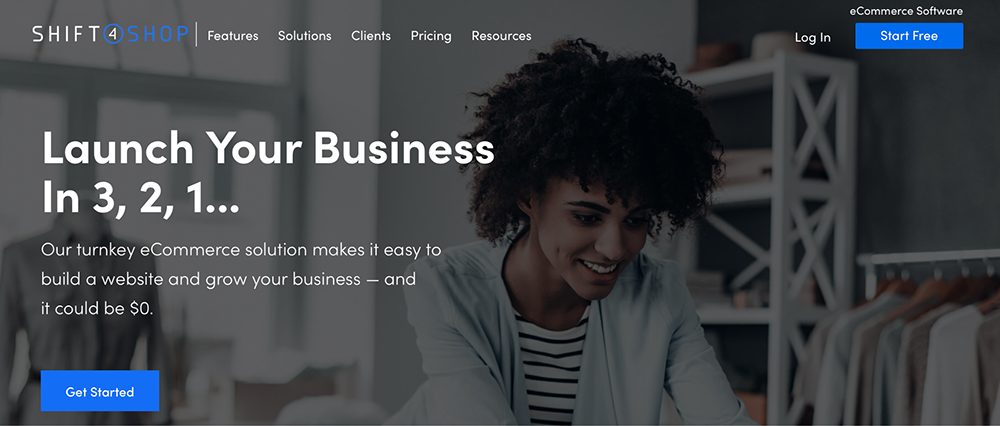 Overview:
Shift4Shop is a great platform if you're looking to start for free. It has all the popular features you might need and it's super-easy to get started.
Key Features:
Here are some of the most popular features of Shift4Shop:
Free domain registration. If you choose Shift4Shop to register domain name for you, they cover your first year of registration free of charge

Secure experience. Shift4Shop offers a secure shopping experience and 2FA, so your customers can stay safe and prevent frauds

Tons of pre-made templates. You don't have to start from scratch. They make creating an ecommerce store easy for beginners by providing dozens of mobile-friendly templates
Pricing:
Shift4Shop is one of the very few FREE ecommerce platforms out there. However, there is a catch to their free plan…
It's only available to US users.

Bottom Line:
Shift4Shop is a great tool if you don't want to invest big money upfront.
They have some great functionality and can REALLY help you get started for free. However, there is a lack of customization and some features are missing.
(which can prevent you from scaling up your business in the future.)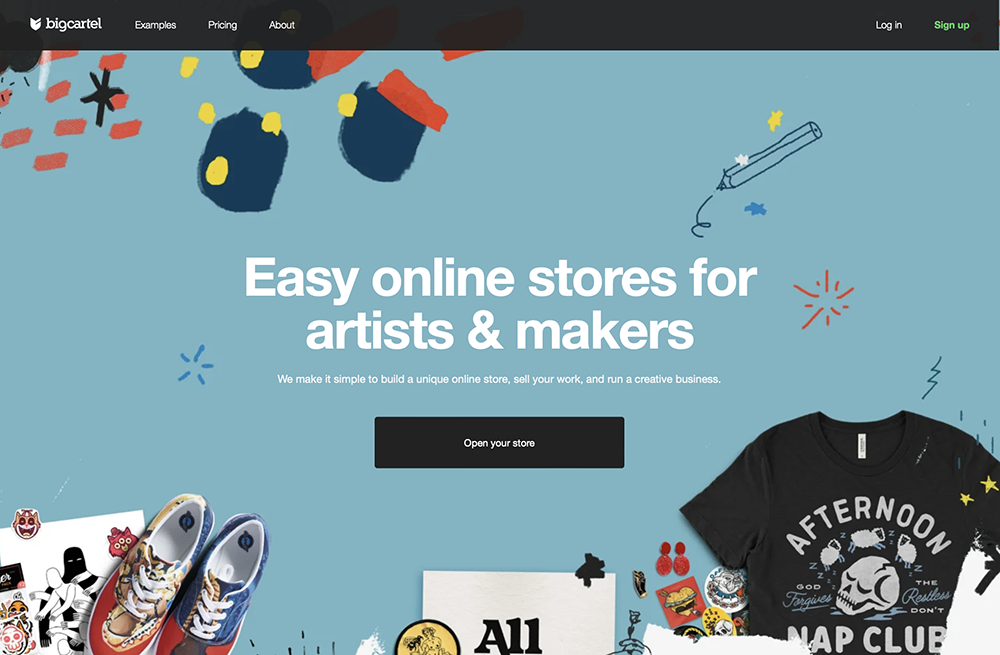 Overview:
Big Cartel is a tool for creative people or artists looking to promote products and turn a hobby into a profitable business. If you want to sell your merch, artwork, or songs, you found the platform.
Key Features:
Big Cartel has great features that will make selling your creative products a piece of cake. Here are some of the best functionalities of Big Cartel:
Search engine optimization. Every page is optimized for SEO. Plus, you get tips on enhancing the website's SEO rankings

Custom domain. The free plans come with a "shop.bigcartel.com" URL, whereas a paid store allows you to use your custom domain

Analytics. You have an ability to track the orders, visitors stats, and conversion rate. If you choose a paid plan, you'll also be able to link Google Analytics to your store
The one problem you might face is customization.
Big Cartel has pretty decent customization options, however, you need to have at least a basic coding knowledge to leverage it to the fullest.
Pricing:
They offer a free plan too – but it's so limited that you won't be able to use it. If you are looking to list more than 5 products, you'll need to opt in for their premium membership.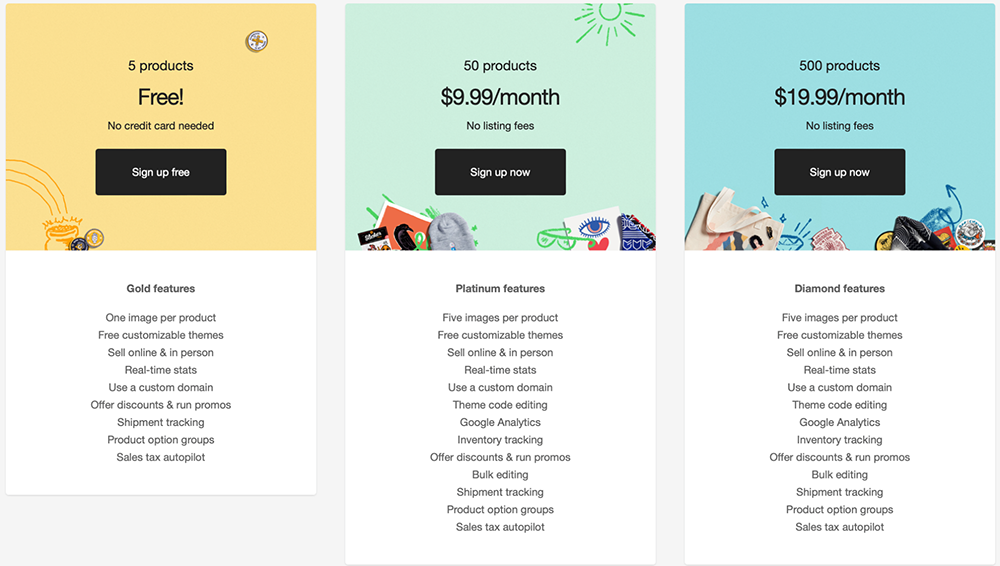 Bottom Line:
This platform is great for up-and-coming artists or even YouTubers. One thing to note is that it's not made for scaling up or growing a business. If you plan on expanding your audience (which you definitely should!), you'll need to migrate to other platforms in the future.
Conclusion
If you are not selling online yet, you are missing out. It's a rising trend that you must take advantage of if you are looking to become financially independent.
There are a lot of platforms that can help you get started with that.
We highly recommend that you choose Checkout Champ – the best overall platform. It has the most sophisticated features and unique functionality. All of this coupled with the best user experience will guarantee the success of your online business.
Plus, if you already have a business, we offer a pain-free migration (we do everything for you.)
Now is the best time to get started!
Book a demo with us today, build your dream ecommerce, and get the sales you deserve right now.