The cart abandonment rate is absolutely unbelievable – reaching as high as 81%.
If you don't optimize your checkout page properly, you're leaving a lot of money on the table. Just imagine how much more profitable you'd be if you got 81% more sales.
However, what is the right checkout page option, and which one should you use?
One-page checkout

One-click checkout
That's what you're about to discover.
In this post, you'll learn everything about one-page checkout and one-click checkout and which one is the best option for your ecommerce business.
The One Page Checkout
The one-page checkout includes all checkout elements on a single page, such as:
A shipping address

Payment details

Cart contents
Here is an example of a one-page checkout.

As you can see, everything is in one place, no need to switch between multiple pages or even expand multiple parts of a single page.
The Pros:
One-page checkout has a lot of benefits that revolve around ease of use, speed, and most importantly, an increase in conversions.
#1: Simplified Process
You no longer have to redirect to multiple pages to finish checkout.
Instead, you can do all you need on one page, which simplifies the whole process and reduces clicks and page load time.
2. Reduced Cart Abandonment
The cart abandonment rate is super-high right now, especially with smaller devices.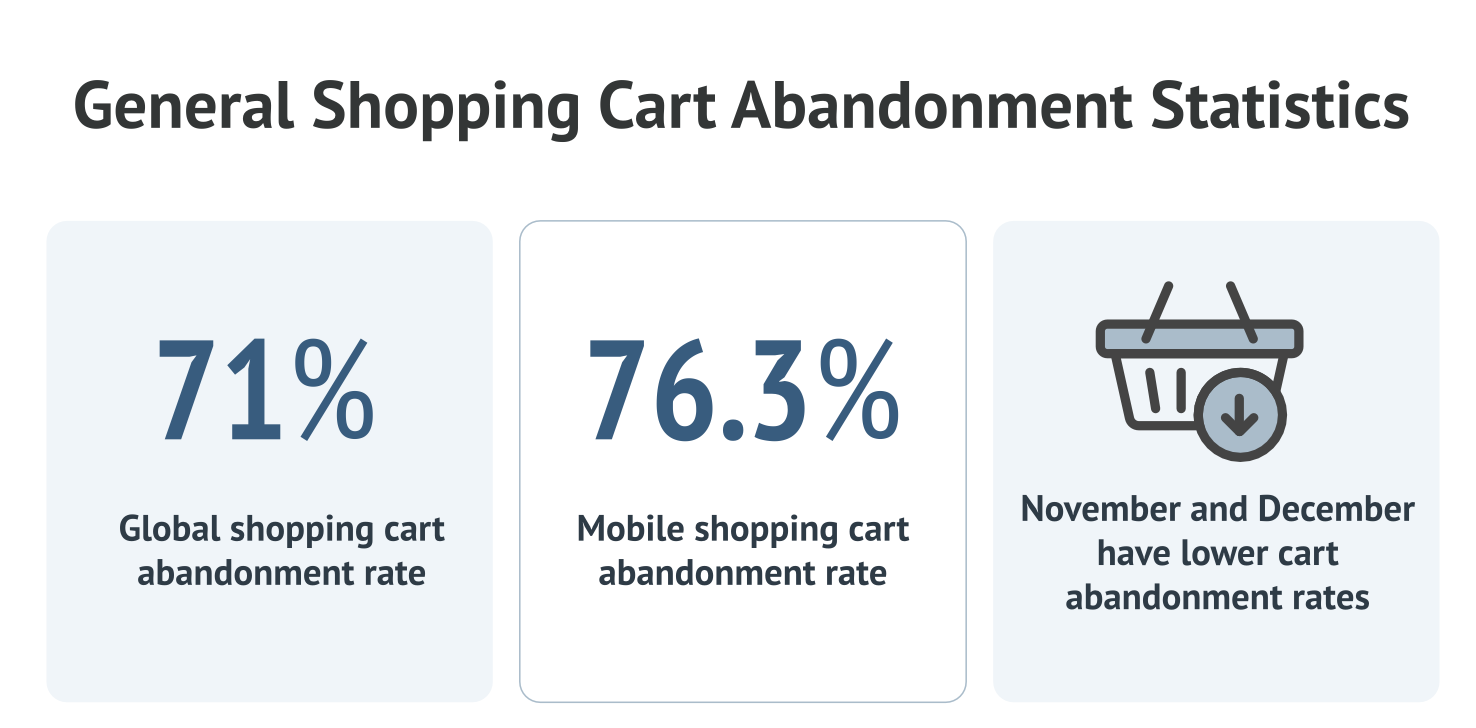 There are a lot of reasons for that like extra costs, a need to create an account, or slow delivery. One of these reasons is the long and complicated checkout process.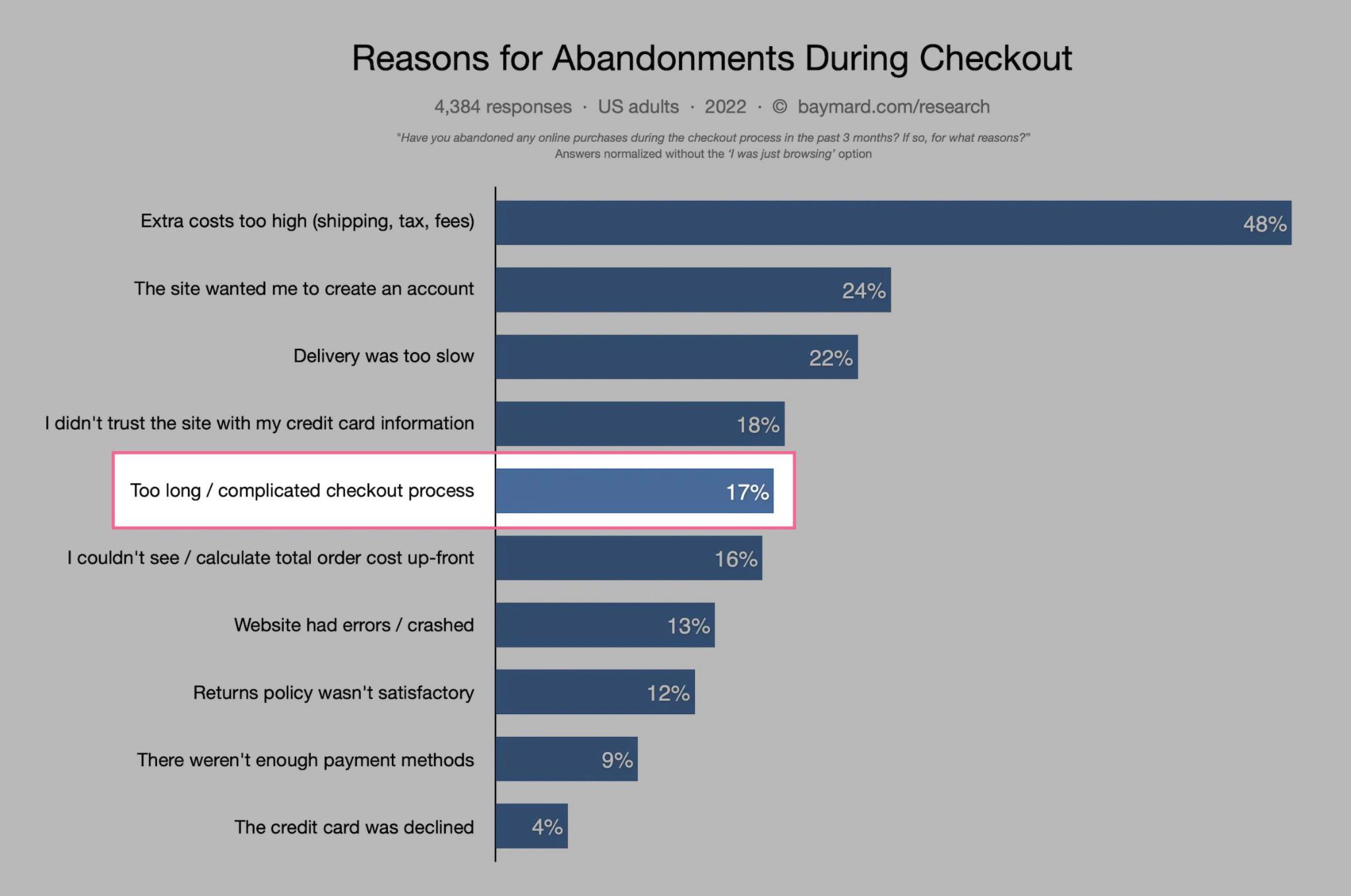 If you can leverage a one-page checkout, you can simplify the process and reduce cart abandonment.
…ultimately leading to more conversions.
The Cons:
Of course, one-page checkout has its disadvantages as well.
They are not major deal breakers, however, if you look for simplicity and customization, they might detract you from using them.
1. Information Overload
It might be challenging to fit all information on one page:
Personal information

Shipping details

Payment info

Cart contents
You might not like the cluttered look of having all of these fields in one page.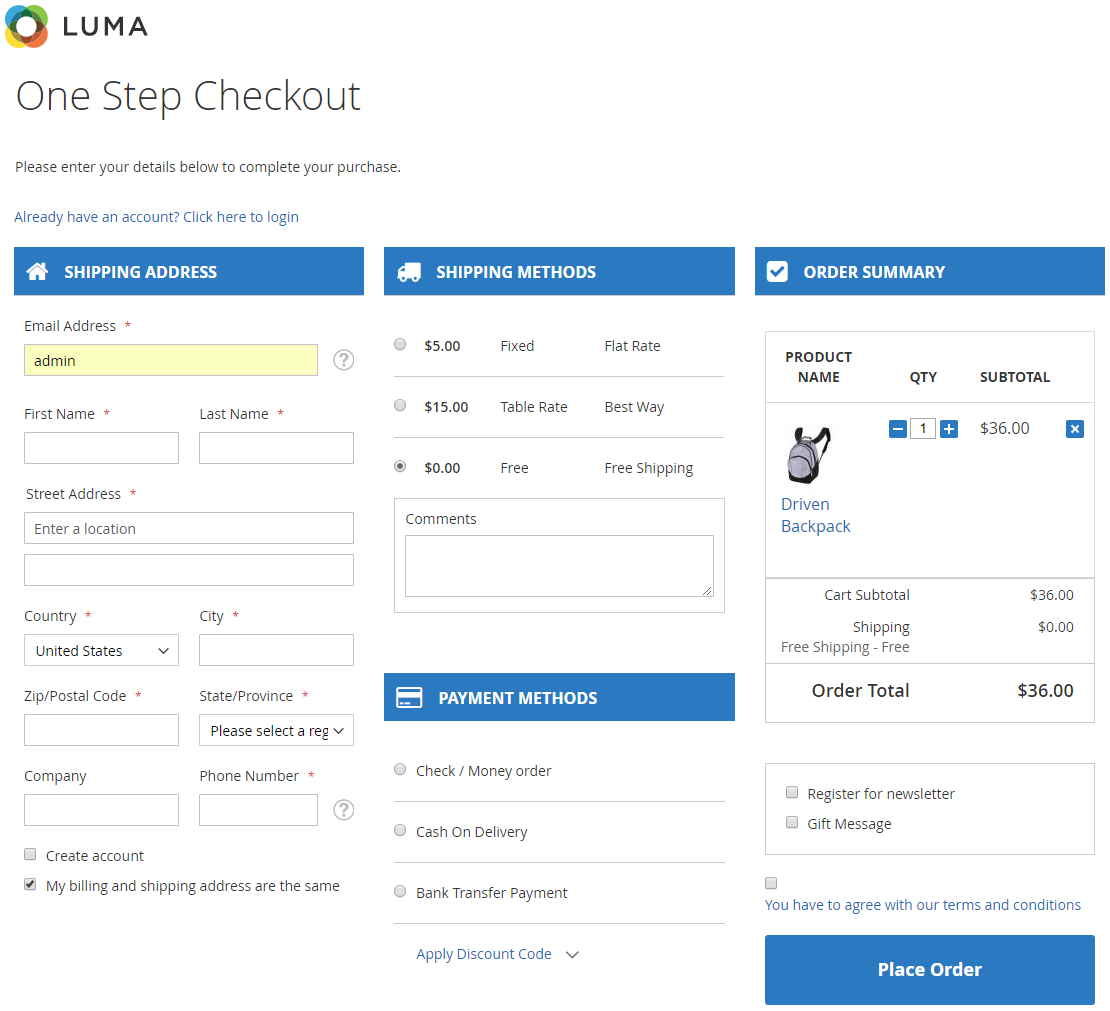 The same way goes for your customers…
Long pages of forms can intimidate customers and can cause them to abandon their shopping cart. Not to mention, never-ending scrolling can cause customers to get lost or confused while checking out.
2. Limited Customization
Some ecommerce platforms offer potential restrictions when it comes to the customization options of a one-page checkout. You're basically stuck with a single template you must use.
This can be super limiting and takes away your creative freedom.
Of course, not all platforms are the same – and some offer a wide variety of customization options for every aspect of a one-page checkout.
The One Click Checkout
A one-click checkout page is one of the most convenient ways to shop online. Users can fill out their checkout info and purchase a product without ever having to fill out lengthy forms.
Here is how it works.
Shoppers store their information in the provider's secure network, and then that network uploads their payment information when it comes time to checkout on a site.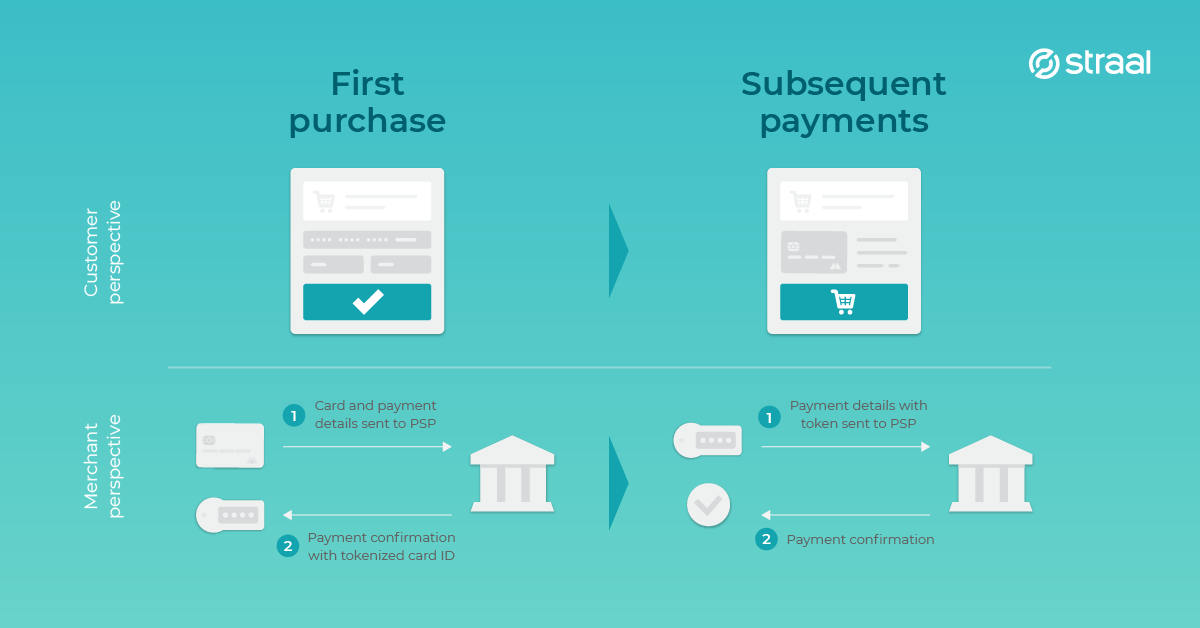 That means a customer only has to input their information once – and they're all set.
The Pros:
There are a lot of pros when it comes to one-click checkout pages.
We find that the ultimate convenience and speed are the biggest ones – leading to higher conversions and lower cart abandonment rates.
1. Ultimate Convenience
There is nothing more convenient than paying with a single click.
Just imagine buying an app from Appstore with Apple Pay – it's the most convenient and easiest way to buy stuff online.
The same applies to one-click checkout pages.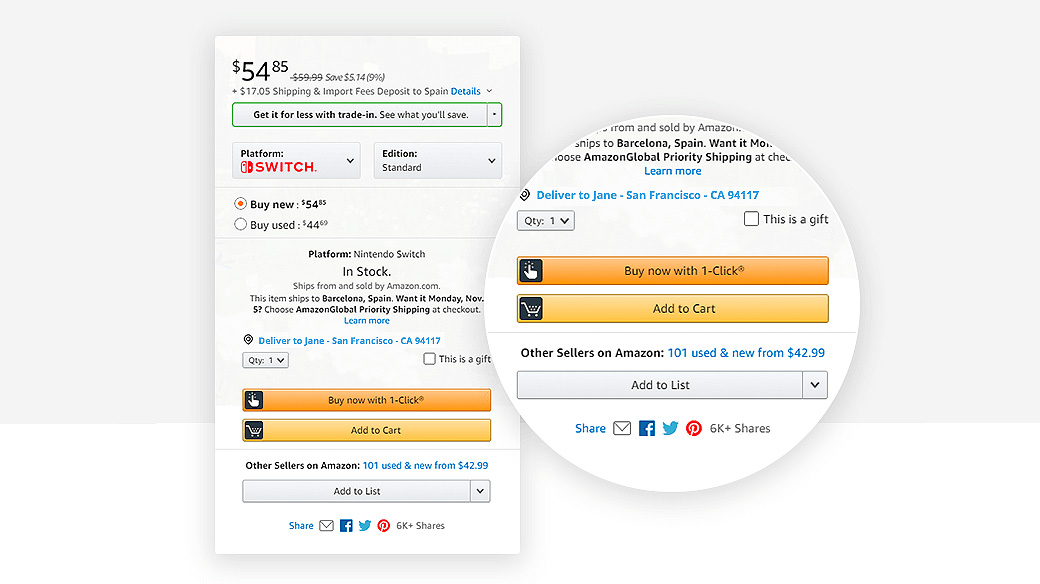 One-click checkouts are ideal for impatient shoppers and customers that have no time to waste during their online shopping process. They are the fastest checkout option available to merchants.
But, unlike Apple Pay, they are available to all users and for all products in your ecommerce business.
2. Higher Conversions
The simplicity lowers all barriers to purchase.
This enables ecommerce businesses to sell more and sell faster when customers can place orders using only one click, capturing impulsive buyers.
The Cons:
One-click checkout pages are all about trust between a merchant and a customer.
Unfortunately, some customers won't fancy that because they will worry about saving credit card info in your database – risking their data being exposed or hacked.
1. Account Dependency
Not all customers want to create an account with stored contact and payment information, some prefer to checkout as a guest.
Unfortunately, one-click checkout requires you to create an account…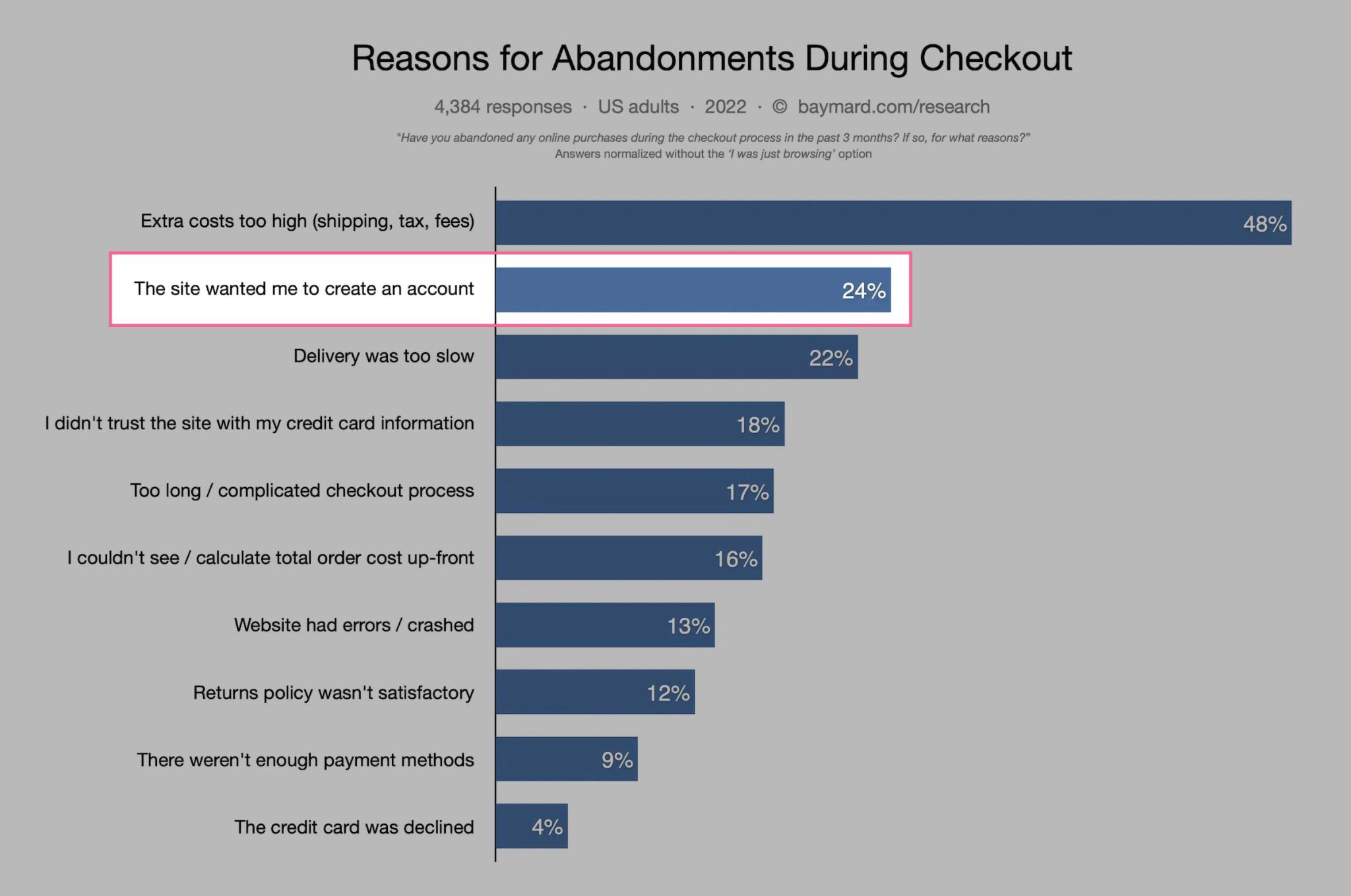 This is because you need to input your information into the ecommerce database before you can access the one-click checkout.
Otherwise, there would be no way to automatically fill in your details.
2. Limited Availability
Not all websites or payment processors may support one-click checkout. Here are some reasons why this may be the case:
Technical limitations. Implementing one-click checkout requires a certain level of integration between the website and the payment processor. If a website does not support such integration, the one-click checkout feature may not be available.

Security concerns. Some websites or payment processors may be hesitant to offer this feature due to concerns about potential security breaches and data theft.

Compliance and regulations. Depending on the region and industry, there might be strict regulations regarding the storage and handling of customer payment information.
Also, one-click checkout might not be suitable for all types of products or services.
For some high-value or complex purchases, customers may prefer to go through a traditional checkout process, allowing them to review their order and make any necessary changes before purchase.
One Page Checkout vs. One Click Checkout: The Biggest Differences
Not sure which checkout option is right for you?
In this section, we will look at the biggest differences and considerations of both of these options, so you can choose the one that suits you best.
#1: Checkout Process
The step-by-step checkout processes for both of these options differ a lot.
On the one hand, you have a one-page checkout process, which consists of these steps:
Add to cart

Initiate checkout

Fill in personal information

Choose a shipping method

Type in payment Information

Review Order

Place Order
As you can see, this process is pretty long, especially compared to a one-click checkout.
Initial setup (creating an account)

Add to cart

Make one-click purchase

Order Confirmation
The biggest differences are the number of steps, convenience, and initial setup (whether you need to create an account or not).
Also, it's essential to keep in mind the security and compatibility of using one-click checkout.
#2: User Experience
The overall user experience has a huge impact on your conversions – that's why it has such a high return on investment.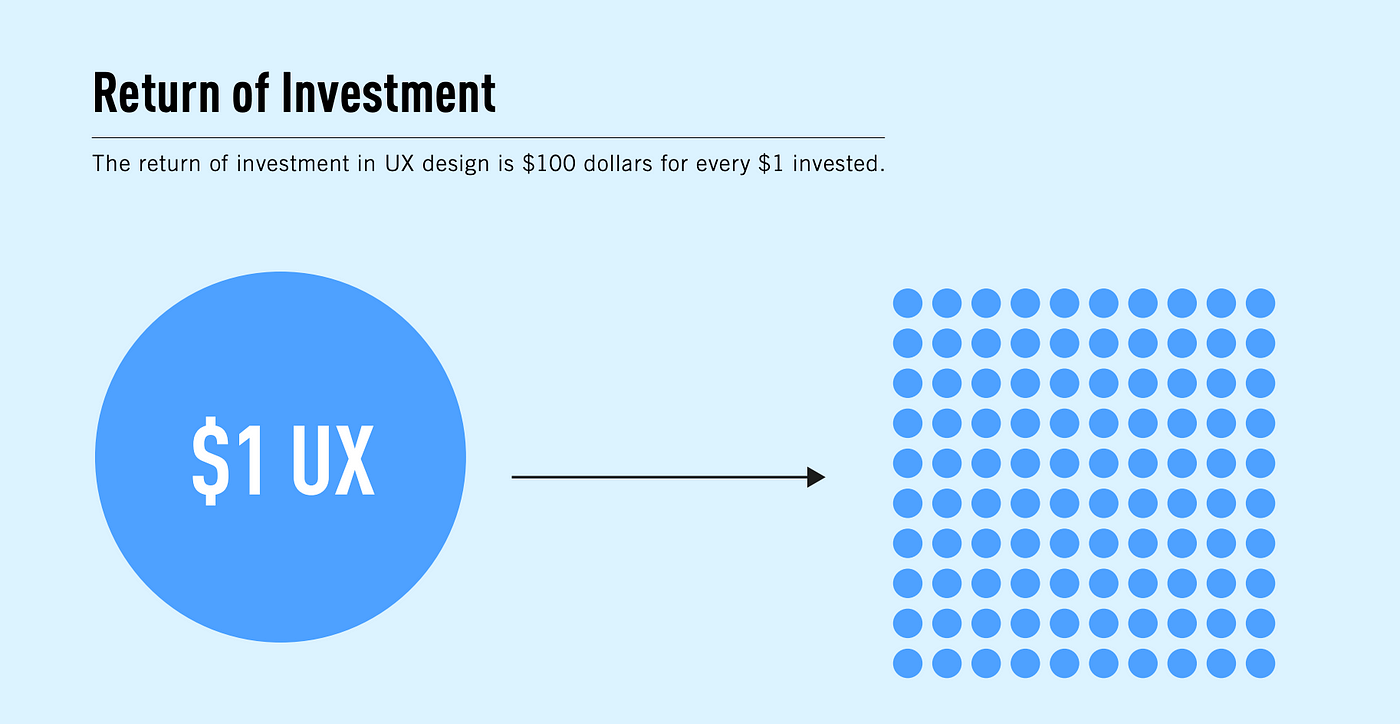 …which one you choose varies based on the products and your target audience.
One-page checkout offers a more comprehensive experience, which is beneficial for new customers and provides opportunities for engagement and upselling.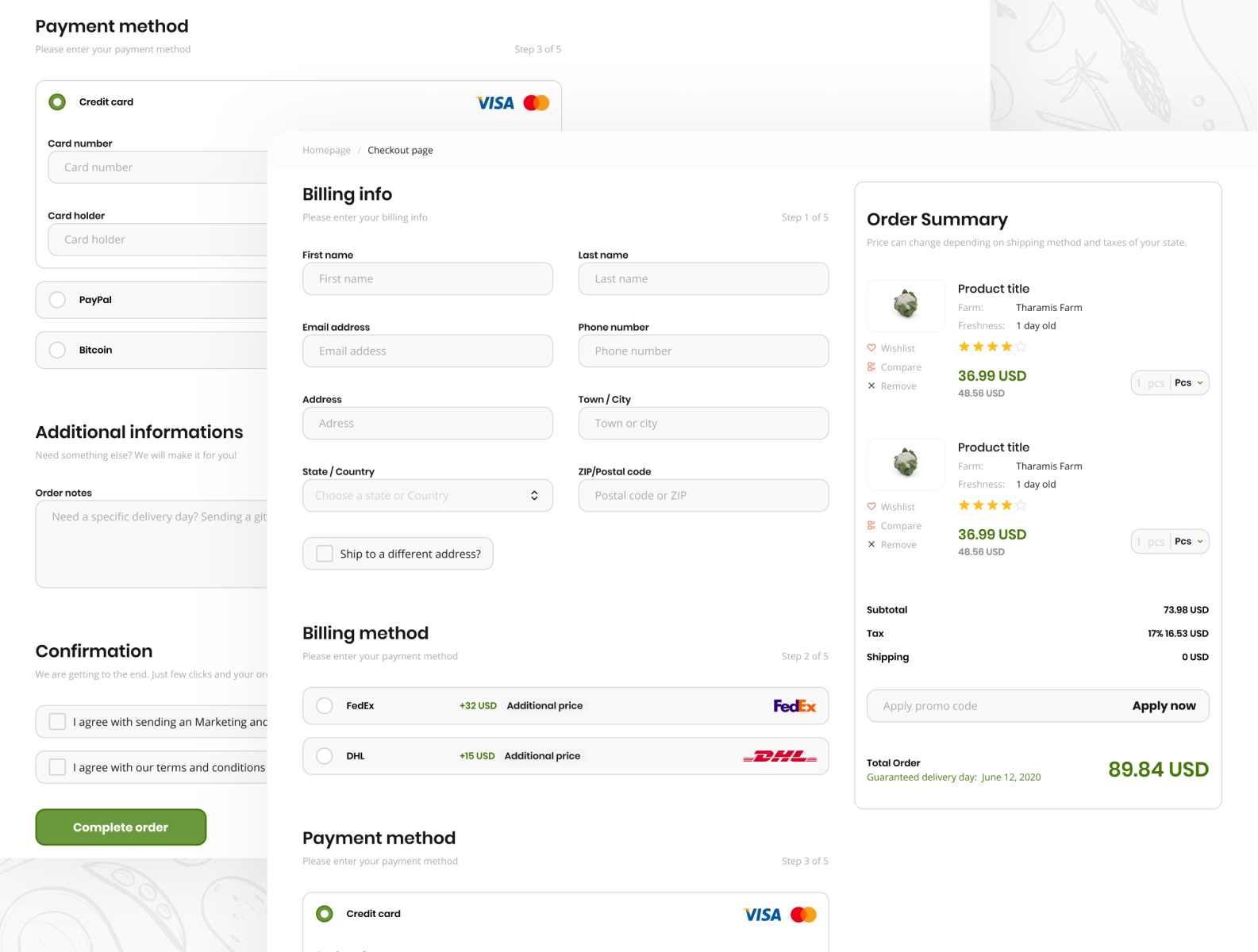 One-click checkout excels in convenience, speed, and reducing friction for existing customers, leading to higher conversion rates and reduced cart abandonment.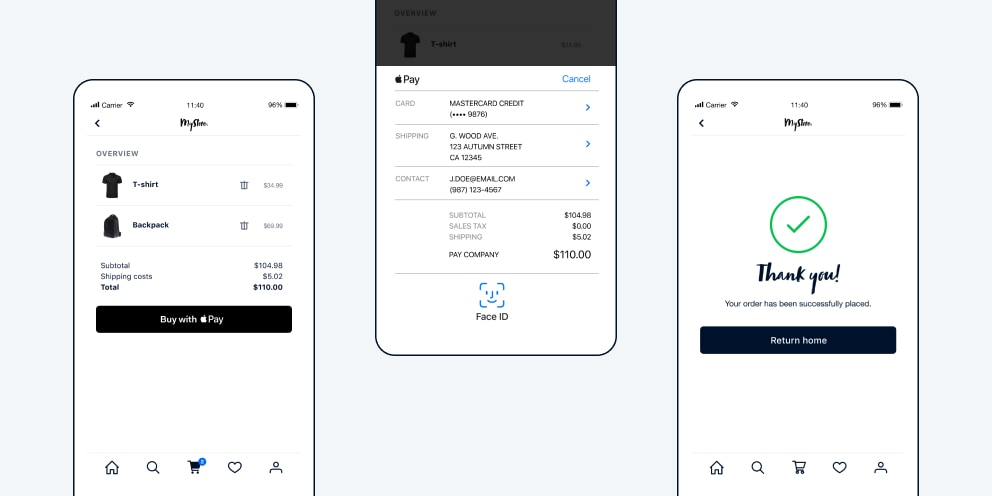 Many successful platforms offer both options.
This allows customers to choose their preferred checkout method – optimizing the user experience and maximizing conversion rates.
#3: Suitability for Different Businesses
We recommend offering both options, so your customers can choose their preferred way.
This approach is great since it covers both types of customers, new and also existing ones, allowing you to serve each and every one of your customers.
Here are the best types of businesses for one-page checkout.
First-Time Purchases. For businesses targeting first-time customers, one-page checkout allows users to review their order and create an account if desired.

Customizable Products. Great for businesses offering customizable products, such as personalized gifts.

High-Value or Complex Purchases. Suitable for businesses selling high-value items like luxury goods or complex products, it allows customers to review and adjust their orders.

B2B E-commerce. In the business-to-business where purchases involve multiple stakeholders, one-page checkout allows for efficient order review and submission.
In other words, if you focus on first-time purchases, selling high-value, customizable, or B2B products, a one-page checkout is the right solution for you.
Here are the best types of businesses for one-click checkout.
Subscription-Based Services. It simplifies the recurring payment process for subscribers and encourages retention.

Repeat Purchases. E-commerce businesses that rely on repeat customers, can leverage one-click checkout to enhance the UX for loyal buyers and encourage frequent purchases.

Digital Goods and Downloads. Platforms selling digital products, such as e-books, music, or software downloads, can utilize one-click checkout to offer instant access to the purchased content, increasing customer satisfaction.

Mobile Commerce. It reduces the friction of entering payment details on small screens and encourages impulse purchases.
If your customer base focuses on repeat purchases, subscriptions, or mobile users, one-click checkout is the way to go.
What's Your Go-To Checkout Option?
There are two main checkout options for ecommerce businesses out there.
One-page checkout

One-click checkout
There is no best option – it differs depending on your audience, type of business, and products. Fortunately, now you know precisely which one is the right one for your business.
Now it's time to put it into action. That's where Checkout Champ comes in.
Checkout Champ is the most powerful ecommerce platform out there.
We allow you to utilize both one-page and also one-click checkout, so you can catch and convert each type of customer. Take advantage of one-click upsells, personalize them by connecting your CRM, and drive more revenue for your ecommerce.
We've got it all – 500+ integration, 100+ currencies, and the fastest and most reliable platform.
Plus, we also provide our users and customers with the IMPOSSIBLE experience:
>1 second checkout load speed

10X faster than your current e-commerce

3X conversions with one-step checkout pages
…and an elite arsenal of tools to help you make your user experience and sales on-point.
If you want to maximize your sales, we are the platform for you!
Book a demo and skyrocket your sales now.