The Best Third Party Ecommerce Platform (2023)
With the right tools, it's easy to start selling products online and join the gold rush. The best third-party e-commerce platforms allow you to list your products, drive traffic and sales, take payments, and handle shipping – all without leaving the comfort of your home.
Online shoppers want to see tons of reviews, easy return policies, and they LOVE free shipping… So it's important to choose a platform that gives you these options.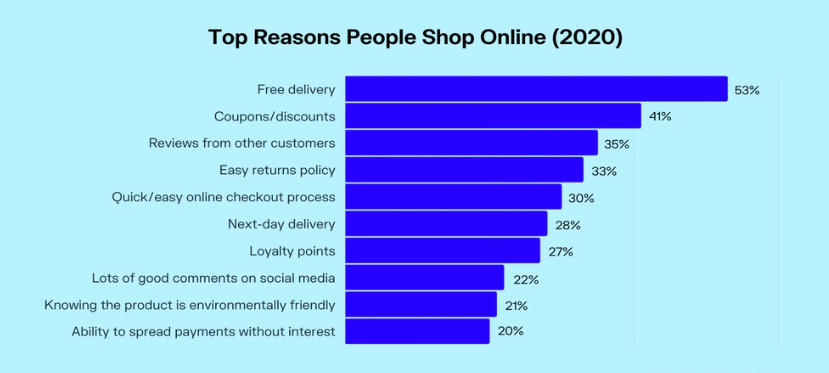 Every platform has different features and advantages, so navigating through the vast world of e-commerce can be tricky. This guide reviews the top 5 platforms to help you choose the best one for your online store.
#1: Amazon – Best for Earning Passive Income
Overview:
Amazon is the largest e-commerce marketplace that sells over 4000 products per minute and has over 98 million monthly users.
Why Is It So Popular?
Well, consumers feel a sense of trust and comfort when buying from here.
Amazon verifies their sellers to help prevent counterfeit products from their marketplace. Additionally, they were one of the first to popularize fast two-day shipping domestically, allowing customers to get orders quickly.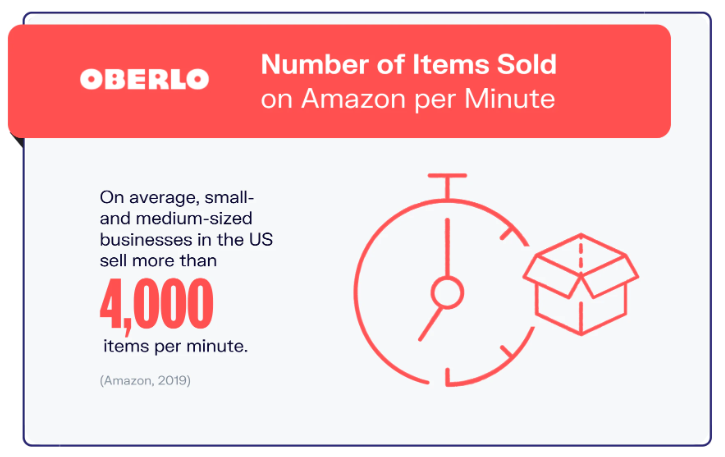 Highlights:
Amazon FBA: Fulfilled by Amazon is a unique system that helps sellers use Amazon's diverse network of storage centers to store, pack and ship their products to their customers. It's the 21st-century hand's off business at its finest.

In-house advertising services: Amazon offer a robust pay-per-click (PPC) service, letting you carefully bid on keywords. This allows you to appear on the top of the search pages when shoppers are looking for your product.

Large customer base: Amazon being the biggest and fastest growing marketplace means you can attract the largest audience for your products.
Pricing / Fees:
Individual plan: Costs $0.99 per unit sold

Professional plan: Costs $39.99 per month, no matter how many units you sell

Referral fees: 8% to 15% on average, depending on the product category

Fulfillment costs: Varies depending on the size and weight of the package.
Bottom Line:
Amazon is perfect for anyone looking to take a hands-off approach to e-commerce and earn passive income.
FBA is also for brands that can move large quantities of products or want exposure to larger audiences than other platforms can offer.
#2: eBay – Best for Selling Custom or Unique Items

Overview:
eBay is one of the original eCommerce platforms and has been around since 1995. You can sell almost anything on their website.
Plenty of people sell the most unique, antique, and crafty items like sports cards, customized jewelry, and even signed memorabilia. Like Amazon, there's a widely popular platform with 135 million users and 1.7 billion listings.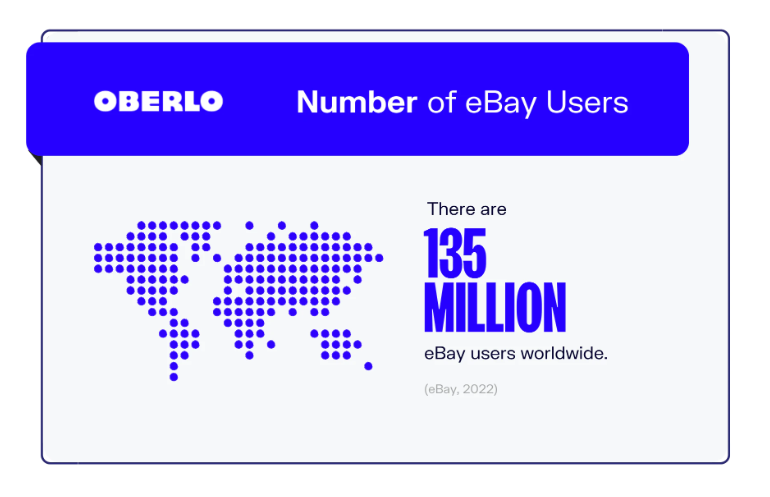 Highlights:
Lower fees: With Amazon charging about 15% plus other fees per transaction, eBay generally charges 12.35%. The lower percentage means you can make a slightly bigger profit per sale.

Excellent SEO: While eBay is not quite on Amazon's level, it's great for selling antiques and other handmade items.

Global Shipping Program: When selling internationally, you only have to ship your products to a warehouse in your domestic country. Then eBay takes care of the rest by handling the international delivery to the customer.
Pricing / Fees:
Insertion fee: $0.35 per listing, but some categories and subcategories may differ.

Final value fee: 12.35% of the total sale, including shipping

Upgrades: Additional fees may apply for optional listing upgrades for scheduling a listing.
Bottom Line:
eBay has always been branded as a place to find rare and unique items. If you're selling used, handmade, or customized items, you may want to sell on eBay.
They particularly attract an audience filled with hobbyists passionate about unique items. Brands with a specialized niche should consider eBay as their go-to platform.
#3: Alibaba – Best for B2B Sellers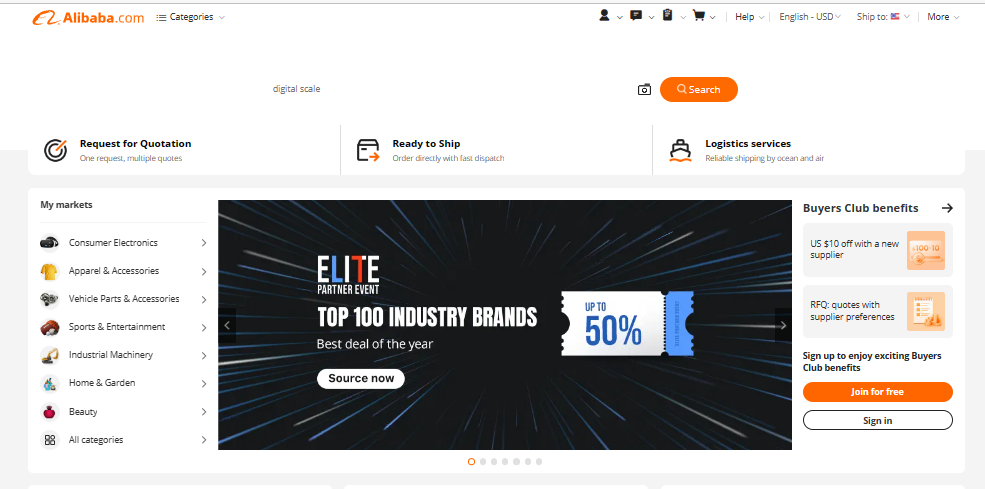 Overview:
Alibaba is a B2B e-commerce marketplace based in China. Since being established in 1999, it's earned the reputation of being a trusted international platform for selling B2B products worldwide.
Getting started on Alibaba is relatively simple. You just create an account, build a storefront and list your products. Like the other platforms, you must build your reviews and deliver excellent product quality to grow your business.
Highlights:
Keyword advertising: They offer multiple features letting you target specific search phrases for paid advertising and search engine optimization.

Product showcases: You can promote products in search results and in your storefront.

Multi-membership tiers: They offer a free, gold supplier and verified membership. The top tier gives you additional credibility, such as background checks and on-site inspections.
Pricing / Fees:
Platform usage fee: This is charged based on your membership level ranging between $2,999 and $5,999 per year.

Commission fee: 0.7% to 5% of the transaction value is charged depending on the product category
Bottom Line:
Alibaba is geared towards manufacturers looking to sell to other businesses. For example, many sellers on the platform sell their products to other Amazon FBA sellers or dropshippers.
They may request to customize and private label your products to stand out from the competition.
If you plan on selling in bulk and acting as a wholesale supplier for other companies, then Alibaba is the perfect place.
#4: AliExpress – Best for Overseas Sellers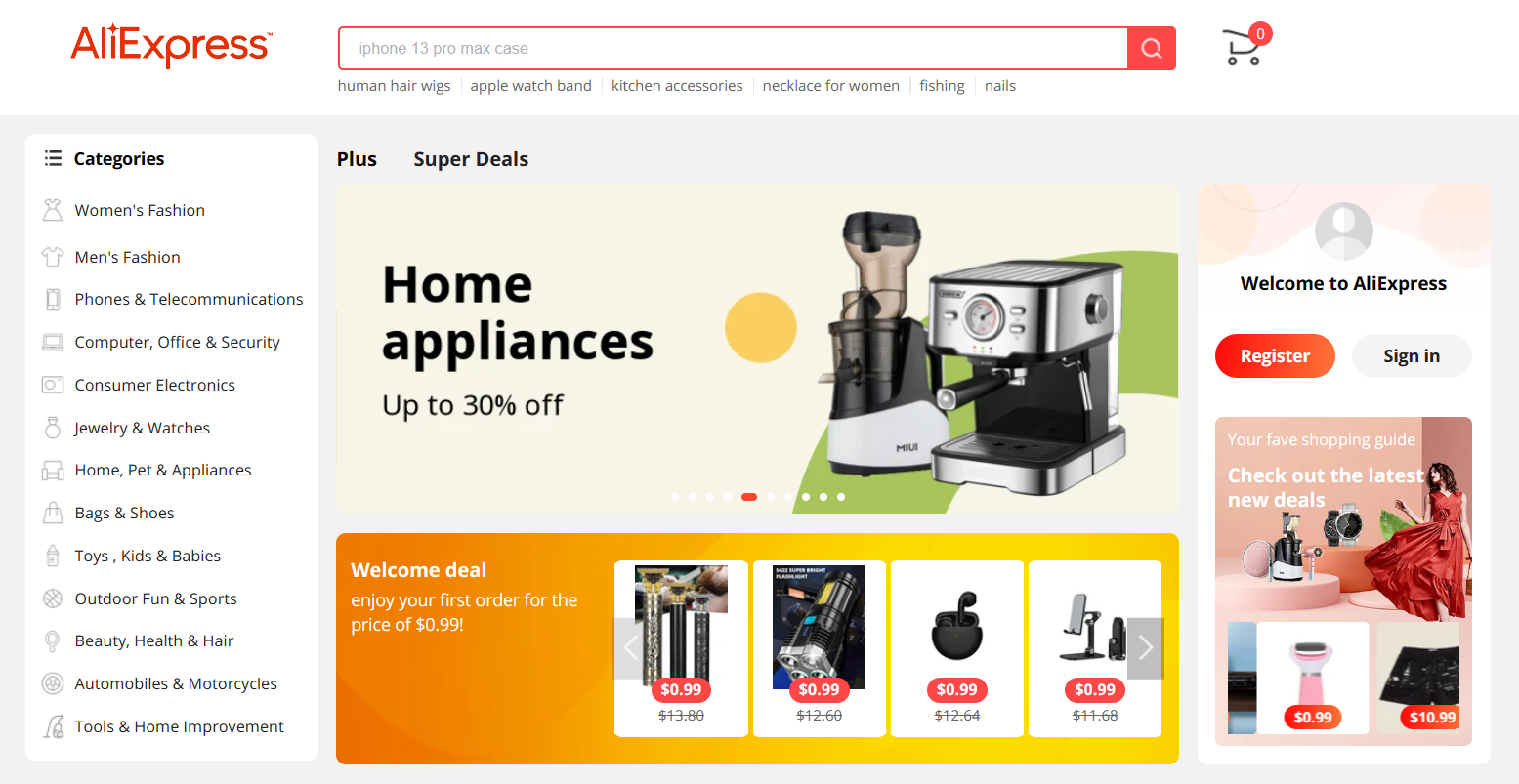 Overview:
AliExpress was founded in 2010 and is one of the most popular international platforms, with over 100 million products. It's owned by the Alibaba Group, which also owns Aliyun, Alibaba, and AliPay. While it's primarily a place for dropshippers to source their products, you can also sell there.
Most Aliexpress sellers are wholesalers and overseas manufacturers who can cheaply source products.
Highlights:
Global marketplace: AliExpress has over 150 miller customers from more than 200 countries, giving you access to a large customer base.

Logistics and shipping services: Aliexpress, unlike Amazon, gives you many options to choose from to ship your orders, including air and sea freight.

Automatic translations: Their website translates into over 18 languages helping you sell to many countries.
Pricing / Fees:
Commission fee: A 5 to 8% transaction fee is assessed depending on the product category

Platform usage fee: $1,299 to $5,999 per year to become a seller depending on the membership level

Payment processing fee: You'll receive payments on Alipay, which charge a transaction fee of 0.25%.
Bottom Line:
AliExpress is best for sellers who offer a diverse range of products, such as electronics, apparel, home goods, and beauty products. Many buyers are looking for incredibly cheap products, so if you can source them affordably, then AliExpress is a great option.
That said, if you plan to sell on Amazon, you can also source products from AliExpress. Most consumers are unaware of the value arbitrage that exists with eCommerce platforms. Therefore you can find products cheaply on AliExpress and mark them up for a higher price when selling on Amazon.
#5: Etsy – Best for Niche Markets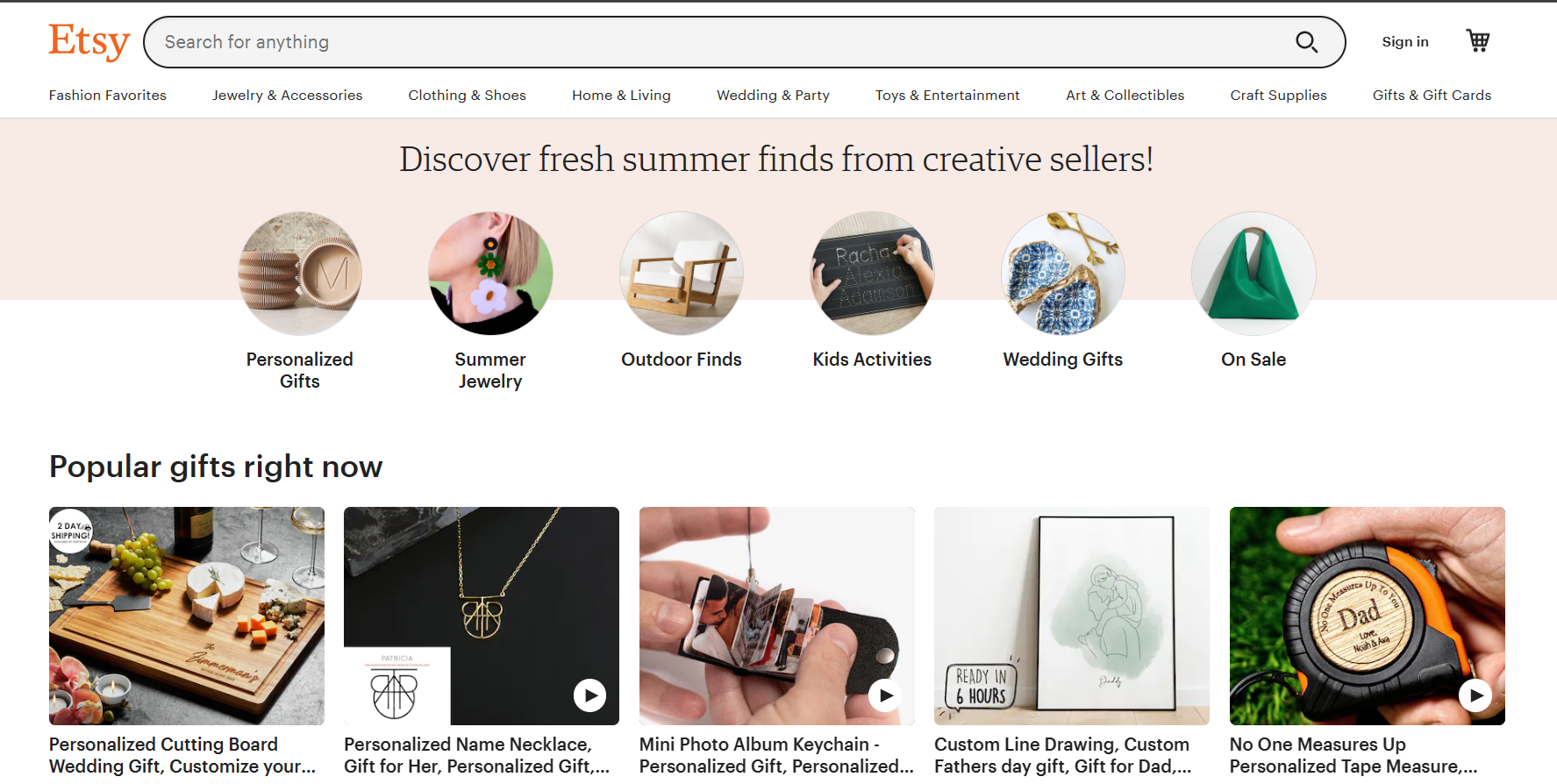 Overview:
Like eBay, Etsy very much caters to a niche market. This is where you'll find many artists and craftsmen who create handmade goods, collectibles, art, and antiques. With yearly sales in the billions, Etsy is among the most lucrative platforms for e-commerce.
They also simplify sellers' lives with customizable shop settings, built-in analytics, easy listing tools, and seller education and support.
Highlights:
Built-in community: A large community of buyers who are passionate about handmade and vintage items

Etsy Ads: Sellers can promote their listings on and off Etsy. It's a PPC service allowing you to target relevant buyers.

Etsy Plus Subscription: A service that provides sellers with perks and tools to grow their businesses.
Pricing / Fees:
Listing fee: $.20 per item

Transaction fee: 5% of the item's sale price, which includes the cost of shipping but doesn't include sales tax

Payment processing fee: 3% + $0.25 per transaction

Offsite ads fee: 15% fee on the cost of the sale when a product sells as a result of an offside ad
Bottom Line:
Etsy is hands down the best marketplace for those looking to sell vintage goods and handmade arts and crafts. Also, they also tend to have a popular community of those that enjoy buying organic, vegan, or locally produced items that aren't mass manufactured.
Wanna Take Your Ecommerce Game to the Next Level?
Third-party ecommerce platforms can be a great way to start selling your products in a matter of a few minutes. However, these platforms lack:
Customization

Flexibility

Control
In essence, you have to follow every rule – or you get shut down overnight. Unfortunately, this is not optimal and can completely ruin your business.
And that's what we will help you prevent!
Checkout Champ is the most powerful ecommerce platform out there.
It is the only performance e-commerce platform in the industry, and how it will supercharge your sales. Completely eliminate your 3rd party apps and use the only all-in-one e-commerce platform trusted by leading sellers.
We've got it all – 500+ integration, 100+ currencies, and the fastest and most reliable platform.
Plus, we also provide our users and customers with the IMPOSSIBLE experience:
>1 second checkout load speed

10X faster than your current e-commerce

3X conversions with one-step checkout pages
…and an elite arsenal of tools to help you make your user experience and sales on-point. You can customize everything a create an ecommerce of your dreams.
If you want to maximize your sales, we are the platform for you!
Book a demo and skyrocket your sales now.