What Is a Cloud Ecommerce Platform: The Complete Guide (2023)
It might be difficult to choose between the on-premise and cloud ecommerce platforms.
The on-premise platform will keep everything local, in your headquarters, so you have better control over your data — and don't need to rely on 3rd party cloud providers. But if you're willing to give up this "control," you might soon scale your business beyond measure.
In this post, you'll learn everything about cloud ecommerce platforms and whether it's the right fit for your ecommerce business.
What is a cloud ecommerce platform?
A cloud ecommerce platform is an ecommerce platform that uses cloud-based technology to scale and manage your ecommerce business.
This is super-convenient for a couple of reasons, including:
Adapting to growing demands

Simplifying maintenance

Enhancing security
Ecommerce application programming interfaces (APIs) and microservices are also part of cloud ecommerce.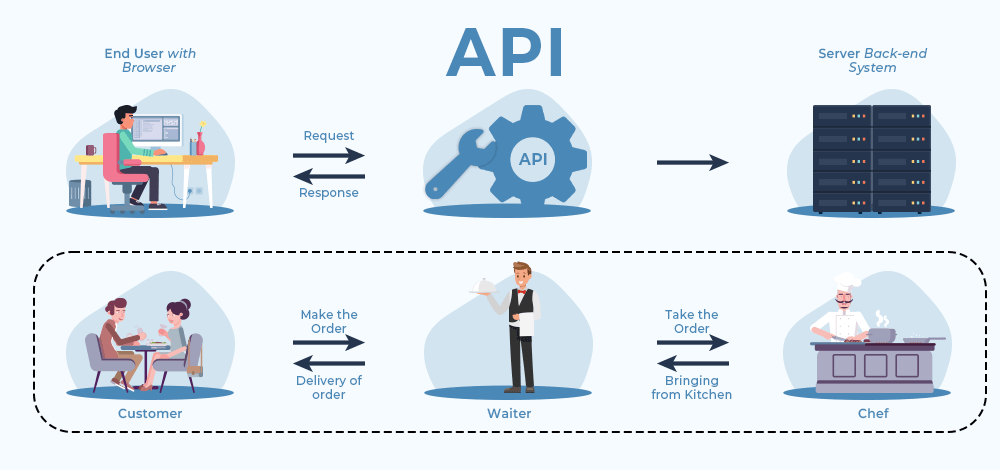 Cloud E-commerce Vs. On-Premise E-commerce
Cloud eCommerce platforms are hosted and managed by the provider in the cloud and accessed through the internet.
Think of it as your virtual drive (A.K.A. cloud storage like iCloud or Google Drive.)
On-premise ecommerce is installed and run on servers located within a business's premises and managed by the business's IT team.
Hosting eCommerce platforms on-premise indicates a usually hefty investment of money and time.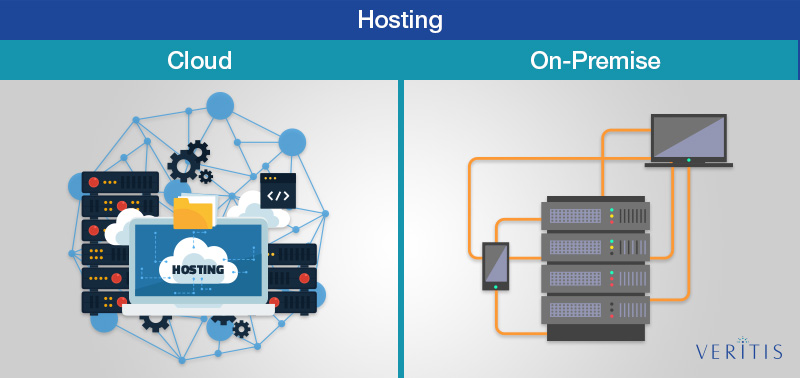 In return though, you have full control and ownership of your product.
The Benefits of Cloud Ecommerce Platform
Cloud ecommerce platform is a fantastic choice for any ecommerce business.
In fact, in many areas, it's a lot more superior to the on-premise ecommerce platforms. Here are some of the biggest advantages of using an ecommerce cloud-based solution.
Higher Security & Protection
The best thing about outsourcing the hosting of your ecommerce platform to an external cloud provider is that you don't have to constantly worry about risk assessment and data defense.
Also, there's no need to worry about the security of your:
Physical facilities

Applications
…including data encryption and the safety of customers' personal information.
You will also get regular data backup to ensure that your ecommerce store is always live and doesn't lose any data in case of an emergency.
Cost-Effective Performance
Cloud ecommerce platform is super cost-effective compared to on-premise platforms.
It allows you to pay for services on demand, whenever you truly need them, so you can stay within your budget and move ahead FASTER.
In fact, in a recent study, we found that a cloud hosting solution can save up to 70% of the costs.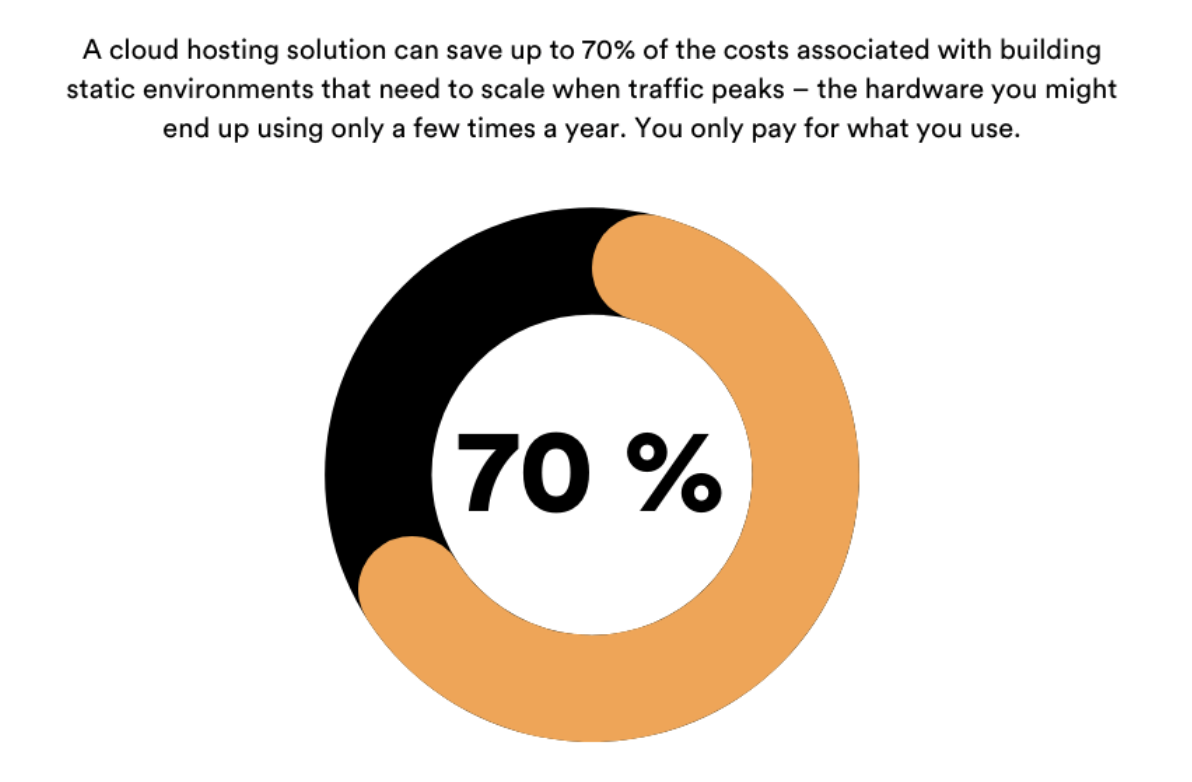 This is because you only pay for what you use – unlike with on-premise solutions where you have to build static environments that need to scale when traffic peaks.
(the hardware you might end up using only a few times a year.)
Accessibility from Anywhere Around the Globe
If your business operates in multiple countries, there is no reason to go for on-premise solutions.
This is because a cloud solution offers substantial advantages over other implementations in terms of the speed required to roll out and manage a digital commerce application. In essence, you can build an online presence wherever your potential customers are.
With an ecommerce cloud, you have a remote network of servers that dynamically responds to your demands to deliver content quickly no matter where your customers are located.
Types of Cloud-Based Solutions
There are different types of categories and types of cloud ecommerce platforms.
These models can work separately but also collectively to allow you to create the perfect foundation for your ecommerce suite.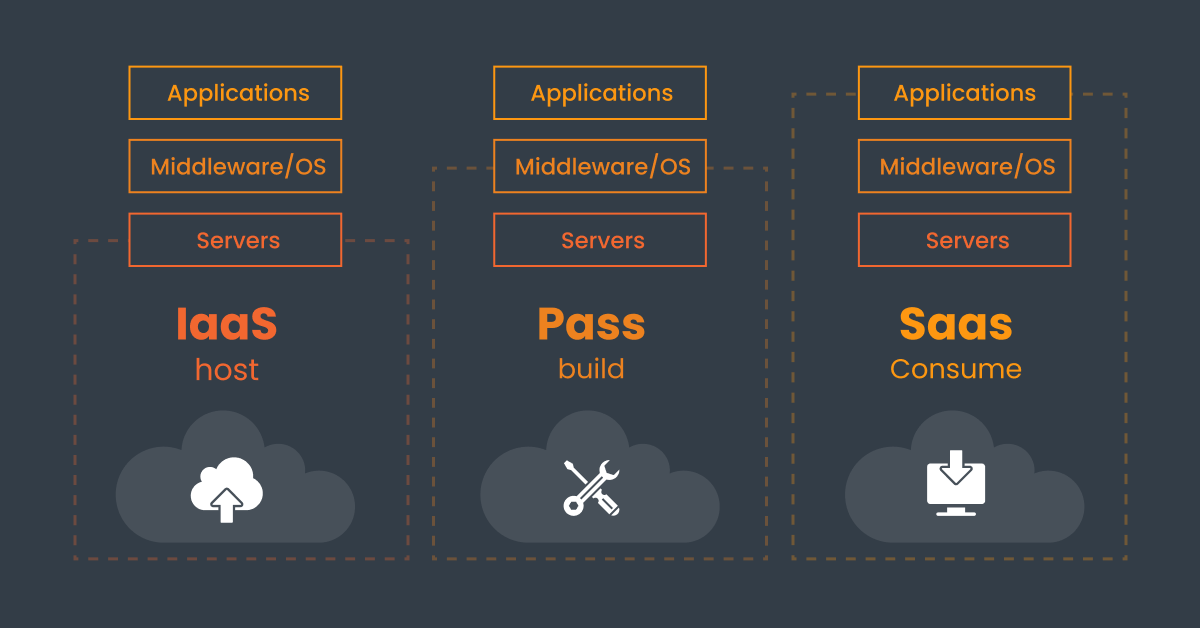 IaaS Ecommerce Solution
Infrastructure as a service is a cloud solution that offers on-demand data storage on disks and virtual servers. In essence, you purchase a remote data center instead of physical hardware.
Here are a few examples of IaaS ecommerce solutions offered by well-known companies:
Amazon Web Services

Microsoft Azure

Google Cloud
PaaS Ecommerce Solution
Platform-as-a-service allows its users to develop, manage, and launch applications within a self-service portal with a ready-to-use cloud computing infrastructure. Most platforms provide the basic configurations, so you don't have to start from scratch.
Plus by customizing existing modules within the solution, you can create your own ecommerce services. The cloud ecommerce provider continuously maintains and upgrades the operating system.
Here are a few well-known examples of platform-as-a-service solutions:
Google App Engine

Cloudfy

Cloudsuite
SaaS Ecommerce Solution
Software as a service is a third-party hosting service provider that gives clients access to various cloud e-commerce solutions on a pay-as-you-go basis.
This type of service is very popular among digital commerce vendors, offering:
Customer Relationship Management

Content Management System

Billing SaaS Applications
…and so many more.
Among the most popular SaaS solutions are Checkout Champ, NetSuite, Slack, and others.
Modern applications help your business to improve the customer experience and enhance the online shop with advanced functionality, such as smart shopping carts or mobile apps.
How Do These Cloud-Based Solutions Work Together?
An optimal choice for an ecommerce business plan would be a solution that combines an ecommerce platform with a ready-to-use set of software tools.
In other words, a cloud ecommerce platform that combines IaaS, PaaS, and SaaS.
We Built Checkout Champ With This In Mind!
Checkout Champ is the most powerful ecommerce platform out there.
It is the only performance e-commerce platform in the industry, and how it will supercharge your sales. Completely eliminate your 3rd party apps and use the only all-in-one e-commerce platform trusted by leading sellers.
We've got it all – 500+ integration, 100+ currencies, and the fastest and most reliable platform.
Plus, we also provide our users and customers with the IMPOSSIBLE experience:
>1 second checkout load speed

10X faster than your current e-commerce

3X conversions with one-step checkout pages
…and an elite arsenal of tools to help you make your user experience and sales on-point.
If you want to maximize your sales, we are the platform for you!
Book a demo and skyrocket your sales now.